Kipchoge says one step at a time planning is part of success

Posted by:
Races News Service
Tuesday, 27 September 2022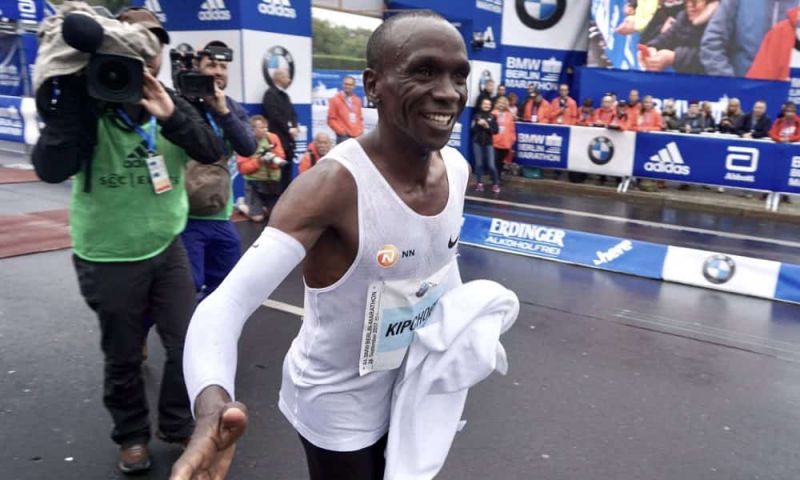 A vital feature of Eliud Kipchoge's athletics career is his ability to savor moments of success to the full without rushing ahead mentally to consider future challenges. On the evening of breaking his world record with 2:01:09 at the BMW BERLIN-MARATHON, the greatest exponent of the historical event spoke about how important planning plays in his success.
After each triumph, and there have been many, including four victories in the marathon in Berlin, two of them with world records, the Kenyan is quizzed about his plans, whether for the Olympics or further record attempts. He explained why he clears his mind of anything beyond the next month or so of regeneration: "You have all your heart and mind for one goal and the only way to fulfill that goal is concentrate, to control effort, and if you do too many things, you cannot concentrate, so the idea is to concentrate on one thing, finish it in a good way and then you forget it."
A key aspect of his approach appears to be the ability to "forget it", leaving the recent performance, however triumphant, stored in his mental archives. At the same time, he genuinely thinks only of the month of rest and recovery ahead. It's a system that has taken time to refine and was definitely not the finished product when, as an 18-year-old, he won the 5,000m at the World Championships in Paris in 2003, beating Kenenisa Bekele and Hicham El Guerrouj: "I have grown, when I say that I have planned many things, I still learn every day and learn that what works is getting one thing and working on it. The month of regeneration is about taking care of my body again. I will relax my mind, my muscles. Being ready for the next thing and to feel fresh in my body allows me to focus again."
He gave insight into how he and his team plan and how adaptability is a factor. Next year will soon be in his sights, but the Olympics in Paris in 2024 will not be at the forefront of their immediate discussion: "We plan from year to year. I don't plan for years; we can even plan for half a year ahead. We sit together to see what is available. We've finished the plan for this year with Berlin. We're now going back to relax and to go around the world, to talk about sport and youth. Then sit down around the table to see what is available for 2023. The Olympics in 2024? It's still far away. It's about 700 days from now. It's a very long time."
Eliud Kipchoge did hint at what the future might hold, including further attempts to run sub-2 hours in the marathon: "I can't say now, but if I feel I could do it, I will go and try." Bearing in mind his comment soon after breaking his world record in Berlin on Sunday morning: "My legs and my body still feel young, and my mind is also strong," that sounds like a real possibility.
In response to a light-hearted inquiry of whether journalists might attend as onlookers when he and his team have their next planning meeting, the Kenyan encouraged the questioner and other members of the media to join his social media page to stay up to date with developments.
More information is available online at: www.berlin-marathon.com
-->