Kimeli (26:51) and Chepkirui (30:07) break records in Brasov

Posted by:
Watch Athletics
Monday, 26 September 2022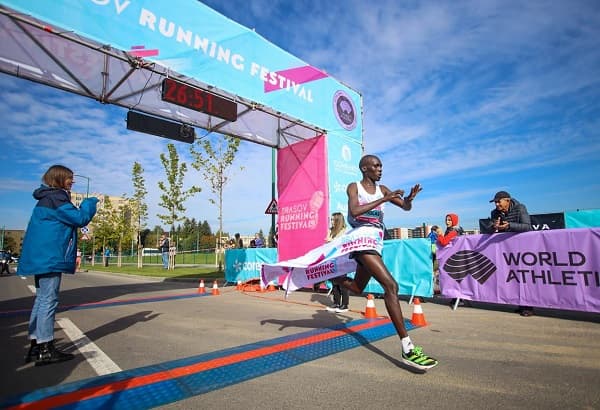 Kipkorir Kimeli and Chepkirui shattered Romanian all-comers records in Brasov while Andrei Rusu broke the Romanian national record in the 10km.
Brasov Running Festival 10km, the only World Athletics Elite Label Road Race staged in southeast Europe, met the high expectations with the Kenyan athletes taking the top honors. Having passed the 5km in 13:27, Nicholas Kipkorir Kimeli went on to win the race in 26:51, which places him in fifth place in the world all-time rankings. The 24-year-old broke the Brasov Running Festival course record of 28:40 from last year which also stood as the fastest time on the Romanian soil. The fantastic race saw Weldon Langat and Isaac Kibet Ndiema finishing in 26:55, second and third respectively. The Kenyan duo now shares the seventh place in the world rankings.
Kipkorir Kimeli acknowledged in the post-race interview the great potential of the fast-course in Brașov: "I hope that I can challenge the World Record one day here, the course is very flat and fast."
While seven athletes finished under 28 minutes, Andrei Rusu of Romania arrived eleventh in 28:38 to break the national record of 28:53 standing since 2019 when Ștefan Iulius Gavril ran in Dakhla, Morocco.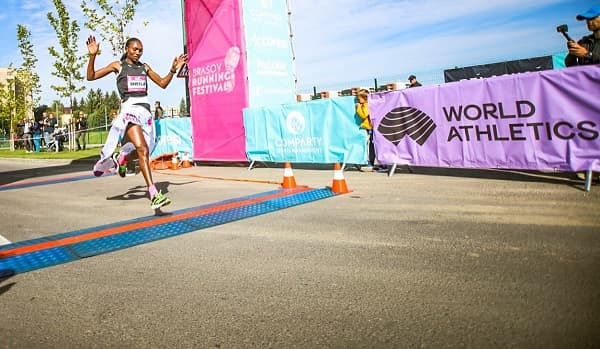 Women's race was outstanding as well. Sheila Chepkirui, whose personal best was a fast 29:46 in a mixed race in Valencia in 2020, broke the tape in 30:07, only 6 seconds shy from the women's only world record. Agnes Ngetich was second in 30:30. Uganda's Sarah Chelangat, the only non-Kenyan who made the podium, followed Ngetich one second later, in 30:31.
In her attempt to break the long-standing Romanian record, Stella Rutto failed in her bid just by 4 seconds finishing the race seventh in 32:04.
As a special guest and ambassador of the race, famous ex-marathoner Mary Keitany enjoyed running in the children's race and has presented the medals for the champions. "I really enjoy the city, the weather, the atmosphere, the race, a great course and the excellent conditions for world-class running," said Keitany, during an interview for the Romanian media.
The Brasov Running Festival is scheduled for 10 September for the next year.
Top Results women
| | | | |
| --- | --- | --- | --- |
| 1 | Sheila Chepkirui | KEN | 00:30:07 |
| 2 | Agnes Ngetich | KEN | 00:30:30 |
| 3 | Sarah Chelangat | UGA | 00:30:31 |
| 4 | Brenda Tuwei | KEN | 00:31:35 |
| 5 | Faith Cherono | KEN | 00:31:49 |
| 6 | Veronica Loleo | KEN | 00:31:52 |
| 7 | Stella Rutto | ROU | 00:32:04 |
| 8 | Sheila Jebiwott | KEN | 00:32:27 |
| 9 | Elle Twentyman | GBR | 00:33:58 |
| 10 | Liliana Dragomir | ROU | 00:34:02 |
| 11 | Devora Avramova | BUL | 00:35:10 |
| 12 | Denisa Dragomir | ROU | 00:36:04 |
Top Results Men
| | | | |
| --- | --- | --- | --- |
| 1 | Nicholas Kipkorir Kimeli | KEN | 00:26:51 |
| 2 | Weldon Langat | KEN | 00:26:55 |
| 3 | Isaac Kibet Ndiema | KEN | 00:26:55 |
| 4 | Daniel Tumaka Kosen | KEN | 00:27:19 |
| 5 | Dennis Kibet Kityio | KEN | 00:27:35 |
| 6 | Shadrack Ruto | KEN | 00:27:44 |
| 7 | Egide Ntakarutimana | BDI | 00:27:45 |
| 8 | Fredrick Yeko Domongole | KEN | 00:28:07 |
| 9 | Brian Kwemoi | KEN | 00:28:11 |
| 10 | Josphat Kipkorir Meli | KEN | 00:28:14 |
| 11 | Andrei Rusu | ROU | 00:28:38 |
| 12 | Alex George | GBR | 00:28:40 |
| 13 | Nicolae Soare | ROU | 00:28:41 |
| 14 | Pierre Couzinier | FRA | 00:28:46 |
| 15 | Hiko Tonosa Haso | IRL | 00:28:55 |