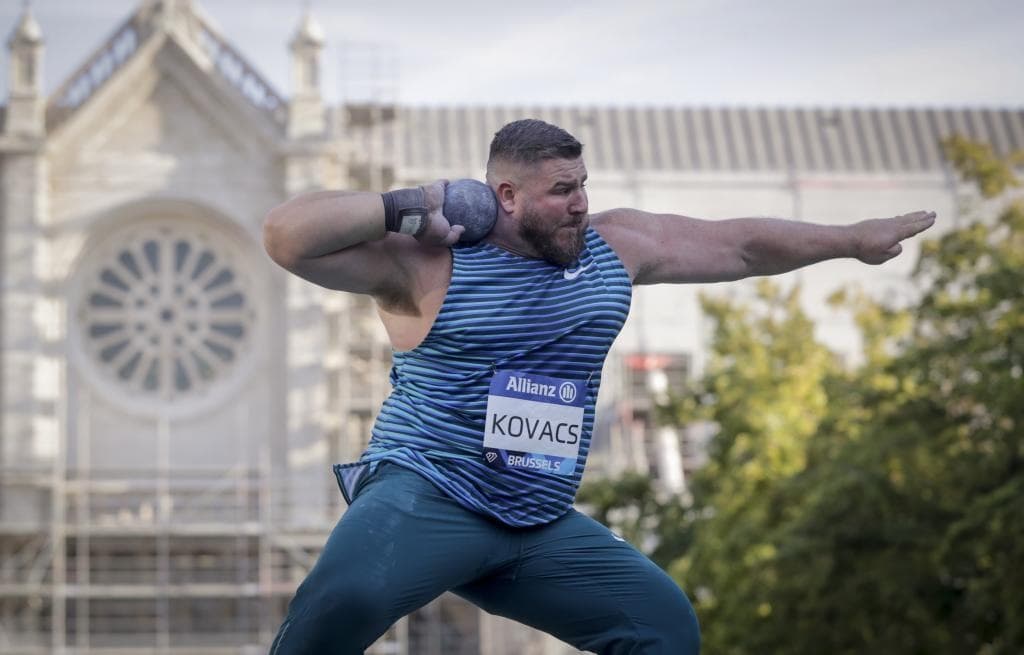 Two-time world champion Joe Kovacs threw to a Diamond League and a meeting record of 23.23m in the men's shot put on the first day of the Weltklasse Zurich on Sechselautenplatz to move to second on the all-time list. The first session of the Wanda Diamond League meeting was held as a street event in one of the most famous squares on the shore of the Lake Zurich.
Only Ryan Crouser threw further in history when he set the world record with 23.37m at the US Olympic Trials in Eugene last year.
Kovacs started the competition with 22.67m to equal the meeting record that had been set by Crouser last year. Crouser responded by producing exactly the same mark as Kovacs to join the early lead. Kovacs threw 23.23m in the second round improving his previous PB of 22.91m he set when he won his second world title in Doha 2019.
Crouser improved to 22.74m in the third round to finish second. This year's Commonwealth Games champion Tom Walsh threw 21.90m to take third place.
Kovacs has remained unbeaten since his world silver medal behind Crouser at the World Championships in Eugene. He won in Lausanne with 22.65m beating Crouser and scored three more wins in Silesia, Szekesfehrvar and Brussels.
Joe Kovacs: "I am super excited. I had so many throws this year over 22.80m, so I feel like I was building. It feels good to tick the box and be a 23-metre shot putter. There is a bigger throw left in there. I know that Ryan will throw further, so I will have to throw further next year".
Women's shot put:
World champion Chase Ealey threw 20.19m in the third round to beat Commonwealth gold medallist Sarah Mitton from Canada in the women's shot put. Ealey opened with 19.84m, which would have been enough for the win. Ealey improved to 20.19m. Ealey also produced a throw of 19.62m in the fourth round. Mitton threw 19.56m to take second place. European indoor champion Auriol Dongmo achieved a best throw of 19.46m in the third round.
Chase Ealey: "The energy was amazing. I like having the crowd right there. It's really cool and I like bringing on the claps and hearing them giving us the energy. It's really nice. I almost really forget that my foot is really hurting".
Men's high jump:
Olympic champion Gianmarco Tamberi won his second consecutive Diamond Trophy setting his seasonal best of 2.34m on his second attempt. Tamberi married to his longtime partner Chiara Bontempi and postponed his honeymoon until the end of the season to take part in the Diamond League final.
Mr. Jump Ju'Vaughn Harrison cleared 2.34m on his third attempt to finish second on countback.
Both Tamberi and Harrison cleared 2.27m on their second attempt and 2.30m at the first time of asking. Harrison cleared 2.32m on his first attempt, while Tamberi failed his first try at this height and decided to pass this height. Tamberi cleared 2.34m on his second attempt, while Harrison needed three tries to clear this height.
Tamberi decided to retire after one attempt at 2.36m. Harrison made three unsuccessful attempts at this height.
Django Lovett had a clean sheet until 2.27m to take third place with 2.27m. The Canadian jumper failed one attempt at 2.30m and two at 2.32m. Andiy Protsenko cleaed 2.24m in his second attmpt to take fourth place.
Gianmarco Tamberi: "I am very happy with my performance, a season's best in the last meeting of the season. I stopped jumping because of the rain. In the moment it was scary, but I am happy that in the end I took the win. The crowd knows how much I entertain them, so when I asked to be silent and stop clapping, that gave me extra energy in an important moment. I had the same situation at the European Indoor Championships in Glasgow, where I also managed an important jump".
Women's pole vault:
Australia's Nina Kennedy cleared 4.81m to claim the first Diamond Trophy of her career. Kennedy set the best performance of her career after her PB of 4.82m she set in Sydney last year. Two-time world indoor champion Sandi Morris cleared 4.76m to finished second. World indoor bronze medallist Tina Sutej vaulted 4.61m to take third place to beat Italian record holder Roberta Bruni on countback.
Nina Kennedy: "I came third at the World Championships and I won the Commonwealth Games. This is a seasonal best, so to win the Diamond League, that's the top of a perfect season. I would love to jump into the 4.90m range and then obviously the Paris Olympic Games are two years away now, so I am going to be aiming for that gold medal".
Women's 5000 metres:
World silver medalllist Beatrice Chebet pulled away on the final straight of the temporary track in front of the Zurich Opera House to hold off world 10000m bronze medallist Margaret Kipkemboi Chelimo, world champion Gudaf Tsegay and Ejgayehu Taye in the final sprint in 14:31.05. Kipkemboi finished second in 14:31.51 ahead of Tsegay (14:32.11) and Taye (14:32.15). Double Olympic champion Sifan Hassan took fifth place in 14:37.05 beating US Alicia Monson (14:37.22).
Beatrice Chebet: "What an incredible sprint to win. Because it's just at the last moment that you win. It's a long season since the world championships until now. It's a good performance".
Men's 5000 metres:
Nicholas Kimeli Kipkorir surged ahead in the final stages of the 5000 metres race to win the men's 5000 metres in 12:59.05 ahead of South Sudan's Dominic Lobalu (12:59.40) and US record holder Grant Fisher (13:00.56).
Nicholas Kimeli: "I was struggling at first, so I decided not to stay with the fastest group, but then I managed to close the gap. It was not too big for me. It was not too difficult for me to close it. On the last laps, I decided to approach approach them kick for the final lap".
-->