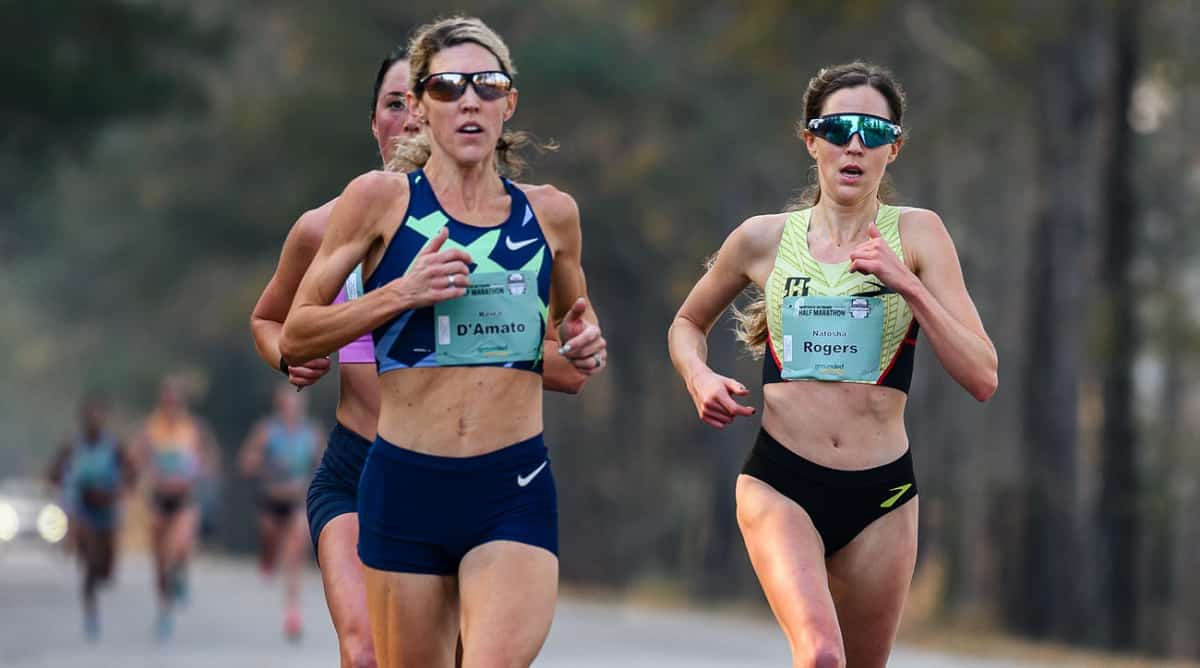 The American record holder Keira d'Amato and Kenya's Nancy Jelagat Meto lead a high quality women's field for the 48th edition of the BMW BERLIN-MARATHON on Sunday, September 25. Keira d'Amato improved the US record to 2:19:12 which also gives her the accolade of the fastest in the women's field, announced by the organisers today. Eight women will be on the start line with personal bests of under 2:21.
The return of Kenya's double Olympic champion and world record holder Eliud Kipchoge had already been announced some weeks ago as well as the participation of the current BMW BERLIN-MARATHON champion Guye Adola of Ethiopia. Six men on the start lists have personal bests of under 2:06 while the organisers SCC EVENTS expect more than 45,000 runners from around 150 countries for Germany's top road race. The BMW BERLIN-MARATHON is an Abbott World Marathon Majors race and a Platinum Label Road Race, awarded by World Athletics, the international governing body of the sport.
"After securing the presence of Eliud Kipchoge and Guye Adola, we are delighted also to have a very strong women's field on the start line. With the right weather conditions there is certainly a good chance of very fast times," said race director Mark Milde.
The presence of Keira d'Amato and Nancy Jelagat Meto brings to the event two women who have already run sub-2:20. At the age of 37, Keira d'Amato sprang a major surprise to break the American record with 2:19:12 in winning the Houston Marathon. That led to her late nomination for the World Championships in Eugene where she ran impressively to finish eighth. Sara Hall, who plans to run Berlin and then New York as well, went even better, finishing fifth. Hall's best time is 2:20:32. Nancy Jelagat Meto showed fine form in the past year, winning the prestigious Valencia title with a major improvement of 2:19:31. Four months previously she made a strong showing with second place in 65:21 at the GENERALI BERLIN HALF MARATHON.
Quite a few women runners will hope to put Berlin's fast course, where Eliud Kipchoge set the current men's world record of 2:01:39 in 2018, to good use in their bid to break 2:20: Gutemi Shone Imana has a best of 2:20:11 while Workenesh Edesa has run 2:20:24 and a third Ethiopian, Sisay Gola, has clocked 2:20:50. The Kenyans also have their contenders to break this landmark time in Maurine Chepkemoi, currently with a best of 2:20:18 and Vibian Chepkirui, who won the Vienna City Marathon in 2:20:59 in April.
Nor should marathon debutants be overlooked in the search for potential women winners, given that the Ethiopian Gotytom Gebreslase did just that to win last year's BMW BERLIN-MARATHON title. Two possible contenders are Rosemary Wanjiru of Kenya and Ethiopia's Nigisti Haftu. Both have strong performances at half marathon to their credit which could make them realistic challengers.
More information is available online at: www.berlin-marathon.com
Information on how to watch Berlin Live see info at : watchathletics.com
-->