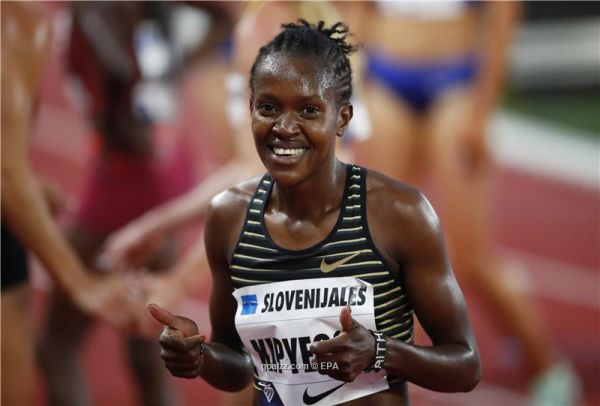 The Herculis EBS meeting was highlighted by four leads, three meeting records and one Diamond League record.
Faith Kipyegon set the second fastest time in history, a world lead and the Kenyan record with 3:50.37 on the fast Louis II track at the Herculis EBS in Monaco, the 11th leg of the Wanda Diamond League. The two-time world and Olympic champion missed Genzebe Dibaba's world record by 0.30.
Heather MacLean and Elise Cranny dipped under the 4 minutes barrier improving their PBs to 3:58.89 and 3:59.06 respectively. Hirut Meshesha from Ethiopa finished fourth in 4:00.51.
Faith Kipyegon: "I have been chasing the time for quite some time but I am happy with my PB. It seems I did not give all but I tried hard. I knew it was the best place to get the world record, but I am so disappointed I lost it in the last metres. I am heading home now and want to get a good Diamond League final in Zurich".
Women's 100 metres:
Shelly Ann Fraser Pryce stormed to a win in the women's 100 metres in 10.62 setting a world lead and a meeting record. World 200 metres champion Shericka Jackson improved her lifetime best to 10.71 to take second place. Marie Josée Ta Lou from Ivory Coast set the African record with 10.72 in third place. Aleia Hobbs equalled her PB with 10.81 to beat Twanisha Terry (10.90). Darriyl Neita from Great Britain clocked 10.91 coming close to her fresh PB by 0.01. Tamara Clarke finished seventh in 10.96.
Shelly Ann Fraser Pryce: "To be able to run 10.6 consistently means a lot to me. It is remarkable. It is very hard to keep speed on this high level. I had now 3 back to back races, so I will take some time for recovery and see what I am able to do with some rest before I come back. I cannot be disappointed with the season. The Monaco track Is just great but I hope the next time I get a lot of wind. The crowd is great and the track is just super fast".
Men's 200 metres:
Double world champion Noah Lyles won the men's 200 metres breaking his own meeting record with 19.46, the second fastest time of his career. He ran faster only in the World Championships final in Eugene, where he set the US record with 19.31. World bronze medallist Erryion Knighton took second place in 19.84.
Noah Lyles: "It was a good race overall. I wanted to go a bit faster, but to be honest, I am getting my victory points now. I am happy to win and the fast time. That is awesome. I want to get PRs and get the shoot on the world record. This is a huge goal for next season. I want to go to Lausanne. This is one of my most favourite starts of the whole season. They used to hold all my last PRs"
Men's 110 metres hurdles:
Double world champion Grant Holloway improved his seasonal best to 12.99 to win the men's 110 metres ahead of world silver medallist Trey Cunningham (13.03) and Olympic champion Hansle Parchment (13.08). Holloway set the fourth sub-13 time of his career and his first time under this barrier.
Grant Holloway: "I felt really good. I am happy to get the win. I came here with the set of mind that I should win and have a little bit of fun. I had some technical difficulties but I came over that. I want to win my points and I was little bit lazy, but I still need to fine tune my work. I lost my luggage, did my warm-up and I ran. I am blessed after that. The Diamond Trophy is a moment on my back I am looking forward to. Holding it up at the end of the year, I know I am on the right track".
Women's 400 metres:
Double Olympic champion Shaunae Miller Uibo won her second 400m Diamond League race this season in 49.28, her seventh ever best time. Candice McLeod took second place in 49.87 ahead of world bronze medallist Sada Williams (50.10).
Shaunae Miller Uibo: "We tried to do something different tonight. I am grateful for this win. It has been a long season. We are pretty happy with it. To achieve 49.2, we did a really good job tonight. We gave it a good effort. I am very happy about this performance"
Women's triple jump:
World record holder Yulimar Rojas started the competition with three fouls and 14.09m in the fourth round, but she found her rhythm by leaping to 15.01m in the fifth round to take the win. World silver medallist Shanieka Ricketts bounded out to 14.91m to take second place. Tori Franklin improved her PB to 14.86m to take third place.
Yulimar Rojas: "The result was not really what I was expecting but I was out of the competition for a while, so I had to adjust my last jump to win tonight, but I am very relaxed about it because it was great. The result tonight was just a standard. For me it is important to reach 15 metres mark, then I adjusted my jump, so I could win the competition with one last jump. I want to take the victory in Zurich and to start thinking of the next season. Next season will be a busy one".
Men's 3000 metres:
Thierry Ndikumwenayo from Burundi chased down Berihu Aregawi in the final straight to win the men's 3000 metres in 7:25.93, setting a Diamond League and a national record, a world leading time and the seventh fastest time in history. Ndikumwenayo held a previous PB of 7:34.91.
Aregawi improved his PB to 7:26.81 to take second place. US record holder Grant Fisher finished third improving the area record to 7:28.48. Nicholas Kipkorir from Kenya set his PB of 7:31.19 ahead of Dominic Lobalu Lokyniomo (7:31.54) and 5000m world silver medallist Jacob Krop from Kenya (7:33.30).
Thierry Ndikumwenayo: "It was incredible. I am really happy to get this win and it is my first Diamond League win. It was very important for me to break the national race, so it is a special moment for me today".
Men's 1000 metres:
World 1500 metres champion Jake Wightman won the men's 1000 metres in 2:13.88 setting a meeting record, a world lead and the ninth fastest time on the all-time list.
World 800 metres bronze medallist Marco Arop set the national record of 2:14.35 to finish second. Arop built a big lead, but he faded in the final 50 metres and was overtaken by Wightman.
Clayton Murphy took third place in 2:15.73 holding off two-time Commonwealth Games champion Wycliffe Kinyamal by 0.05.
Jake Wightman: "I did not really know I was in shape to do this today. It was just very hard. I have run on my own. Arop is a little bit quicker on the home straight, so I had to judge the right moment. This is a nice step towards Munich. The main difference between the 1500m and 1000mis just the speed of the first couple of laps. The plan is to run the 800 metres at the European Championships".
Women's 800 metres:
Jamaica's Natoya Goule set her seasonal best with 1:56.98 to win the women's 800 metres. US 800 metres specialists Sage Hurta and Olivia Baker improved their PBs to 1:57.85 and 1:58.05 respectively. Jemma Reekie finished fourth in 1:58.68.
Women's 3000 metres steeplechase:
World silver medallist Werkuha Getachew took a close win in a thrilling 3000m steeplechase win in 9:06.19 holding off her compatriot Zerfe Wondemgegn (9:06.63). Elizabeth Bird improved the British record to 9:07.87 to finish third ahead of former world champion Emma Coburn (9:07.93) and this year's Commonwealth gold medallist Jackline Chepkoech (9:09.72).
Women's pole vault:
World bronze medallist Nina Kennedy cleared 4.66m in his first attempt to take the win in the women's pole vault beating three-time world silver medallist Sandi Morris and former world and Olympic champion Ekaterini Stefanidi on countback. Italian rec
Nina Kennedy: "It was my first time in Monaco, so I am really happy. There were very nice conditions. The weather was amazing, the sunset was beautiful. It was a very good night. I just came here to win and I am happy I have executed it. I am excited for the rest of the rest of the season. I would love to win a Diamond League Final. It is on of my main goal for the rest of the season, so fingers crossed".
Men's high jump:
Three-time world champion and Olympic gold medallist Mutaz Barshim and world indoor champion Sanghyeok Woo had a clean-sheet until 2.30m in the men's high jump. Neither Barshim nor Sanghyeok Woo managed to clear 2.32. Barshim cleared 2.30m in the jump-off to take the win. Hamish Kerr took third place with 2.25m to beat Ju'Vaughn Harrison on countback.
Mutaz Barshim: "I feel good about this win. I feel a little bit tired because of the last couple of weeks with a lot of travels and fast moving. I need to rest and have a good recovery. Today was like a marathon with too many jumps, but It's fun to jump among the best. It's hard to stay focused all the time. It's a challenge but it's part of the sport"
Women's 400 metres hurdles:
Jamaica's Rushell Clayton, who won the world bronze medal in Doha, improved her PB to 53.33 to win the women's 400 metres hurdles ahead of her compatriot Janieve Russell, who set her seasonal best with 53.52. Gianna Woodruff from Panama finished third in 54.13.
Women's javelin throw:
World champion Kelsey Lee Barber claimed the win in the women's javelin throw with 64.50m in the third round. Haruka Kitaguchi from Japan secured her spot in the Diamond League final with her second place with 62.37m. Mackenzie Little from Australia placed third with 61.76m.
Men's long jump:
Olympic bronze medallist Maykel Massò leapt to a seasonal best of 8.35m in the second round to beat Olympic champion Miltiadis Tentoglou, who jumped 8.31m in the third round to take second place beating Marquis Dendy on countback. Tentoglou also produced two 8.30m jumps , 8.29m and 8.27m in his series.
-->