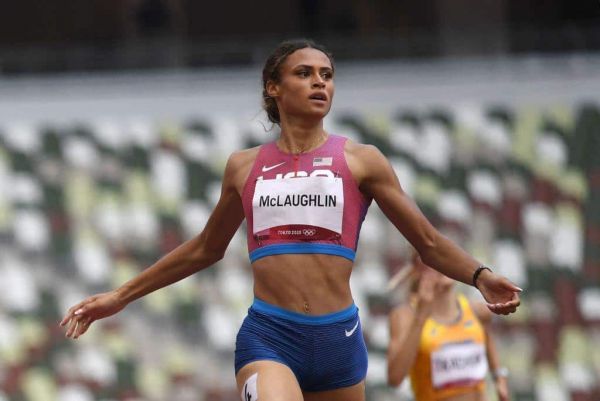 Eight meeting records were set at the Memorial Istvan Gyulai in Szekesfehrvar, the Hungarian leg of the World Athletics Continental Tour Gold.
Women's 400 metres hurdles:
World record holder Sydney McLaughlin won her final race of the season in the women's 400 metres hurdles in 51.68, setting the fastest ever time on European soil.
McLaughlin ran exactly one second slower than her world record set in the World Championships final in Eugene. The US star made her first appearance since the World Championships final, where she broke the world record with a sensational 50.68.
McLaughlin won the Spiriev Bojidar trophy for the most valuable performance of the meeting.
Sydney McLaughlin: "I just wanted to go out there, execute and have a clean race. I had a little break coming off the worlds, but it felt like a good race and I am a really happy with the time. We are excited to be here in Hungary and scouting out ahead of the World Championships next year".
Janieve Russell from Jamaica followed up her gold medal at the Commonwealth Games in Birmingham with a second place in 54.14. Rushell Clayton took third place in 54.45.
Women's 100 metres:
Five-time world 100m champion Shelly Ann Fraser Pryce won the women's 100 metres in 10.67 setting the second fastest time in the world this year.
Fraser Pryce clocked a record fifth time under the 10.70 barrier this season. The "Pocket Rockett" set the fastest time in the world this season with 10.66 in Chorzow last Saturday and clocked 10.67 three more times this year in Nairobi, Paris, in the World Championships in Eugene.
Shelly Ann Fraser Pryce: "It was one of those day where I wasn't feeling too well, but I just wanted to execute and have a good run. I definitely have more to give. I just need to watch the races and work at it a little more. It definitely feels good to hit 10.6 consistently throughout the year."
Fraser Pryce improved the meeting record of 10.71 set by her compatriot Elaine Thompson Herah in last year's edition.
World under 20 record holder Tamari Davis placed second breaking the 11 seconds barrier with 10.92 a few days after clocking 10.83 in Memphis. Mujinga Kambundji dipped under the 11 seconds to finish third in 10.99 ahead of Twanisha Terry (11.02).
Men's 200 metres:
World bronze medallist Erriyon Knighton won his first 200m race on European soil this season setting a meeting record of 19.88. Knighton competed in Szekesfehrvar for the first time last year clocking 20.03. Canada's Aaron Brown placed second in 20.24 beating world finalist Alexander Ogando (20.38). Olympic and world silver medallist Kenny Bednarek pulled up injured and just jogged to the finish-line.
Men's discus throw:
World champion Krijstian Ceh from Slovenia continued his impressive season by winning the men's discus throw with a meeting record of 71.23m in the first round, the second best performance of his career. Ceh missed his PB by just four cm. Ceh backed up this mark with a second best of 70.35m in the second round. The Slovenian athlete was the first discus thrower in the history of the Memorial Gyulai to throw over the 70 metres.
Former world champion Andrius Gudzius finished runner-up with 67.39m beating Olympic champion Daniel Stahl (67.01m).
Women's 200 metres:
World 200 metres champion Shericka Jackson, the second fastest 200m sprinter in history, won her eighth consecutive race in the 200 metres this season in 22.02. World and Olympic finalist Mujinga Kambundji from Switzerland continued her consistent season by finishing second in 22.45 edging Kayla White by 0.01.
Men's 100 metres:
World silver medallist Marvin Bracy won the 100 metres in 9.97 holding off world bronze medallist Trayvon Bromell and Elijah Hall, who placed second and third in 10.01. Bracy avenged his defeat against Bromell, who beat him in Chorzow last week.
Women's 100 meters hurdles:
Olympic champion Jasmine Camacho Quinn won the women's 100 metres hurdles for the second consecutive year on the Szekesfehrvar in a wind-assisted 12.27 (+2.4 m/s). Former world record holder Kendra Harrison took second place in 12.49 ahead of 2019 world champion Nia Ali (12.60) and Alaysha Johnson (12.62).
Men's 110 metres hurdles:
Jamaica's 21-year-old Rasheed Broadbell edged double world champion Grant Holloway with the same time of 13.12 in a close photo-finish. Broadbell won the Commonwealth Games gold medal in 13.08 last week. Daniel Roberts was only one hundredth of a second behind in third place.
Men's shot put:
World and Olympic silver medallist Joe Kovacs set a meeting record of 22.89m to win the men's shot put in the country of his grandfather's birth. Kovacs equalled his seasonal best set last month when he won the silver medal at the World Championships in Eugene. The US shot putter produced an outsanding series that included 21.79m, 22.36m, 22.33m, 21.49m, 22.89m and 22.87m.
Joe Kovacs: "I actually had 12 family members who came here to watch me, we are going to go dinner tonight. It's probably 15 years since I have seen them. It was really cool to see them in person again. It was a really good day. I am ready to throw 23 metres. We still have three Diamond League meetings left, so hopefully at one of them, I will get over that 23 metres. Today I was on".
Tom Walsh placed runner-up with 21.93m beating Tomas Stanek (21.66m) Jacko Gill (21.55m) and Josh Awotunde (21.28m).
Men's hammer throw:
Five-time world champion Pawel Fajdek produced a throw of 79.15 in the fourth round. Former world bronze Bence Halasz from Hungary delighted the crowd, when he moved to the lead with a throw of 79.44m. Olympic champion Wojchiech Nowicki unleashed the winning mark of 79.96m
Men's pole vault:
World champion and record holder Armand "Mondo" Duplantis had a clean-sheet at 5.60m and a meeting record of 5.80m to win the men's pole vault. Duplantis then failed three attempts at 6.01m. Former world record holder Renaud Lavillenie cleared his second attempt at 5.70m to take second place before failing three attempts at 5.80m. Thibault Collet placed third with 5.60m.
Women's hammer throw:
World champion Brooke Andersen threw the hammer to 74.84m in the sixth round to take the win. Andersen produced two more throws over the 73 metres of 73.35m and 73.96m which would have been enough to win the competition. World bronze medallist Janee Kassanavoid took second place with 72.58m. Denmark's Koch Jacobsen finished third with 70.13m.
Men's 400 metres:
Vernon Norwood clocked 44.96 to hold off 400m hurdles world champion Alison Dos Santos (45.11) and Olympic 4x400 champion Michael Cherry (45.42).
Men's high jump:
Olympic champion Gianmarco Tamberi from Italy had a clean-sheet at 2.14m, 2.18m, 2.21m and 2.24m to take the win in the men's high jump on a countback over Germany's Tobias Potye. World bronze medallist Andyi Protsenko took third place beating Edgar Rivera and Peter Bakosi on countback.
Women's 800 metres:
Two-time world under 20 medallist Diribe Welteji won the women's 800 metres in a meeting record 1:59.33 just two days after her win in the 1500 metres in the Diamond League meeting in Chorzow with 3:56.91. After the leading pack went through in 58.25 at 400 metres, Welteji pulled away from the rest of the field with 300 metres to go to take a comfortable win. Noelle Yarigo from Benin finished runner-up in 2:01.00 beating Brooke Feldmeier (2:01.44).
Women's long jump:
Former European under 20 champion Milica Gardasevic from Serbia improved her PB to 6.83m to win the women's long jump.
Women's javelin throw:
Yulenmis Aguilar from Cuba threw the javelin to 61.99m to take the win in the women's javelin ahead of last year's European Under 20 champion Elina Tzegko (61.66m).
Men's 800 metres:
Nicholas Kebenei Kiplangat won the men's 800 metres in 1:45.49 ahead of John Fizimons and Isaiah Jewett, who finished second and third sharing the same time of 1:45.70.
-->