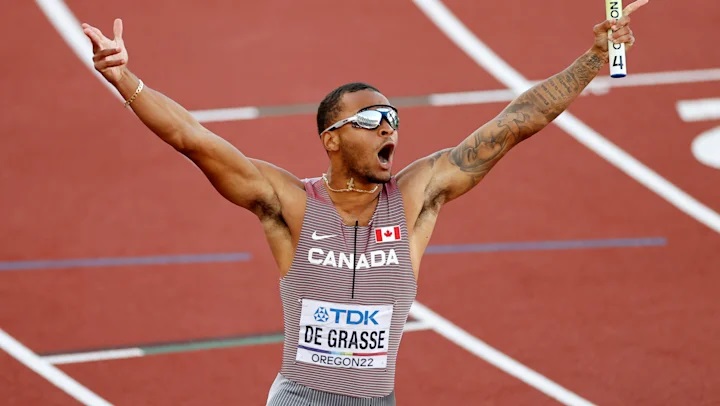 Canada won the third 4x100 relay world title in the history of the World Championships and the first gold medal since 1997. The Canadian team formed by Aaron Brown, Jerome Blake, Brandon Rodney and André De Grasse crossed the finish-line in a world leading time of 37.48.
André De Grasse took the baton from Brandon Rodney and clocked the anchor leg in 8.79 to earn the first gold medal for Canada at this edition of the World Championships.
De Grasse bounced back from a difficult period in which he suffered from an injury and a bout of Covid-19. The 200m Olympic champion did not get through to the final in the 100m and pulled out of the 200m.
Canada won the Olympic silver medal in 37.70 behind Italy in Tokyo last year.
André De Grasse: "After injuries and Covid, it was great to finish the championships like this. We had the team chemistry. It's special to win here. There are many Canadians cheering us on. It's not on home soil, but it felt like this".
The US team formed by Christian Coleman, Noah Lyles, Elijah Hall and Marvin Bracy Williams set a seasonal best of 37.55 to win the silver medal.
Marvin Bracy Williams: "We have a few things to clean up, the changes. Mine was not very good and that may have cost us the race. Nonetheless, we got a medal, got the stick around. We will win next time".
The British team formed by Jona Efoloko, Zharnel Hughes, Nethaneel Mitchel Blake and Reece Prescod claimed the bronze medal in 37.83.
Jamaica placed fourth in 38.06 edging Ghana, who set the national record with 38.07.
Here is how to follow the World Athletics Championships live.