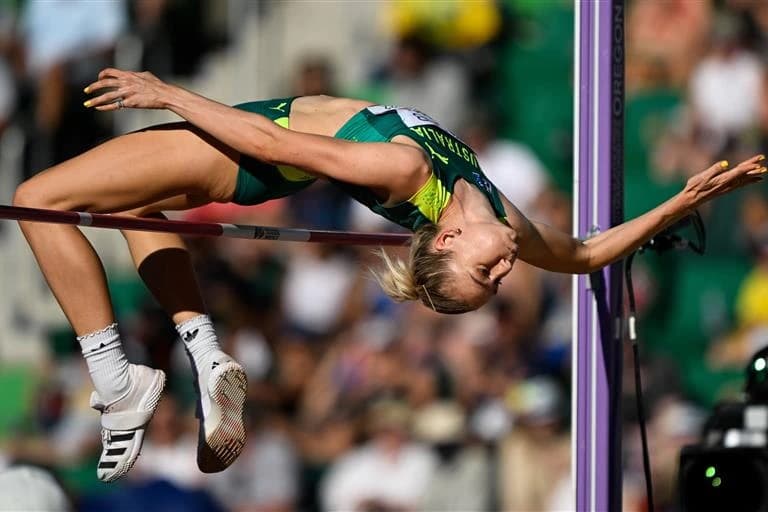 Here is report from day of the World Athletics Championships 2022 which takes place at Hayward Field in Eugene, Oregon.
Brazil's Alison Dos Santos won his first world gold medal in the men's 400 metres hurdles setting a championship record with 46.29.
Dos Santos became the first South American athlete to win a medal in the 400m hurdles in the history of the World Championships. He set a Brazilian, South American and US all-comers record and the third fastest time in history at world level.
Alison Dos Santos: "I am so happy. The energy of the crowd was amazing. I felt their love., people hugging me. When you win, you start being everyone's favourite. That's pretty awesome to win the world title on this track. I didn't care about the time because this is the first time I won a world title. I think I can run faster. I don't think you will have a perfect race. I will always look for ways to improve".
Raj Benjamin won his third consecutive global silver medal in 46.89 repeating his second places from the World Championships in Doha 2019 and the Olympic Games in Tokyo 2021.
Raj Benjamin: "My season has been rough, but I dug deep and it turned out this way. I am grateful for silver. I got it done. I chopped a few hurdles and my race went out the window, but when I heard USA, USA, I ran as fast as I could to keep my second place".
Trevor Bassitt edged former European under 20 champion Wilfried Happio by 0.02 in 47.39.
Trevor Bassitt: "To come out here, run a PB on the biggest stage and get a bronze, it's all I could ask for. You can't do any better than your best and I think a medal is an incredible blessing. Sometimes you just have to run fast and that's what happened today. It's unbelievable. To make my first world outdoor championship and get a final, it's not something a lot of people can say".
Happio had to settle with fourth place In 47.41 running faster than Karsten Warholm's winning time in the previous edition of the World Championships in Doha. This time would have enough to win 14 of the past 17 world titles.
Olympic champion and world record holder Karsten Warholm placed seventh in 48.42 after stumbling at the eighth hurdle.
Karsten Warholm: "It was a very tough race. I had an injury but to me it's always your fight and giving your all and leaving it all on the track. I felt I did that. I hope looking back I will feel proud of that, even though I prefer to take a medal".
Men's discus throw:
Kristjan Ceh won the world title in the men's discus throw setting a championship record of 71.13m.
The Slovenian discus giant won 13 of his 14 competitions and threw the discus three times beyond the 70 metres barrier this year.
Kristjan Ceh: "I knew I had the ability to produce a big throw, but this is a major championship. Of course the main goal was to secure the spot, but the best bit was the 71-metre throw. It was a fast circle here but everybody has the same conditions and you just need to trust yourself. We have some time before the European Championships and I want to be the best there".
Former world champion Andrius Gudzius took the early lead with a throw of 67.31m overtaking his younger compatriot Mykolas Alekna, who started the competition with a throw of 66.59m.
Ceh moved into the lead with a throw of 69.02m in the second round. Alekna, the son of two-time World and Olympic champion Virgilius Alekna, threw the discus to 67.87m to take second place ahead of his compatriot Gudzius.
In the third round Ceh sent the discus out to 71.13m improving the championship record of 70.17m held by Virgilius Alekna since Helsinki 2005.
Daniel Stahl threw the discus close to 70 metres with 69.16m, but his attempt was later ruled to be a foul throw.
Alekna and Gudzius improved their best mark to 69.27m and 67.55m. Stahl set his best performance of the day with 67.10m to end the competition in fourth place. For the first time in the history of the World Championships five men threw beyond 67 metres.
Matthew Denny from Australia and Alin Firfirica from Romania produced their best performance of the day throwing 66.47m and 65.57m. Alex Rose threw 65.57m reaching the first top finish for Samoa in any event in the World Championships.
Women's high jump:
Eleanor Patterson from Australia won the world title with 2.02m on her first attempt equaling the Oceanian outdoor record set by her compatriot Nicola Olyslagers (née McDermott).
Eleanor Patterson: "I knew I could bring a big performance. I have not competed much, but to come here tonight, seeing all these phenomenal athletes doing so well, I am just so humbled. I just could not believe I am the champion".
World indoor champion Yaroslava Mahuchik cleared 2.02m on her second attempt to win the silver medal on countback.
Elena Vallortigara from Italy won the bronze medal after clearing 2.00m on her first attempt. Iryna Gerashchenko cleared 2.00m on her second attempt to place fourth on countback.
Eight women remained in contention when the bar was raised to 1.98m. Mahuchik, Vallortigara, Patterson and Gerashchenko cleared 1.98m at the first time of asking. Olyslagers made three unsuccessful attempts at 1.98m.
Safina Sadullayeva from Uzbekistan failed one attempt at 1.98m, but she passed this height and failed her final two attempts at 2.00m.
Vallortigara continued her clean sheet by clearing 2.00m on her first attempt to hold on her lead. The Italian jumper set the second best performance of her career four years after improving her PB to 2.02m in London in 2018.
Patterson and Mahuchik cleared 2.00m on their second attempts. Gerashchenko improved her PB to 2.00m on her second attempt.
Patterson had a first-time clearance at 2.02m. Mahuchik needed two attempts to clear this height. Vallortigara and Gerashchenko failed their three attempts at 2.02m.
Vallortigara reached the podium in a global championship for the third time after winning bronze medals at the World Under 18 Championships in Ostrava 2007 and at the World Under 20 Championships in Moncton 2010. She has become the second Italian high jumper to win a world outdoor medal following in the footsteps of Antonietta Di Martino, who finished third twice in Berlin 2009 and Daegu 2011.
Elena Vallortigara: "It's a dream come true. I have not sunk it in. I have aimed for this medal for such a long time. This medal is worth a career. I am really proud for me, my coach Stefano Giardi and the work we have done to reach this achievement. When I jumped 2.00m, I realized that something marvelous could happen. I even dreamed a medal of a different colour. I thought it would not be so difficult. Today I thought that I could break the Italian record. For the first time I was in top shape. I am sure I will not sleep tonight".
Olyslagers finished fifth with 1.96m beating Safina Sadullayeva from Uzbekistan, seventeen-year-old Karmen Bruus from Estonia and Nadezhda Dubovitskaya from Kazakhstan on countback. Bruus equalled the world under 18 and the national record to place seventh with 1.96m.
Final men's 1500 metres:
European and Commonwealth bronze medallist Jake Wightman from Great Britain won a surprising 1500m world gold medal improving his PB to 3:29.23 holding off Olympic champion Jakob Ingebrigtsen, who also ran a great race taking the silver medal in 3:29.47. Mohamed Katir from Spain also broke the 3:30 barrier to complete an all European podium with his third place in 3:29.90. European Under 23 silver medallist and NCAA Championships second placer Mario Garcia from Spain placed fourth in a lifetime best of 3:30.20 (the fastest ever time by a collegiate athlete) ahead of Olympic bronze medallist Josh Kerr from Great Britain (3:30.60), Timothy Cheruiyot (3:30.69) and Abel Kipsang (3:31.21).
Wightman bounced back from his 10th place in the Olympic 1500m final in Tokyo last year. The 28-year-old Scottish middle-distance runner is coached by his father Geoff Wightman, a former marathon runner and the in-stadium announcer at these championships and at many other big athletics events in Great Britain. His mother Susan was also an elite marathon runner and was also at Hayward Field.
Abel Kipsang went to the front ahead of Ingebrigtsen and defending champion Timothy Cheruiyot. Wightman was running just behind them.
Ingebrigtsen took the lead with two laps to go, closely followed by Kipsang, Cheruiyot and Wightman.
Ingebrigtsen was leading ahead of Cheruiyot and Wightman, but the British athlete moved into the lead with 200 metres to go to take the title.
Wightman clocked 54.84 in the final lap.
"It probably won't sunk in until I have retired. It's mad. I had such a disappointing year in Tokyo last year. I don't think people realise how crushing it was to go in with such high expectations and come away hoping for a medal but ending 10th".
Ingebrigtsen will have the chance to bounce back in the 5000 metres.
Men's 200 metres semifinals:
US sprinters set the top three times in the 200m semifinals. Reigning world champion Noah Lyles set the fastest time with 19.62 beating Olympic silver medallist Kenneth Bednarek, who improved his seasonal best to 19.84.
Noah Lyles: "My coach told me to get out a little bit of the beast today"
Eighteen-year-old Erryion Knighton won the third semifinal in 19.77. Aaron Brown edged Filippo Tortu by three thousands of a second in 20.10. Tortu narrowly missed the qualifying spot but he improved his PB by 0.01.
Alexander Ogando from Dominican Republic won his semifinal in 19.91 edging this year's double NCAA champon Joseph Fahnbulleh from Liberia by 0.01. World 100m champion Fred Kerley suffered from a cramp and finished sixth in 20.58.
Fred Kerley: "I caught a cramp. It's part of the game. I am on to the next competition"
Women's 200 metres semifinals:
This year's 200 metres Jamaican champion Shericka Jackson set the fastest semifinal time with 21.67 beating Aminatou Seyni from Niger (22.04). Mujinga Kambundji improved her own Swiss record to 22.05 to reach her second final at these championships.
Shericka Jackson: "I am strong, I am fast, so it was not surprising".
Five-time 100m world champion Shelly Ann Fraser Pryce set her seasonal best with 21.82 to win the third semifinal ahead of US champion Abby Steiner (22.15).
Tamara Clarke clocked the third best time of 21.95 beating Dina Asher Smith, who improved her seasonal best to 21.96. Olympic champion Elaine Thompson Herah dipped under 22 seconds for the first time this season with 21.97 to secure her spot in the final.
Women's 400 metres hurdles heat:
World record holder Sydney McLaughlin won the first women's 400 metres hurdles heat in 53.95 on the track where she broke her own world record clocking 51.41 in the US Championships.
Femke Bol ran faster than McLaughlin winning the third heat wit 53.90.
Sydney McLaughlin: "Just checking out, getting ready for the next round, getting used to the stadium. The atmosphere was good. Lane eight is not ideal, but I only had to do what I needed, and I am just really happy".
Janieve Russell from Jamaica won the second heat in 54.42 beating 2015 world silver medallist Shamier Little (54.77).
Reigning world champion Dalilah Muhammad returned to her best form by winning the fourth heat with 54.45.
This year's NCAA champion Britton Wilson claimed the final heat in 54.54 ahead of Italian champion Ayomide Folorunso, who came close to her seasonal best of 54.69.
Here is how to follow the World Athletics Championships live.
-->