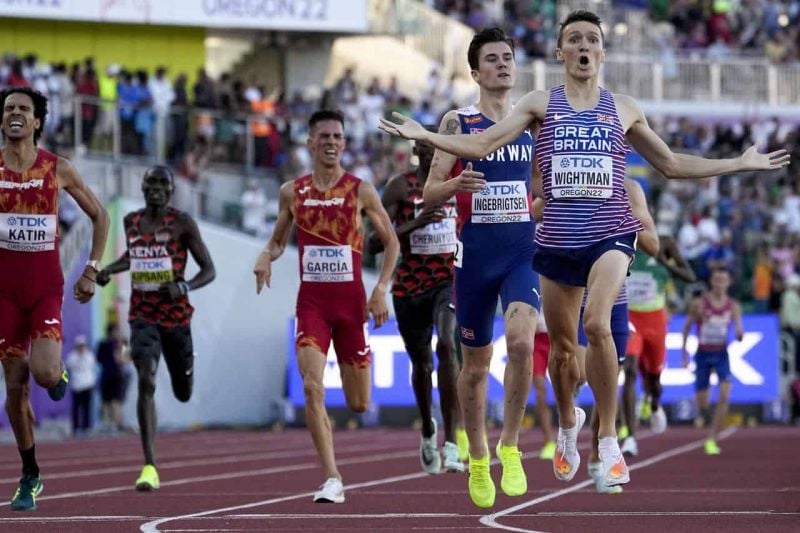 European and Commonwealth bronze medallist Jake Wightman from Great Britain won a surprising 1500m world gold medal improving his PB to 3:29.23 holding off Olympic champion Jakob Ingebrigtsen, who also ran a great race taking the silver medal in 3:29.47. Mohamed Katir from Spain also broke the 3:30 barrier to complete an all European podium with his third place in 3:29.90. European Under 23 silver medallist and NCAA Championships second placer Mario Garcia from Spain placed fourth in a lifetime best of 3:30.20 (the fastest ever time by a collegiate (NCAA) athlete) ahead of Olympic bronze medallist Josh Kerr from Great Britain (3:30.60), Timothy Cheruiyot (3:30.69) and Abel Kipsang (3:31.21).
Wightman bounced back from his 10th place in the Olympic 1500m final in Tokyo last year. The 28-year-old Scottish middle-distance runner is coached by his father Geoff Wightman, a former marathon runner and the in-stadium announcer at these championships and at many other big athletics events in Great Britain. His mother Susan was also an elite marathon runner and was also at Hayward Field.
Abel Kipsang went to the front ahead of Ingebrigtsen and defending champion Timothy Cheruiyot. Wightman was running just behind them.
Ingebrigtsen took the lead with two laps to go, closely followed by Kipsang, Cheruiyot and Wightman.
Ingebrigtsen was leading ahead of Cheruiyot and Wightman, but the British athlete moved into the lead with 200 metres to go to take the title.
Wightman clocked a speedy 54.84 in the final lap.
"It probably won't sunk in until I have retired. It's mad. I had such a disappointing year in Tokyo last year. I don't think people realise how crushing it was to go in with such high expectations and come away hoping for a medal but ending 10th".
Ingebrigtsen will have the chance to bounce back in the 5000 metres.
Men's 1500m Final Results
| POS | ATHLETE | NAT | MARK |
| --- | --- | --- | --- |
| 1 | Jake WIGHTMAN | GBR | 3:29.23 WL |
| 2 | Jakob INGEBRIGTSEN | NOR | 3:29.47 SB |
| 3 | Mohamed KATIR | ESP | 3:29.90 SB |
| 4 | Mario GARCÍA | ESP | 3:30.20 PB |
| 5 | Josh KERR | GBR | 3:30.60 SB |
| 6 | Timothy CHERUIYOT | KEN | 3:30.69 SB |
| 7 | Abel KIPSANG | KEN | 3:31.21 |
| 8 | Teddese LEMI | ETH | 3:32.98 SB |
| 9 | Stewart MCSWEYN | AUS | 3:33.24 SB |
| 10 | Michał ROZMYS | POL | 3:34.58 SB |
| 11 | Ignacio FONTES | ESP | 3:34.71 SB |
| 12 | Joshua THOMPSON | USA | 3:35.57 |
-->