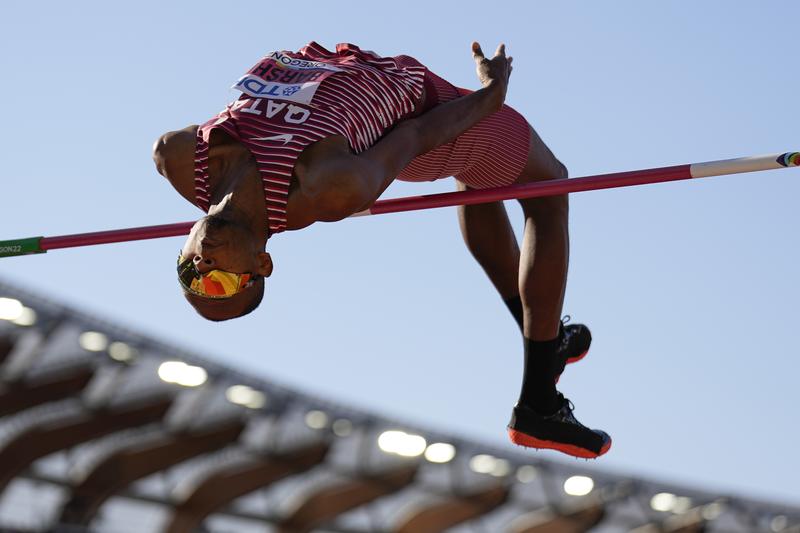 Highlights of the World Athletics Championships Eugene day 4 on Monday, July 18.
Mutaz Barshim cleared all heights on his first attempt until a world lead of 2.37m becoming the first high jumper in history to win his third consecutive world outdoor title. Barshim failed one final attempt at 2.41m.
Mutaz Barshim: "Three world gold medals in a row is something that has never been done before. I came here to secure that. I know I put a lot of hard work to be where I am. Defending my world title and and being recovered after injury is the most amazing thing that could happen to me. Sometimes it's difficult to show jumps and techniques that people like and expect to see from me".
World Indoor champion Sanghyeok Woo equalled his national outdoor record with 2.35m on his second attempt to win the silver medal. The South Korean jumper failed one attempt at 2.37m and two tries at 2.39m.
Woo finished fourth with 2.35m at the Olympic Games in Tokyo and won the world indoor gold medal in Belgrade with 2.34m. Last May Woo won the first Diamond League competition of his career in Doha with 2.33m beating Barshim.
Sanghyeok Woo: "I am very excited to come out with a medal. I enjoyed the competition, and I am happy for Barshim to get another gold. I believe I can jump even higher next time".
Ukraine's Andiy Protsenko won the bronze medal with 2.33m beating Olympic champion Gianmarco Tamberi on countback.
Andiy Protsenko: "I am like a wine, the older, the better"
Tamberi had to settle with fourth place with a seasonal best of 2.33m. The Italian star had a clean sheet by clearing 2.19m, 2.24m and 2.27m in his first attempt before jumping 2.30m at the third time of asking. He was in bronze medal position, but Protsenko overtook him with a first-time clearing at 2.33m. Tamberi jumped 2.33m on his second attempt, but he was unable to clear his three attempts at 2.35m. Protsenko failed two attempts at 2.35m and one at 2.37m.
Gianmarco Tamberi: "In the end, I am glad I found a way to jump high today, even with the pain. I struggled a lot in qualification, and today it was very difficult for me to find the correct jump".
Shelby McEwen cleared all heights until 2.30m, but he failed to clear 2.33m on his first two attempts and one final try at 2.35m ending the competition in fifth place. Olympic finalist Ju'Vaughn Harrison cleared 2.27m in his second attempt, but he failed three attempts with 2.30m.
Women's triple jump:
Yulimar Rojas won a record third world outdoor gold medal with 15.47m in the second round in the women's triple jump. The Venezuelan star missed the championship record held by Inessa Kravetz by just three cm.
Rojas produced two more jumps over the 15 metres barrier to back up her winning mark.
Rojas made her global championship debut in 2014, when she competed in the long and triple jump at the World Under Championships in Eugene. She has won the Olympic gold medal in Tokyo with a world record of 15.67m, three world outdoor gold medals and world indoor titles. Last March she broke the outright world record with 15.74m at the World Indoor Championships in Belgrade.
Rojas opened with 14.60m in the first round. Ricketts leapt to a seasonal best of 14.89m to take the lead producing her fourth best ever performance.
Rojas leapt to 15.47m setting the fifth-best outdoor performance in history. Rojas produced another big jump of 15.24m in the third round before landing at a mark that looked very close to her world record, but it was a foul jump. After another foul in the fourth round Rojas leapt to a legal 15.39m in the sixth round.
Yulimar Rojas: "Every meet, big or small, is a challenge to me. I came with the goal to get closer to my world record. The wind affected my run-up. I tried to adjust, but the most important thing was to win the medal and stay consistent over 15 metres. It still has not sunk in yet. I wanted a longer jump, but I am happy to return to this beautiful stadium, to see the crowd. More championships will come and I hope to continue adding titles for my country".
Olympic silver medallist Shanieka Ricketts from Jamaica repeated her silver medal from the past edition of Doha 2019 with 14.89m.
Shanieka Ricketts: "It was an incredible competition. I wanted to go big early to set the pace and get three further jumps. To come out tonight and win a medal after a disappointing showing at the Olympic Games. I am just over the moon".
US specialist Tori Franklin won the first ever medal in the women's triple jump for her country with 14.72m. Pan American silver medallist Leyanis Perez Hernandez improved her lifetime best by 12 cm to 14.72m to place fourth. Thea Lafond from Dominica finished fifth with 14.56m reaching her country's best ever result in a women's event. Olympic fourth placer Keturah Orji placed sixth with a wind-assisted 14.49m (+2.4 m/s)
Women's 1500 metres:
Kenya's Faith Kipyegon won the second world outdoor title in the women's 1500 metres five years after her first triumph, clocking the second-fastest ever time on US soil with 3:52.96. Kipyegon ran faster only once in this country when she won at this year's Prefontaine Classic at Hayward Field with 3:52.59 last May. Kipyegon won an unprecedented fourth global title over this distance in a collection that includes two consecutive Olympic gold medals.
Faith Kipyegon: "I was facing a lot of pressure. Everybody was expecting something special from me. Everybody was like: 'Faith, we believe in Faith', so it was a real pressure, but I managed it. I knew the Ethiopian lady was going to be fast. I knew she was a front-runner, and we ran really quick and thank God I won. I thank Muir for calling me the greatest of all time. I can say thank Laura so much. I am really grateful. Laura is a really nice lady. Before the race, I talked with her and I wish her all the best. Laura, let's continue like this. This is the spirit of sport".
Kipyegon pulled away from Ethiopia's Gudaf Tsegay with 300 metres to go. Tsegay won the silver medal with 3:54.52 three years after her bronze in Doha 2019. Laura Muir from Great Britain added a world bronze medal to her Olympic silver from last year in her fifth World Championships final with 3:55.28. Muir finished six seconds ahead of Freweyni Hailu, who crossed the finish-line in 4:01.28. Sofia Ennaoui from Poland finished fifth with a seasonal best of 4:01.43 beating Sinclaire Johnson (4:01.63)
Kipyegon will run the 1500m in the Monaco Diamond League meeting on 10 August.
"I can't talk about the world record. Let me focus on myself and see what is possible. I will be trying my best to lower my personal best and to run a good race", said Kipyegon.
Women's heptathlon:
Two-time Olympic champion Nafissatou Thiam added her second world gold medal in the women's heptathlon to her collection. The Belgian combined events star scored the second best mark of her career with 6947 points beating Anouk Vetter, who broke the Dutch record with 6867 points.
Nafissatou Thiam: "I am very happy with my final 800 metres. I would have given all my life. I have not done any mistakes. It was the perfect way to end the competition. I feel the adrenaline. Everything was very fast, including the award ceremony and the first interviews. It was a very intense and stressful competition. I did not feel very well after the long jump competition, as I did not sleep well the night before the competition. This gold medal is a good reward for the work I have done in training. It gives me a lot of confidence. I am proud for all my achievements, not only the gold medal. The silver medal in Doha meant a lot to me".
Twenty-one year-old US rising star Anna Hall won the bronze medal improving her PB to 6755 points becoming the third best ever US heptathlete in history.
Thiam extended her overnight lead at the start of the second day with a leap of 6.59m in the long jump. Vetter improved her PB to 6.52m. Annik Kaelin from Switzerland, who won the Multistars meeting in Grosseto last May, jumped 6.56m. Adrianna Sulek and Anna Hall leapt to 6.43m and 6.39m moving to third and fourth in the overall standing.
Vetter threw the javelin to an impressive mark of 58.29m missing her own global championship best performance by just 12 cm. The Dutch athlete set her PB in this event with 59.81m in Goetzis. Thiam produced a good throw of 53.01m. Hall improved her PB to 45.75m increasing her margin over Sulek, who set her seasonal best in the javelin with 41.63m.
Vetter went into the final 800m race with a lead of just 19 points over Thiam. Both Vetter and Thiam surpassed the 6000 points barrier with 6045 and 6026 points before the final 800 metres.
Thiam improved her PB in the 800 metres by 2 seconds to 2:13.00 to secure the gold medal. Vetter crossed the finish-line in 2:20.09 to improve her own national record to 6867 points. Vetter set the highest score for a silver medal in the history of the World Championships.
Hall clocked 2:06.47 to win the bronze medal with 6755 points, improving her PB by 300 points.
Sulek placed fourth with 6672 points improving Malgorzata Nowak's national record set in 1985 with 6616 points. This mark would have been enough for a medal at any of the past 17 editions of the World Championships.
Noor Vidts scored 6559 points to finish fifth ahead of Kaelin, who broke the Swiss record with 6464 points, Emma Osterwegel (6440 points). Defending champion Katarina Johnson Thompson completed the top-eight with a seasonal best of 6222 points.
Men's 3000 metres steeplechase:
Soufiane El Bakkali added the world title in the men's 3000 metres steeplechase to the Olympic gold medal won last year in Tokyo. The 26-year-old steeplechaser completed a full set of world championships medal after winning the silver in London 2017 and bronze in Doha 2019.
El Bakkali took the lead around the final bend and pulled away in the final 200 metres to claim the gold medal in 8:25.13, the slowest time in the history of the World Championships. El Bakkali stopped Kenya's streak of seven consecutive world titles.
Kenya has finished out of the top two for the first time since 1991.
El Bakkali returned to Hayward Field, where he finished fourth at the World Under 20 Championships in 2014.
Soufiane El Bakkali: "I am very happy to win the world title after the Olympic gold medal. The race was very difficult. It was very tactical and slow. I positioned myself on the last lap. I am very strong in the final 400 metres and it worked out for me. The World Under 20 Championships here was my first international experience. I return eight years later as a champion".
Lemecha Girma won his second consecutive world medal in 8:26.01 beating two-time world champion Conseslus Kipruto, who took bronze in 8:27.92. El Bakkali beat Girma for the seventh time in eight head-to-head races.
Getnet Wale took fourth place with 8:28.68 ahead of Abraham Kibiwot (8:28.95) and US record hlder Getnet Wale (8:29.08).
Women's marathon:
Gotytom Gebrselase won the world marathon in 2:18:11 in Eugene completing the Ethiopian double one day after Tamirat Tola's triumph in the men's marathon in a championship record of 2:05:36.
Gebrselase improved Paula Radcliffe's championship record of 2:20:57 set at the World Championships in Helsinki 2005.
The 27-year-old Ethiopian runner won the Berlin Marathon on her debut over the marathon distance in 2:20:09 and set a PB of 2:18:18 in Tokyo last year.
Gebrselase broke away from Judith Jeptum Korir from Kenya at 40 km. Gebrselase and Korir made their championship debut.
Gotytom Gebrselase: "The Kenyan runner asked me to pass her, but I stayed patient. Towards 40 km, I felt strong and decided to leave"
Israel's Lonah Salpeter crossed the finish-line in third place in 2:20:18 beating Eritrea's Nezret Weldu, who set the national record of 2:20.29, and US runner Sara Hall (2:22:10). US Emma Bates crossed the finish-line in a lifetime best of 2:23:18 beating her compatriot Keira D'Amato (2:23:34).
Defending champion Ruth Chepgnetich led a group of eight runners until the 18 km before dropping out of the race due to stomach problems.
Men's 200 metres heats:
Reigning world champion Noah Lyles broke the 20 seconds barrier setting the fastest time in the 200m heat with 19.98. Lyles set the first ever wind legal sub-20 seconds in the heats of a global championship.
Erriyon Knighton cruised through to a wind-assisted 20.01 (+2.1 m/s). Alexander Ogando from Dominican Republic improved his national record to 20.01. This year's NCAA champion Joseph Fanbulleh from Liberia won the 200m in 20.12. World 100m champion Fred Kerley started his bid for a 100-200m double with a win in the fifth heat in 20.17. Olympic 4x100 champion Filippo Tortu from Italy was the fastest European sprinter in the heats with 20.18 missing his seasonal best by 0.03.
Women's 200 metres heats:
Aminatou Seyni clocked the fastest time in the women's 200m heats with 21.98 beating five-time 100m world champion Shelly Ann Fraser Pryce (22.26). Shericka Jackson won the first heat in 22.26. Beatrice Masilingi took the win in the second heat in a seasonal best of 22.27 beating 200m Olympic champion Elaine Thompson Herah (22.41). Abby Steiner made her debut at the World Championships with a win in the fifth heat in 22.26 ahead of Mujinga Kambundji (22.34).
Women's discus throw qualifying round:
Olympic champion Valarie Allman recovered from two fouls in the first two attempts with a third-round attempt of 68.36m. Jorinde Van Klinken produced the second best throw with 65.66m.
World Athletics championships will continue with day 5 on Tuesday, July 19 with evening session at 17:05 local time in Eugene Oregon.
Here is how to follow the World Athletics Championships live.
-->