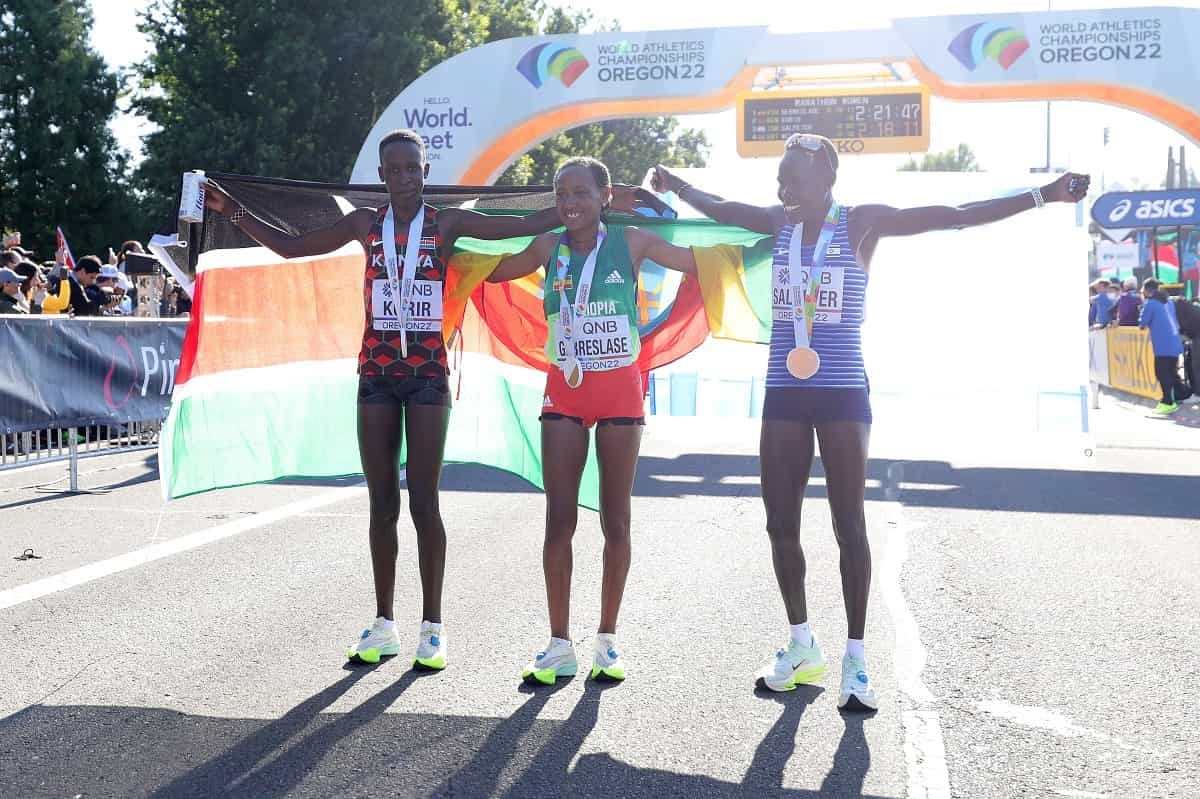 Ethiopian Gotytom Gebreslase won the women's marathon world championships title in a very close contest with Kenyan Judith Korir. Gebreslase's winning time of 2:18:11 was a new World Athletics championships marathon record.
"I am very happy and I want to give all the glory to God," said Gebreslase. "The Kenyan runner asked me to pass her but I stayed patient. Towards 40km, I felt strong and decided to leave."
Gebreslase completed the Ethiopian double in Eugene after Tamirat Tola won the men's gold in a new championship record at 2:05:36 on Sunday.
"Tola's win yesterday motivated me a lot today," said Gebreslase.
Korir, who ran a new personal best time of 2:18:20, expressed her frustration that Gebreslase did not want to pace with her after they broke away from the lead pack at the 27-km mark; however, in the end, she was satisfied with her performance.
"The Ethiopian runners are very fast. It not easy to run with them, but I tried my best," Korir said.
Israeli runner Lonah Salpeter took a chance to ensure the bronze after Ethiopian Ababel Yeshaneh dropped off the leading pack and eventually dropped out of the race with less than 10 km.
"I remained patient after the ladies pushed early in the race, no matter (how) the race would unfold," Salpeter said. "Today, it was truly a fantastic achievement. The marathon starts at 30km."
Defending champion Ruth Chepngetich of Kenya dropped out just before 20km due to stomach problems.
Eritrea's Nazret Weldu, the 2022 Daegu marathon winner, set a new national record of 2:20:29 to take 4th place.
All three Americans placed in the top 10, with Sarah Hall finishing in 5th (2:22:10 SB), Emma Bates in 7th (2:23:18 PB), and Keira D'Amato in 8th place with 2:23:34.
The marathon was run a primarily on a flat 14-kilometer looped course via Eugene and Springfield. The race started and finished in front of the University of Oregon's Autzen Stadium.
-->