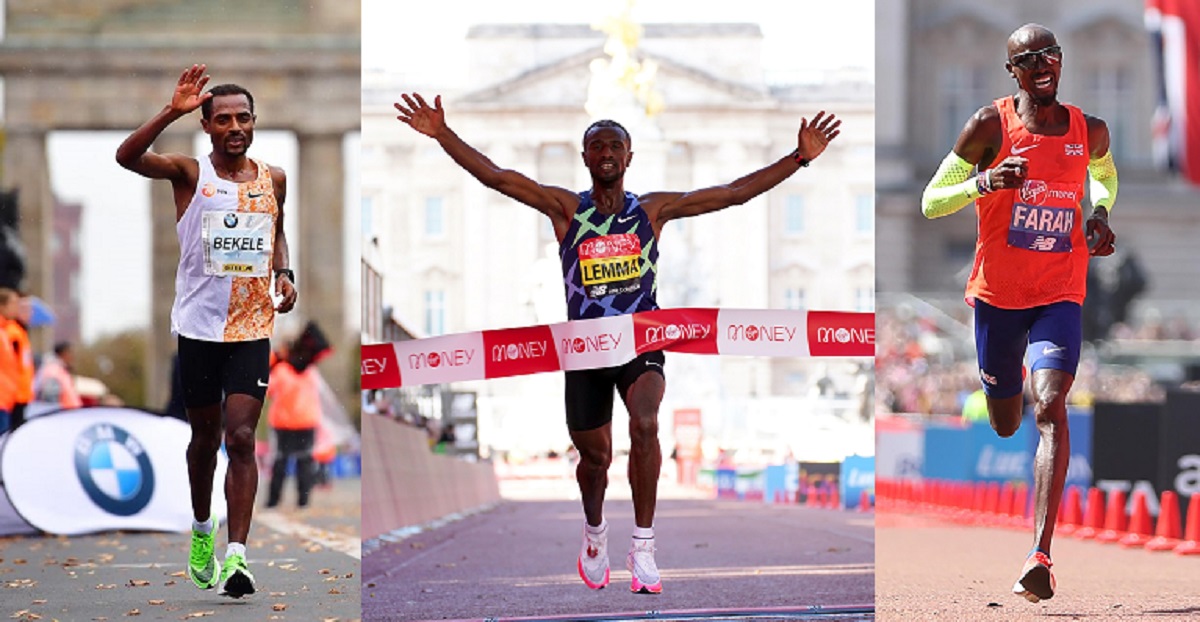 The 2022 TCS London Marathon organizers revealed its men's elite field on Thursday (7). Ethiopia's Sisay Lemma, the winner of last year's race, will be joined by three men who have broken 2 hours and 3 minutes in the marathon. There are only six men in history who have gone 2:03 and faster. The London marathon has assembled a record field of eight sub-2:04 men that will clash on Sunday, October 2.
The loaded men's field includes numerous world and Olympic champions, the 39-year-old Mo Farah and the 40-year-old legend Kenenisa Bekele (2:01:41).
The line-up also has Birhanu Legese, the third-fastest man in history with 2:02:48, and Mosinet Geremew, who with his personal best time of 2:02:55 is the fifth fastest on all time lists. European record holder Bashir Abdi of Belgium, who holds a PB of 2:03:36, is also on the start list, with the runner-up in London in 2020 and 2021 Kenya's Vincent Kipchumba (2:04:28).
London Marathon 2022 elite men's field
Kenenisa Bekele (ETH) 2:01:41
Birhanu Legese (ETH) 2:02:48

Mosinet Geremew (ETH) 2:02:55

Amos Kipruto (KEN) 2:03:13

Sisay Lemma (ETH) 2:03:36

Bashir Abdi (BEL) 2:03:36

Tamirat Tola (ETH) 2:03:39

Kinde Atanaw (ETH) 2:03:51

Leul Gebresilase (ETH) 2:04:12

Vincent Kipchumba (KEN) 2:04:28

Sir Mo Farah (GBR) 2:05:11

Naoki Okamoto (JPN) 2:08:04

Naoki Aiba (JPN) 2:08:44

Kohei Futaoka (JPN) 2:09:14

Chris Thompson (GBR) 2:10:52

Brett Robinson (AUS) 2:10:55

Jack Rayner (AUS) 2:11:06

Weynay Ghebresilasie (GBR) 2:12:17

Mohamud Aadan (GBR) 2:12:20

Philip Sesemann (GBR) 2:12:58

Mike Sayenko (USA) 2:13:00

Kowal Yoann (FRA) debut
The 2022 TCS London Marathon takes place on Sunday, October 2.
-->