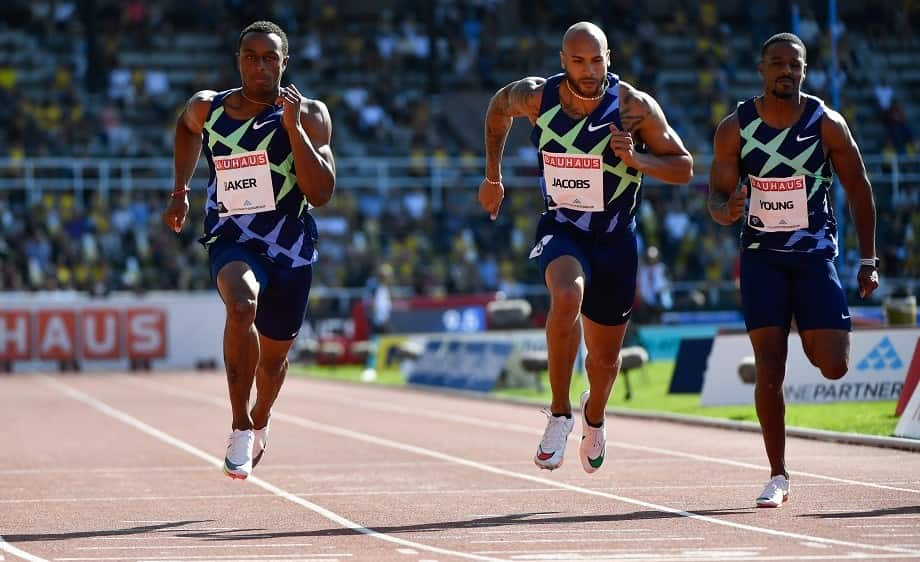 Armand "Mondo" Duplantis will seek his fourth win in the men's pole vault in the Stockolm Bauhaus Galan in front of his home fans in the historic 1912 Olympic Stadium. Duplantis won his first Diamond League competition at the age of 18 in the Swedish meeting in 2018 with 5.86m. In the past two editions the Swedish star won in 2020 with 6.01m and in 2021 breaking the meeting record with 6.02m. He also won two more competitions in the Stockolm stadium at under 18 competion in 2015 and at the Finnkampen meeting between Sweden and Finland in 2019.
Duplantis will be seeking his 12th win out of 12 indoor or outdoor competitions this season and the 17th Diamond League win of his career.
Stockholm Diamond League Live Stream
Stockholm Diamond League 2022 Highlights
At this year's edition of the Wanda Diamond League Duplantis has scored three wins in Doha with 6.02m, Eugene with 5.91m and Oslo with a world lead mark of 6.02m. He also cleared 6.01m at the Hengelo Continental Tour Gold meeting in rainy conditions.
Stockolm will be the final meeting for the Olympic champion and world record holder before the World Championships in Eugene, where he will be aiming to win his first world outdoor gold medal.
Armand Duplantis: "When you get to the outdoor season, you are not going to get perfect conditions every day. That's part of the game, but I know when the weather is right, and everything is lined up, I am going to jump something really high. It's a very special competition. It's maybe the second most important meeting of the year. It's a very important day for me tomorrow. ".
Duplantis will face US indoor record holder Chris Nilsen, who won the Olympic silver medal in Tokyo with 5.97m, Brazil's Thiago Braz Da Silva, who won Olympic bronze with 5.87m in Tokyo and the world indoor silver with 5.95m in Belgrade, 2012 Olympic gold medal Renaud Lavillenie, who won in Stockolm in 2016 with 5.73m, and KC Lightfoot, fourth at the Olympic Games in Tokyo, Sondre Guttormsen from Norway, who won the NCAA outdoor title in Eugene this year and finished third at the Prefontaine Classic in Eugene with 5.81m and second in Oslo with 5.80m, and Ben Broeders, who won his first Diamond League competition with 5.80m in Paris beating Lavillenie on countback.
Chris Nilsen: "I am looking forward to taking on Mondo in Stockolm. Being at a Diamond League meeting is always a goal for all of us. It's pretty cool to see how people appreciative are, because great athletes like Mondo Duplantis and Femke Bol are here"
The 83rd world record set in the Stockolm Olympic Stadium dates back to 1997, when Wilson Kipketer equalled Sebastian Coe's 800 metres time of 1:41.73.
The only men's pole vault world record set on Swedish soil was the 5.55m cleared by Swede Kjeli Isakson in 1972.
Men's discus throw:
Sweden's Olympic champion Daniel Stahl will renew his battle with European Under 23 champion and record holder Kristjan Ceh.
Ceh beat Stahl in three consecutive Diamond League meetings in Birmingham, Rabat and Rome. The Slovenian thrower improved the Diamond League record to 71.27m in Birmingham moving up to 10th in the world all-time list and threw again over the 70m barrier with 70.72m in Rome.
Krjstian Ceh: "Athletics is getting more attention in Slovenia than before. More people are starting with athletics. I am expecting a tough competion in Eugene. A lot of guys are throwing over 68 metres consistently. It's going to be hard. It's not only Daniel. It's going to be a good championship.
Stahl avenged these defeats by beating Ceh at the Paavo Nurmi Games in Turku with his seasonal best of 70.62m. The Swedish thrower improved the world lead to 71.47 at the Swedish Club Championships in Uppsala, setting the second best performance of his career. Stahl also scored two wins in Sollentuna (68.97) and Kuortane (66.26m). He claimed the Diamond Trophy in 2021 with four wins in five meetings.
Daniel Stahl: "It's my favourite arena in the whole world. My home people will come to watch me tomorrow. It's going to be fun. On the day before the meeting I am just going to stay home and play cards with my mother and my grandmother. After my Olympic title I have less pressure. I want to have fun"
For the first time since 2008 two discus throwers have thrown over the 71 metres barrier in the same season. The meeting record set by Fedrick Dacres with 69.67m in 2018 could be under threat.
The Stockolm line-up will also feature Simon Petterson from Sweden and Lukas Weisshaidinger, who won the silver and bronze medals respectively at the Olympic Games in Tokyo. World under 20 champion Mykolas Alekna, the son of two-time Olympic champion Virgilius Alekna, will make his Diamond League debut one week after winning the Lithuanian title with 69.00 setting the best ever mark by a teenager.
The line-up is rounded out by Alekna's compatriot Andrius Gudzius, world gold medallist in London and reigning European champion in Berlin 2018 and second in Turku with 68.09m, and Australia's Matthew Denny, fourth at the Olympic Games in Tokyo and third in this year's Rabat Diamond League meeting with 67.07m.
Men's 100 metres:
Olympic champion Marcell Jacobs will make his seasonal debut in this year's Wanda Diamond League at the Bauhaus Galan in Stockolm.
After picking a minor muscle injury in Savona on 18 May where he clocked a wind-assisted 9.99, Jacobs returned last weekend at the Italian Championships in Rieti, where he won his fifth consecutive 100m title in 10.12 into a headwind of -0.9 m/s. Jacobs was forced to pull out of his planned appearances in Eugene, Rome and Oslo. Jacobs won 12 out of the 12 indoor races last winter he managed to complete, including the world indoor gold medal in Belgrade in the 60m in a European record of 6.41 ahead of Christian Coleman. He only false started in the Belgrade International meeting two weeks before the World Indoor Championships.
Marcell Jacobs: "I am back on the track after the injury. I feel much better. I am anxious to return to the track after a long time. I am in good shape now. The World Championships are going to be the main goal of the season. Stockolm is the most important step to reach the best shape for me ahead of the World Championships in Eugene. The injury came in the most crucial part of the season. Nothing has been easy in my career. It's important to compete as much as possible in order to find back the competitive feeling on the road to Eugene".
Jacobs will make his second appearance in Stockolm one year after finishing second in 10,05 behind Ronnie Baker. Stockolm marked the start of a dream 2021 season crowned by his Olympic titles in the 100 metres and in the 4x100 relay.
Jacobs is now in good shape again and will face Akani Simbine, Reece Prescod, Frenchmen Jimmy Vicaut and Mouhammadou Fall and Yupun Abeykoon.
Prescod returned to very good shape last May when he won the 100m at the Golden Spike meeting in Ostrava in 9.93. The British sprinter finished second to André De Grasse in 10.06 at the Bislett Games in Oslo and was runner-up at last weekend's National Championships in Manchester in a wind-assisted 9.94.
Simbine set the previous African record clocking 9.84 in Szekesfehrvar last year and finished fourth in the Olympic Games final in Tokyo last year. The South African sprinter finished third in Oslo on 16 June in 10.09.
Fall won the French 100m title last weekend in 10.19 beating Vicaut (third in 10.24).
Abeykoon improved his PBs to 10.06 in the 100m in Dessau and 20.37 in the 200 metres in Grosseto. The Sri-Lankan sprinter coached by former 400m Italian record holder Claudio Licciardello finished fifth in Oslo in 10.16.
Women's 200 metres:
World and European champion Dina Asher Smith will take on world 200m bronze medallist Mujinga Kambundji and Danish emerging star Ida Karstoff.
Asher Smith won the 200m at the Stockolm Diamond League in 2019 in 22.18 on a chilly and rainy day and went on to win her first world title in Doha. At this year's edition of the Diamond League the British sprint star won the 100m in Birmingham n 11.11 and finished fourth in Eugene 100m in her seasonal best of 10.98 and third in two 200m races in Doha in 22.37 and Rome in 22.27. At last weekend's British Championships in Manchester she finished second to Darryil Neita in a wind-assisted 10.87.
Kambundji won the 60m world indoor title in 6.96 in Belgrade last March. The Swiss sprinter continued her good period of form by breaking two national records in the 200m with 22.18 at the Berne Citius meeting and in the 100m with 10.89 at last week's National Championships on the legendary Letzigrund track in Zurich.
Another Swiss sprinter Ajla Del Ponte will line-up over the half-lap distance where she set a lifetime best of 22.38 last year. Del Ponte won the 60 metres European indoor title in 7.03 in Torun 2021 and finished fifth in the 100m at the Olympic Games in Tokyo after setting the national record with 10.91 in the heats. She finished second to Kambundji at the Swiss Championships in Zurich in 11.26.
Karstoff won her first Diamond League 200m race in Oslo in 22.73 and improved her own national record to 22.67 in Madrid two days later.
The line-up also features Gina Bass from Gambia and Tynia Gaither from the Bahamas, who finished sixth and eighth in the 200m at the World Championships in Doha 2019.
Women's 400 metres hurdles:
Olympic bronze medallist Femke Bol will be looking to improve her own meeting record of 52.37 set in last year's edition. Bol won the Olympic bronze medal in Tokyo setting the European record with 52.03. The Dutch athlete started the 2022 season with a world all-time best of 36.86 in the 300m hurdles in Ostrava and a win in Hengelo (53.94) before setting two meeting records in consecutive meeting records in Rome with 53.02 and Oslo with 52.61.
Femke Bol: "I was not surprised to hear the news that Sydney McLaughlin broke the world record. She ran 51.61 n Nashville. Sydney is in very good shape. I will need a very fast time to beat her in Eugene. I was in bed when Sydney broke the world record"
Bol will face Ukraine's Anna Ryzhikova, who broke the 53 seconds clocking 52.96 in Stockolm and finished fifth at the Olympic Games in 53.48. The line-up features Viktoriya Tkachuk, sixth at the Olympic Games in 53.79, world bronze medallist in Doha 2019 and third at the Jamaican Championships in 54.20, Ayomide Folorunso, who won the Italian title in Rieti last week in 54.60 missing the national record by just 0.06. and Jessie Knight from Great Britain, who set her PB of 54.09 in Oordegem and finished third in Oslo 54.84.
Men's 400 metres hurdles:
Brazil's Alison Dos Santos started the season with three consecutive Diamond League wins in the men's 400 metres hurdles in Doha (47.24), Eugene (47.23) and Oslo (47.26). The Olympic bronze medallist is currently ranked second in the world seasonal list behind Raj Benjamin, who clocked 47.04 at the US Championships in Eugene.
Dos Santos will face Tokyo Olympic finalist Rasmus Magi, who is ranked third in the world seasonal list with his own Estonian record of 47.82 set at the Paavo Nurmi Games in Turku and finished second in Oslo in 48.51.
The other top names are Kyron McMaster from the British Virgin Islands, who finished fourth at the Olympic Games in Tokyo in 47.08, Carl Bengstrom from Sweden, world indoor bronze medallist in the 400 metres in 45.33, Julien Watrin from Sweden, world bronze medallist in the 4x400 relay in Doha 2019, CJ Allen, fourth at the US Championships in 48.17, and Chris McAlister, who improved his PB to 49.04 in Stockolm last year.
Women's 100 metres hurdles:
Olympic champion Jasmine Camacho Quinn will face world outdoor champion Nia Ali and Commonwealth champion Tobi Amusan. Camacho Quinn will be aiming her fifth consecutive win this season after Eugene (12.45), Ostrava (12.56), Chorzow (12.43) and Rome (12.37 second fastest time in the world this year).
Jasmine Camacho Quinn: "What I did last year was something big. I know everybody else knows what I can do. There is pressure behind that. If things don't go as you planned, you have to deal, you have to deal with a lot of other things, It can take a mental toll.
Ali won the world outdoor title in Doha and made her come-back from her third maternity leave this year. The US hurdler finished third to Camacho Quinn in Rome in 12.71 and clocked 12.49 in the semifinal of the US Championships in Eugene last weekend.
Amusan won the Diamond League final in Zurich in 12.42 and improved her African record to 12.41 in Paris on 18 June. Last weekend she won the Nigerian title in 12.57.
The other names to watch are Cyrena Samba Mayela from France, world indoor champion in Belgrade 2022 with a national record of 7.78, Nadine Visser from the Netherlands, two-time European Indoor champion, Pia Skryszowska, who improved her PB to 12.62 at the National Championships this year, Danielle Williams from Jamaica, who won the world title in Beijing 2015 and set the National record with 12.32 inLondon in 2019, Devynne Charlton from the Bahamas, world indoor silver medallist in Belgrade and national champion with 12.60 last weekend, and Tia Jones, fifth at the US Championships last weekend in 12.59.
Women's long jump:
Reigning Olympic, world and European champion Malaika Mihambo will be chasing her second Diamond League competition in the women's long jump this season after leaping to 7.09m in Birmingham. Mihambo scored her fifth win from six competitions this summer at the German Championships in Berlin with 6.85 last weekend. Mihambo lost only to Maryna Beck Romanchuk in Rome. The Ukrainian jumper leapt to 6.85m in Rome and improved her seasonal best to 6.86m in Innsbruck.
The line-up also features Ivana Spanovic Vuleta, who won her second world indoor title with a world leading mark of 7.06m, European Indoor bronze medallist Khaddi Sagnia, who won her first Diamond League competition with 6.95m in Eugene, world and Olympic bronze medallist Ese Brume from Nigeria, who set her seasonal best with 6.92m in Berne.
Khaddi Sagnia: "Competing in front of my home fans is so much fun. It does not happen so happen to compete in Sweden. I will try to give fans a good show and enjoy myself"
Women's high jump:
Reigning world ad European indoor champion Yaroslava Mahuchik will be chasing her fifth consecutive win this season. The 20-year-old Ukrainian jumper won all of her three Diamond League competitions in Eugene (2.00m), Rabat (1.96m) and Paris (2.01m). She improved her world lead to 2.03m last week in Brno. The Olympic bronze medallist and world championships second placer won in Stockolm last year with 2.03m.
Mahuchik will face Australia's Eleanor Patterson, who won the world indoor silver medal with her lifetime best of 2.00m in Belgrade, Elena Vallortigara from Italy, who set the second best performance in the world with 1.98m at the Italian Championships in Rieti last weekend, Iryna Gerashchenko from the Ukraine, fourth at the Olympic Games in Tokyo with 1.98m, 2017 world silver medallist Yuliya Levchenko, Nadezhda Dubovitskaya, who won the world indoor bronze medal with 2.00m, Ella Junnila from Finland, European indoor bronze medallist with 1.96m.
Men's javelin throw:
The men's javelin throw line-up reunites the entire podium of last year's Olympic Games, including Olympic gold medallist Neeraj Chopra, Jakub Vadlejch and Viteszlav Vesely from Czech Republic, who finished second and third respectively in the Japanese capital, world champion Anderson Peters from Grenada, Oliver Helander from Finland and Julian Weber from Germany.
Peters won the first leg of the Diamond League in Doha with a national record of 93.07m and won three Continental Tour competitions in Ostrava (87.88m), Hengelo (90.75m) and Samorin (85.85m).
Chopra will make his first appearance in the Diamond League since Zurich 2018. The Indian thrower won in Kuortane with 86.89m and beat Peters in Turku with a national record with 89.30mm.
Neraaj Chopra: "I won the first Olympic gold medal in athletics for India.When I returned from Tokyo with the gold medal, there were thousands of people at the airport. Everyone was celebrating So many youngsters are starting with athletics and javelin. I feel very proud. After the Olympic Games I started training late in December. My goals for the season are the World Championships, the Commonwealth Games and the Diamond League. The javelin throw is very competive. There are two guys who can throw over the 90 metres barrier. It's going to be a great competition in Eugene".
Helander won at the Paavo Nurmi Games in Turku with 89.83m in front of his home fans. The Finnish thrower is coached by Tero Pitkamaki, world champion in Osaka 2007.
Vadlejch took runner-up spot to Peters in Doha with 90.88m.
Weber improved his PB to 89.54m in Hengelo and won the German title in Berlin with 86.91m last weekend.
Women's shot put:
Chase Ealey won the women's shot put with a world lead of 20.51m at the US Championships in Eugene last weekend. Ealey took two Diamond League wins in Doha with 19.51m and Oslo with 20.13m and in Hengelo with 19.98m.
Ealey will take on Sarah Mitton, who improved the Canadian record to 20.33m at the National Championships last weekend and finished seventh at the World Indoor Championships in Belgrade last March, world and European indoor champion Auriol Dongmo from Portugal, Jessica Schilder, who set the Dutch record with 19.68m at last weekend's National Championships in Alpeldorn, 2019 world indoor silver medallist Danniel Thomas Dodd from Jamaica, and Fanny Roos from Sweden, European Indoor silver medallist in Torun 2021 and national record holder with 19.34m in Kladno in 2021.
Men's long jump:
The men's long jump is not a Diamond League scoring event, but it features a re-match between Olympic champion Miltiadis Tentoglou from Greece and Thobias Montler from Sweden. Tentoglou won the world indoor title in Belgrade last March with a national indoor record of 8.55m beating Montler, who set a national record of 8.38m. Montler won in Stockolm in 2019 with 8.22m and the Diamond League final with 8.17m last September.
Women's 800 metres:
Olympic silver medallist Keely Hodgkinson will chase her fourth consecutive 800 metres race in the Wanda Diamond League this season after Birmingham (1:58.63), Eugene (1:57.72) and Oslo (1:57.71). The 20-year-old British athlete tested her shape in the 400m at the British Championships in Manchester last weekend finishing fifth in 52.42. She will take on 2019 world champion Halimah Nakaayi, Mary Moraa, who won at the Kenyan Trials in her lifetime best of 1:57.45, South African 19-year-old 800m middle-distance runner Prudence Sekgodiso, who improved her PB to 1:58.41 in the Continental Tour meeting in Nairobi, Catrona Bisset from Australia, who finished fifth at the World Indoor Championships in Belgrade 2022 and Oceanian record holder with 1:58.09, Hedda Hynne from Norway, national record holder with 1:58.10, and Lovisa Lindh, European outdoor bronze medallist in Amsterdam 2016.
Men's 800 metres:
Olympic gold medallist and reigning Diamond League champion Emmanuel Korir will go head-to-head against Olympic silver and world bronze medallist Ferguson Rotich, who won three times in Stockolm in the 1000m in 2018 (2:14.88) and in the 800m in 2020 (1:44.16) and 2021 (1:43.84).
Benjamin Robert from France will chase his second Diamond League win this season after his win in Paris Charlety in 1:43.75 in front of his home fans. Another Frenchman Gabriel Tual will be aiming to improve his PB of 1:44.23 set in Paris.
World Indoor Bryce Hoppel will run his first race on Euroean soil after winning at the US Championships in Eugene in 1:44.60.
The line-up also features Slimane Moula from Algeria, who finished second in Ostrava n 1:44.19, Collins Kipruto, who clocked a seasonal best of 1:44.58 in Ostrava, and European silver medallist Andreas Kramer, who clocked a seasonal best of 1:44.59 in Bydgoszcz.
Men's 3000 metres:
Olympic 10000m bronze medallist Jacob Kiplimo will test his speed over a distance where he holds a national record of 7:26.84 set in Rome in 2020. Kiplimo will face Adel Mechaal, Olympic fifth placer in the 1500m in 3:30.77 and European Indoor gold medallist in the 3000m in Belgrade 2017, Stewart McSweyn from Australia, who set the Oceanian records in the 1500m with 3:29.51 in Monaco 2021 and in the 3000m with 7:28.02 in Rome 2020, Thierry Ndikumenayo from Burundi, who set the natonal record in the 5000m with 12:59.39 in Rome and finished second in Paris in 13:05.24, Addisu Yihune from Ethiopia, who set a 5000m seasonal best with 13:02.10 in Grosseto, and Ryuji Miura from Japan, who finished seventh in the 3000m steepelchase at the Olympic Games in Tokyo.
Women's 3000 metres steeplechase:
Double European champion Gesa Felicitas Krause from Germany will run her first 3000m steeplechase race of the season against a competitive field that features Daisy Jepkemei from Kazakhstan, who holds a PB of 9:06.66, Fancy Cherono, fifth at the Kenyan Trials last week, Claudia Scherrer, who set the Swiss record clocking 9:20.28 in Paris, and Alice Finot, European Indoor silver medallist in the 3000m in Torun 2021.