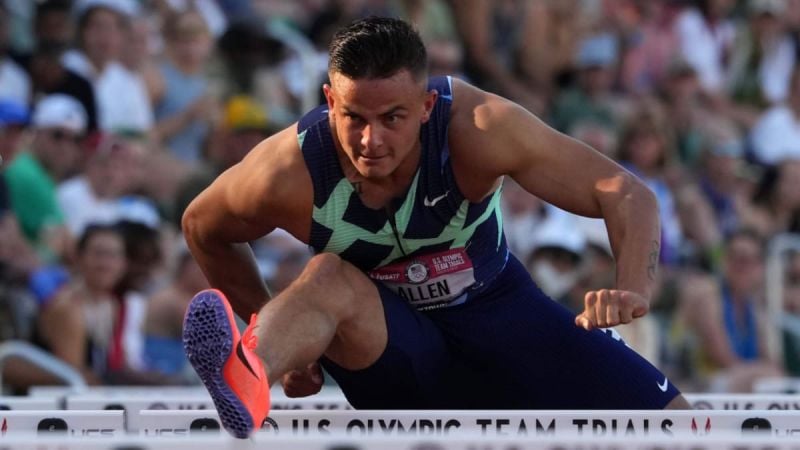 Two-time Olympic finalist Devon Allen beat Grant Holloway in a world-leading time and a meeting record of 12.84 setting the third-fastest time in history at the USATF New York at the Icahn Stadium.
Holloway finished second with his seasonal best of 13.06 beating 2019 US champion Daniel Roberts (13.17) and Jamal Britt (13.22).
Only Aries Merritt (12.80) and Holloway (12.81) ran faster than Allen in history.
Allen finished fourth at the Olympic Games in Tokyo and won the Diamond League in Zurich. He broke the 13 seconds barrier for the first time in his career in Zagreb last September.
Allen has signed a NFL deal with the Philadelphia Eagles.
Devon Allen: "I am really excited. I had to take two weeks out because of Covid and I am feeling pretty fresh. That's all I needed were some fresh legs. It's been there. We have been doing it in training for probably the last six weeks. I thought I was going to break the world record today., so we will have to wait for another race. It was good for me to get off my feet for seven to 10 days. I have been there having some fun playing American Football with the boys, but I am back in track mode for the next couple of weeks. I am getting better for the US and World Championships"
Grant Holloway: "I will go back to the drawing board. You have got to up to your game. It's going to be a fast year".
Men's 200 metres:
World champion and olympic bronze medallist Noah Lyles won the men's 200 metres setting the third-fastest time in his career with 19.61 with a tailwind of +1.3 m/s. Lyles has moved to second in the world seasonal list behind Erriyon Knighton, who clocked the fourth-fastest time in history with 19.49 in Baton Rouge on 30 April.
Noah Lyles: "I am proud of it. I wanted it to be faster. I wanted to see 19.5, but I will take 19.61. This time is not a surprise. 19.6 is my average time. I am obviously in shape. By the time we get to the world championships, it's over, it's already cemented, we are just going to have fun.".
Kyree King and Brandon Carnes improved their PBs clocking 20.02 and 20.07 respectively.
Women's 100 metres:
Former US National champion Aleia Hobbs improved her PB and the meeting record to 10.83 to win the 100 metres beating Sha'Carri Richardson (10.85), Olympic 4x100 relay silver medallist Tehana Daniels (10.99), last year's NCAA champion Cambrea Sturgis (11.00) and former 100m and 200m world under 20 champion Briana Williams (11.11).
Women's 200 metres:
Sha'Carri Richardson followed up her second place in the 100m with a win in the women's 200 metres in 22.38 over Tamara Clark (22.62) and Tynia Gaither (22.66). Gabby Thomas pulled out of the meeting, as she felt a small problem to her leg and did not take the risk two weeks before the US Championships.
Sha'Carri Richardson: "I feel phenomenal. This is only my third 100m of the season. One of the people idolise the most is Aleia Hobbs I love her. If anybody was to beat me, I would want It to be Aleia. It feels peaceful, it feels fulfilling. I am glad that I made the fans happy, but it feels so much better being back at home within myself, my heart, my spirit, and I just want to continue to just thrive. The confidence came from seeing how much love I have, I can give, I receive, and just how much inspiration I put out there to the world; it makes me give myself that courage, make me give myself that confidence to go out there and show that I am the sunshine. I want to double up at nationals. I just wanted to complete the race, execute the best that I could and see what that got me".
Men's 100 metres:
Reigning world champion Christian Coleman held off Jamaica's Ackem Blake by 0.03 to take the win in 9.92 in the men's 100 metres with a tailwind of +1.4 m/s. Blake improved his PB to 9.95. World Indoor bronze medallist Marvin Bracy finished third in 10.03.
Christian Coleman: "Our goal today was trying to execute a much better race than my last one in Eugene. I am happy to come out with a win and I am excited about the future. That's the hardest part, just making it on that team. I am fortunate enough to have a bye, so a little bit of pressure off but to make that team, the best team in the world, that's the hardest part, there is much talent here. This whole season is a learning experience. I am trying to get better and better. I feel like that same guy is sill in me".
Women's 100 metres hurdles:
Alaysha Johnson set a meeting record of 12.40 to win the women's 100m hurdles with a tailwind of+2.0 m/s ahead of Tia Jones (12.53) and Gabby Cunningham (12.56).
Alaysha Johnson: "I was really nervous. I was shaking in the blocks. I am surprised by this result. I have made a long journey. It has taken me a lot of time to reach this level. This is only the beginning. The work is paying off".
Women's 400 metres hurdles:
Olympic finalist Gianna Woodruff from Panama took the win in the women's 400 metres hurdles setting the meeting record with 54.35 ahead of Colombian record holder Melissa Gonzales (54.98).
Men's 400 metres:
US Tyler Terry took a narrow win in the men's 400 metres in 45.70 holding off Jamaica's Javon Francis by 0.03.
Women's 400 metres:
Lynna Irby held off Krya Jefferson to win by 0.06 in 51.38. Kendall Ellis finished third in 51.68. Olympic 400m hurdles champion Sydney McLaughlin was planning to run the 400 metres and the 100m hurdles but she pulled out of the meeting as a precaution, as the US Trials are just two weeks away.
Sydney McLaughlin: "My coach decided to pull me this close to the Trials.I think last week was a testament of where we are at. That's why he decided to shut it down. We want to focus on the things that matter most, which is Trials and the World Championships. Practice has been going great. I think it's keeping right on pace.
Women's 800 metres:
World indoor champion Ajée Wilson won her second 800m race in the Continental Tour this season with 2:00.62 holding off her namesake Allie Wilson (2:00.80).
Men's 800 metres:
World Championships fourth placer Bryce Hoppel came from behind in the final straight to win the men's 800 metres in 1:45.07 holding off Mexico's Jesus Tonatiu Lopez (1:45.16).
Bryce Hoppel: "When Tonatiu went on my right on the outside on that last turn, I was like 'I better go with him. I think I have enough to do it"
Men's 400 metres hurdles:
Quincy Hall won the third race in his four races this season clocking 48.75. Last May Hall improved his PB to 48.10 at the Prefontaine Classic in Eugene. Amare Lattin finished second in 49.67.
Men's triple jump:
Donald Scott leapt to 16.81m to win the men's triple jump ahead of two-time Olympic silver medallist Will Claye (16.75m).
Women's shot put:
US Jessica Ramsey claimed the win in the women's shot put with 18.90m beating 2019 world silver medallist Danniel Thomas Dodd (18.40m).
-->