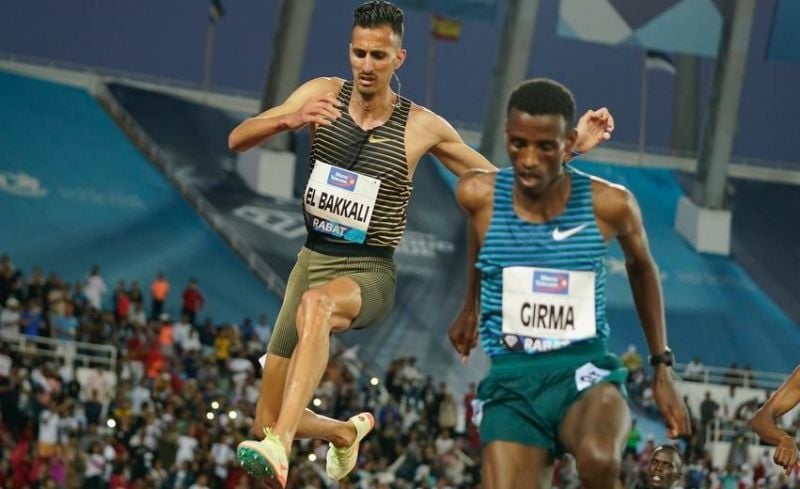 Olympic champion Soufiane El Bakkali from Morocco won an exciting men's 3000 metres steeplechase setting a world lead and a meeting record of 7:58.28 in the final race of the evening to the delight of the home fans. El Bakkali overtook Ethiopia's Lemecha Girma in the final lap to take the win. Girma also broke the 8 minutes barrier for the second time in one week clocking 7:59.24 just five days after setting his PB with 7:58.68 at the Golden Spike meeting in Ostrava. Hailemaryam Tegegn finished third improving his PB to 8:06.29.
Soufiane El Bakkali: "I can't describe my happiness for winning this race. Achieving world lead and meeting record in front of my audience is just incredible. I promised yesterday in the press conference that I will do a great performance and I am keeping my promise. I want to dedicate this victory to our king Mohamed VI and to all Moroccan people. I would like to thank this huge crowd that came to support me and without their support it would not have been possible. I will take some rest now before starting my preparation for the World Championships which is my main goal".
Women's 100 metres:
Five-time Olympic gold medallist Elaine Thompson Herah clocked a meeting record of 10.83 to score his second Diamond League 100m race this season following his victory in Eugene in 10.79. Marie Josée Ta Lou from Ivory Coast finished second with 11.04 ahead of Natasha Morrison from Jamaica (11.22).
Elaine Thompson Herah: "I feel amazing about the race today. This is my third time in Rabat and I am super excited about the new meeting record of 10.83. For the next race in Rome, I am following the same process and keeping up the same pace".
Men's discus throw:
European under 23 champion and record holder Kristjan Ceh from Slovenia led the men's discus throw with 69.42m before producing his best throw of 69.68m in the Final 3 to take his second consecutive Diamond League win this season. Olympic and world champion Daniel Stahl had to settle with second place with a throw of 67.16m in the second round. Matthew Denny from Australia also threw the discus over the 67m barrier to take third place with 67.07m.
Kristjan Ceh: "Today it was fun and all the other competitors were doing their best. I am happy I won the competition. I did not keep my previous record but it is good though. I really enjoyed the crowd and the positive atmosphere"
Men's 400 metres hurdles:
US Khallifah Rosser broke a meeting record of 48.25 in the men's 400m hurdles to take the win one week after finishing second in Eugene in a lifetime best of 48:10.
Khallifah Rosser: "I have to admit that this victory was a bit unexpected, but it feels good. I felt good on the track, happy to be healthy. I am very close to my PB, only 0.15. It shows that I am a better athlete this season, more consistent. Now I am focusing on the next step, the US Trials back home"
Olympic champion Karsten Warholm pulled up injured early in the race and left the track with an ice pack on his leg.
Karsten Warholm: "I am very disappointed for this injury. I think it's a harmstring tear, I will focus on treating it and come back stronger. I will also feel sorry for the crowd".
Women's 1500 metres:
World indoor bronze medallist Hirut Meshesha from Ethiopia improved her PB to 3:57.30 to beat her compatriots Freweyni Hailu (3:58.18) and Axumawit Embaye (3:58.80). Geogia Griffith finished fourth improving her PB to 4:00.16.
Men's long jump:
Swiss decathlon record holder Simon Ehammer held the lead in the first three rounds in the men's long jump with 8.11m but Olympic champion Miltiadis Tentoglou took the edge with a leap of 8.27m in the fourth round. Ehammer jumped 8.13m in the sixth round, but it was not enough to beat Tentoglou, who started his Diamond League campaign with a win. Olympic bronze medallist Maykel Massò took third place with 8.08m in the fifth attempt.
Miltiadis Tentoglou: "I am very happy with this victory. The only thing that bothered me was the wind as it kept changing which hinders long jumps. I really enjoyed the support coming from the crowd. I am in very good shape, but I need to more more in order to do well at the World Championships".
Women's high jump:
World indoor champion Yaroslava Mahuchik from the Ukraine cleared 1.96m in her first attempt to take her second consecutive win in the women's high jump. Mahuchik failed her three attempts at 2.01. Mahuchik's compatriot Iryna Gerashchenko took runner-up spot with 1.93m beating Olympic silver medallist Nicola Olyslagers from Australia and Nadezhda Dubovitskaya from Kazakhstan on countback.
Yaroslava Mahuchik: "I am happy about this win. It was fantastic to be in Rabat. I liked the crowd and the atmosphere. Everything was great. I did not keep my previous world lead score, but this is the game. There are always ups and downs. I dedicate this win to my country Ukraine".
Women's triple jump:
World silver medallist Shanieka Ricketts took the lead with a leap of 14.43m in the second round. Dominica's Thea Lafond overtook Ricketts with a jump of 14.46m in the fifth round to take her first Diamond League win in the women's triple jump.
Women's pole vault:
World indoor gold medallist Sandi Morris claimed her second Diamond League win this season with 4.65m beating Australia's Nina Kennedy on countback. Morris failed three attempts at 4.80m. Former Olympic champion Sandi Morris took third place with 4.55m beating Holly Bradshaw on countback.
Sandi Morris: "I felt so good today. There was an amazing atmosphere in the stadium, with all these kids cheering and making noise. I am glad to have been able to win again and stay undeafeted this season. At 4.65m I had the victory in my pocket, so the adrenaline went down and I could succeed at 4.80m.I feel a bit sad for the crowd and the fans, but the conditions were not perfect"
Women's 400 metres:
Olympic silver medallist Marileidy Paulino won her second consecutive 400 metres race this season with 50.10 beating Sada Williams from Barbados (50.74) and Stephanie Ann McPherson (51.37).
Mariledidy Paulino: "I am happy to get the win here in Rabat. It is an important achievement for me and for my country, especially in the eyes of the world. The race was quick, but I managed to cross the finish line first. I trained well and this helped me do my best. Rabat is a good preparation for the World Championships.
Men's 200 metres:
Olympic silver medallist and last year's Diamond League champion Kenneth Bednarek took the win in the men's 200 metres in 20.21 with a tailwind of +2.0 m/s beating Luxolo Adams from South Africa (20.35) and Olympic 4x100 relay gold medallist Eseosa Desalu from Italy (20.54).
Women's 3000 metres:
Kenya's Mercy Cherono edged out last year's European 3000m Indoor champion Amy Eloise Markovc by 0.03 in a very close sprint in the final straight in 8:42.29. Medina Eisa from Ethiopia took the third place in 8:41.42.
Men's 1500 metres:
European silver medallist Jake Wightman from Great Britain took the win in the men's 1500 metres in 3:32.62 holding off his compatriot Jake Heyward (3:33.54).
Men's 800 metres:
World under 20 champion Emmanuel Wanyonyi claimed the win in the men's 800 metres on his Diamond League debut in 1:45.47 beating 2012 Olympic silver medallist Nijel Amos from Botswana (1:45.66) and Gabriel Tual from France (1:45.71).
Emmanuel Wanyoniy: "I gave everything I had today. I had the opportunity to win this race, so I did not want to miss it. It was quite easy. Now I need to focus on the Kenyan Trials for the World Championships in Eugene and the Commonwealth Games in Birmingham. If I can go to Eugene, I will go to chase the gold"
Women's 800 metres:
Mary Moraa from Kenya clinched the first win in the women's 800 metres setting her PB of 1:58.93 beating South Africa's Prudence Sekgodiso, who finished second with 1:59.23 on her Diamond League debut. Renelle Lamote from France also dipped under the 2 minutes barrier to take third place with 1:59.83.
Watch video highlights of Rabat Diamond League
-->