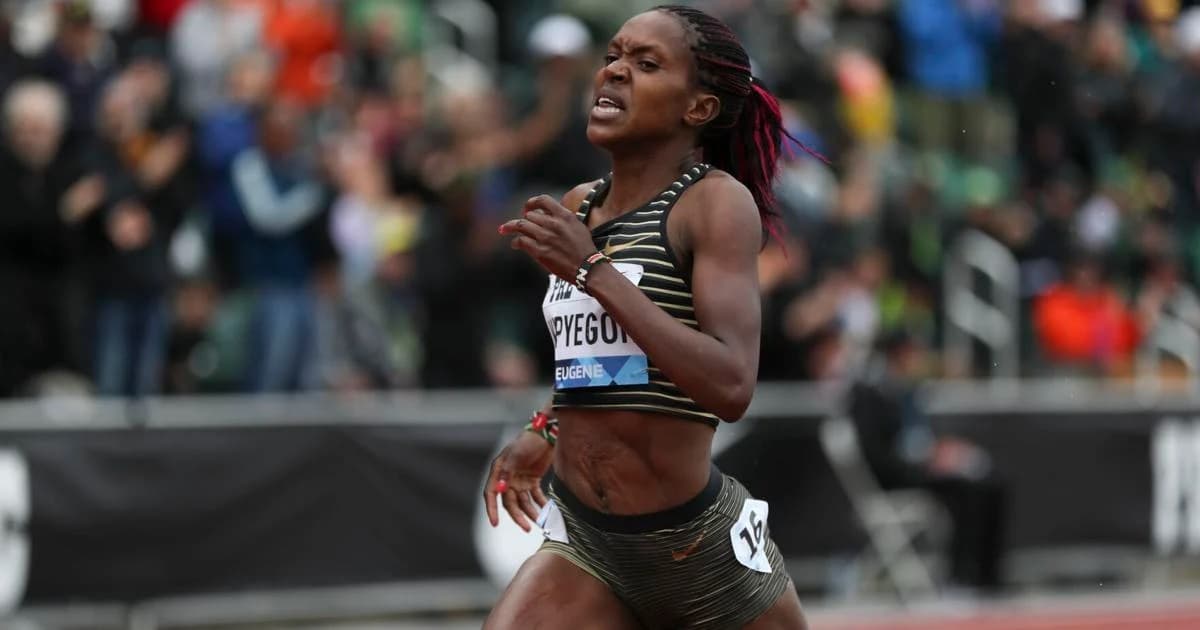 Eight world leading performances were set at the Prefontaine Classic in Eugene were set by Michael Norman in the men's 400m (43.60), Faith Kipyegon in the women's 1500m (3:52.59), Berihu Aregawi in the men's 5000m (12:50.05), Norah Jeruto in the women's 3000m steeplechase (8:57.97), Jakob Ingebrigtsen in the Bowerman Mile (3:49.76), Alison Dos Santos in the men's 400m hurdles and Keely Hodgkinson in the women's 800m (1:57.72).
Men's 400 metres:
Olympic 4x400 champion Michael Norman won the men's 400 metres improving Michael Johnson's meeting record to 43.60. Norman also set the world seasonal best and the Diamond League record. Three-time Olympic medallist Kirani James also ran fast to finish second in 44.02 on the track where he won three editions of the Prefontaine Classic. Matthew Hudson Smith broke Iwan Thomas' British record by 0.01 to take third place with 44.35 ahead of Vernon Norwood (44.66) and Jereem Richards (44.79).
Michael Norman: "I had zero expectations of what I could run today. Besides the win and the time, I think the execution of the race was much more traditional than how I have raced the past few years. It feels good to run the way I have been trained to. If you looked at me racing all last year, you could obviously see I was struggling to find my race rhythm again. I lost the sense of how to run the race. My coach and I have been working hard at practice and at meetings to run it the right way".
Women's 1500 metres:
Double Olympic champion Faith Kipyegon went out hard from the gun and crossed the finish-line first improving the meeting record to 3:52.59 in a world-class competition where nine athletes dipped under the 4 minutes barrier. Ethiopia's Gudaf Tsegay took runner-up spot with 3:54.21 with a huge margin over Gabriela Debues Stafford from Canada (3:58.62), Sinclaire Johnson (3:58.85), Jessica Hull (3:59.31), Elle St. Pierre (3:59.68) and Freweyni Hailu (3:59.97). Cory McGee and Gaia Sabbatini set their PBs clocking 4:00.34 and 4:01.93.
Faith Kipyegon: "It was a really good race today. I was not expecting such a quick time today. I am really happy about the race, the meeting record. It was a surprise. I just wanted to open my season in a nice way. I focus myself for the world championshiips".
Women's 100 metres:
Five-time Olympic champion Elaine Thompson Herah clocked her seasonal best of 10.79 to claim the women's 100 metres ahead of four sprinters, who dipped under the 11 seconds barrier. Sha'Carri Richardson ran the best Diamond League race of her career finishing second in 10.92 sharing the same time as olympic champion Shericka Jackson. Dina Asher Smith improved her seasonal best to 10.98 to finish fourth with the same time as Twanisha Terry. Marie Josée Ta Lou took sixth place in 11.07 beating Mujinga Kambundji (11.11).
Elaine Thompson Herah: "I am happy to cross the finish-line healthy and with the win. It got ready for the National championships in Jamaica next month. I am happy to see where I am at. The result is good".
Men's shot put:
Double olympic champion Ryan Crouser set the fourth best performance of his career and the world leading mark with 23.02m in the second round. Hayward Field was once again a lucky venue for Crouser, who won the US Trials and the the Prefontaine Classic in 2021. Crouser backed up this performance with a second best throw of 22.02m. Reigning world champion Joe Kovacs produced three performances over the 22 metres barrier throwing 22.49m, 22.43m and 22.24m. Tom Walsh came close to 22 metres to finish third with 21.92m ahead of Darrell Hill (21.84m).
Ryan Crouser: "I thought 23 metres was possible but I would have to get into my full technique to do it. My best static ever was in the 22.90s. To throw a static PR, under a heavy load is a really good indicator of where I can be seven or eight weeks from now".
Men's 100 metres:
Trayvon Bromell bounced back from the disappointment of being disqualfied due to a false start in Birmingham with a win in the star-studded men's 100 metres in 9.93 over Olympic silver medallist Fred Kerley (9.98), world indoor silver medallist Christian Coleman (10.04) and 200m world champion Noah Lyles (10.05). World under 20 champion Letsile Tebogo from Botswana took fifth place in 10.12 in his debut in the Diamond League beating world under 20 record holder Erriyon Knighton (10.14).
Trayvon Bromell: "I am happy to come out with the win, but I messed up on a lot of technical stuff. I am pretty sure I am already getting messages from my coach about we can fix. I am just happy I focused a lot on my top end speed, staying calm and composed, being able to run through the line and get the win. I just wanted to win. That's the main goal, come out here and win the races.
Women's 200 metres:
Multiple world and olympic champion Shelly Ann Fraser Pryce won the women's 200 metres clocking 22.41 beating Brittany Brown (22.74), Anthonique Strachan (22.76) and Jenna Prandini (22.77).
Shelly Ann Fraser Pryce: "I wanted to execute technically. I still have some time to go before I get my national trial, so you always want to use every opportunity to practice your race plan".
Women's 100m hurdles:
Olympic champion Jasmine Camacho Quinn from Puerto Rico clocked a fast 12.45 to win the 100m hurdles ahead of last year's Diamond League champion Tobi Amusan (12.58), Tonea Marshall (12.66), Cindy Sember (12.69) and Danielle Williams (12.71).
Jasmine Camacho Quinn: "I will take it for today. It was a little bit sloppy. I hit my trail leg a couple of times and that slowed me up, but I will take it. I went 12.4 in these conditions. Everytime I come to Oregon I think of the weather. I already knew what to expect. It wasn't bothering me mentally".
Men's Bowerman Mile:
Jakob Ingebrigtsen won the Bowerman Mile for the second time in his career in 3:49.76. Oliver Hoare from Australia improved his PB to 3:50.65 to beat world champion Timothy Cheruiyot (3:50.77) and world indoor bronze medallist Abel Kipsang (3:50.87).
Jakob Ingebrigtsen:
"I am really happy with the race. As you can see it's a little bit windy, but it worked out pretty good. I went out at a good pace and tried to keep the momentum, then saved something for the last lap. This is pretty similar to our weather back in Norway so I am familiar with the weather. It was a great race. It's always a lot of fun to come here. Next on my list is the world championships. I am looking foward to that".
Men's 400 metres hurdles:
Olympic bronze medallist Alison Dos Santos from Brazil took his second consecutive Diamond League win in the men's 400 metres hurdles in 47.23, improving his own world leading time set in Doha by just 0.01.
Allison Dos Santos: "I had a good race today. We ran fast. I am happy with this and then want to run fast and be the gold medallist in the World Championships. A lot of room to be better for the next races".
Khalifah Rosser finished second in 48.10 edging Quincy Hall with the same time. World indoor 400m bronze medallist Karl Bengstrom finished fourth with his PB of 48.52 ahead of Olympic finalist Rasmus Magi from Estonia (48.66).
Men's 5000 metres:
Last year's Diamond League winner Berihu Aregawi from Ethiopia dominated the men's 5000 metres setting the world leading time and the new meeting record with 12:50.05. Two-time world indoor 1500m champion Samuel Tefera finished a distant second in 13:06.66 beating olympic 10000m champion Selemon Barega (13:07.30) and Mo Ahmed (13:07.85).
Women's 3000 metres steeplechase:
Two women broke the 9 minutes barrier in an outstanding 3000m steeplechase race. Norah Jeruto from Kazakhstan set the world leading time of 8:57.97 to prevail over Winfred Yavi Mutile, who set her lifetime best with 8:58.71. Mekides Abebe took third place with 9:03.25 beating Olympic champion Peruth Chemutai from Uganda (9:05.54).
Women's 800 metres:
Olympic silver medallist Keely Hodgkinson won the women's 800 metres setting the world leading time of 1:57.72 in a race where six women dipped under the 2 minutes barrier. Ajée Wilson took second place with 1:58.06 beating Raevyn Rogers (1:58.44), Jamaica's Natoya Goule (1:59.39), Saage Hurta (1:59.59) and Halimah Naakayi (1:59.94).
Women's long jump:
Sweden's Khaddi Sagnia leapt to a lifetime best of 6.95m to take the win in the women's long jump ahead of Olympic and world bronze medallist Ese Brume from Nigeria (6.82m) and last year's NCAA champion Tara Davis (6.73m).
Day one Friday, May 27 Prefontaine Classic Report
World indoor champion Yaroslava Mahuchik cleared a world-leading mark of 2.00m to win the women's high jump on the first night of the Prefontaine Classic in Eugene. The high jump, the men's pole vault and the women's discus throw were switched to Friday's night programme, as heavy rain is expected for Saturday.
Mahuchik, who was competing for the first time since her world indoor title in Belgrade last March, cleared 1.93 in her third attempt, but she jumped 1.96m in the first attempt and 2.00m at the second time of asking to seal the win. Vashti Cunningham cleared 1.93m in the first attempt to take the second place on countback over Nadezhda Dubovitskaya.
Yaroslava Mahuchik: "It was a good competition. I am planning to compete in Rabat, Paris and Stockolm before the World Championships in Eugene. I missed competitions, this excitement, this feeling. Two metres is a good jump to open my outdoor season".
Olympic pole vault champion Armand Duplantis cleared 5.91m in the second attempt to continue his winning streak. The Swede made three unsuccessful attempts at 6.07m. Chris Nilsen took second place with 5.81m to beat Sondre Guttormsen on countback.
Armand Duplantis: "Winning was the most important thing but I think I would be lying if I said I am bitter about not making that 6.07m bar. I felt like it was possible. I gave it three good attempts, but it just wasn't for today".
Olympic champion Valarie Allman won the women's discus throw with 68.35m in the first round beating two-time Olympic champion Sandra Perkovic (65.50m) and German thrower Kristin Pudenz (62.58m).
Francine Nyonsaba set the second fastest time in history to win the women's 2 miles at the Pre Classic for the second time in history in 8:59.58 ahead Beatrice Chebet from Kenya (9:14.74) and Laura Galvan (9:15.74). Nyonsaba just missed the world record held by Meseret Defar, who clocked 8:58.08 in Brussels in 2007.
World indoor 3000m bronze medallist Ejgayehu Taye won the women's 5000 metres setting the fifth fastest time in history with 14:12.98. World record holder Letesenbet Gidey finished second in 14:24.59 ahead of Eritrea's Rahel Daniel, who improved the national record to 14:36.66.
World record holder Joshua Cheptegei won the 5000m in a world leading time of 12:57.99 ahead of Ethiopia's Milkesa Mengesha (13:01.11). Cheptegei led Mengesha through the 3000m in 7:41.19. Mengesha took over just before the 4000m and reached this mark in 10:24.44. Cheptegei took the lead again on the penultimate lap and launched his kick to take the win.
Karissa Schweizer won the US title in the women's 10000m in 30:49.56 beating Alicia Monson (30:51.09). Joe Klecker took the men's 10000m title in 28:28.71 edging Grant Fisher (28:28.81).
-->