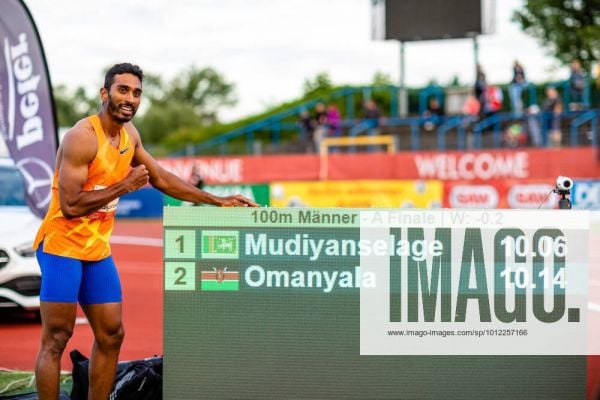 German javelin thrower Julian Weber and Sri Lankan sprinter Yupun Abeykoon Mudyaselange produced the headline results at the Anhalt-Meeting in Dessau, a World Athletics Continnental Tour Bronze.
Weber won the javelin throw with 85.02m beating 2012 olympic champion Keshorn Walcott from Trinidad and Tobago (84.69m) and Jakub Vadlejch from Czech Republic (83.93m). Weber backed up his good period of form after his recent third place with 86.09m in the Diamond League meeting in Doha. German record holder Johannes Vetter pulled out of the meeting due to injury problem during the warm-up.
Julian Weber: "I really enjoyed the competition. I could have done better, but I am confident that I can throw further".
Abeykoon Mudyiyanselage improved his national record to 10.06 to win the 100 metres over African record and world leader Ferdinand Omanyala (10"14). Mudyianselage is based in Rome and is coached by former Italian 400m sprinter Claudio Licciardello, who won the European Indoor silver medal in Turin 2009. The Asian sprinter recently clocked a wind-assisted 10.04 in Savona.
Olympic long jump champion Malaika Mihambo from Germany followed her Diamond League victory in Birmingham with a 6.49m into a headwind of -0.5 m/s which gave her a win in front of her home fans.
Natalia Kaczmarek from Poland won the women's 400 metres in 51.23 beating her compatriot Justina Swiety Ersetic (51.96).
Dutchman Tony Van Diepen clocked 1:45.30 in the 800 metres to beat Poland's Michal Rozmys (1:45.39). Daniel Munguti set his PB of 3:37.87 in the 1500m to beat Czech Republic's Filip Sasinek (3:38.76) and world indoor finalist Pietro Arese from Italy (3:38.98).
World under 20 silver medallist Luis Aviles claimed the win in the 400m in 45.96.
Germany's Oleg Zernikel cleared 5.70m to beat his compatriot Bo Kanda Lita Baehre on countback in the men's pole vault.
The other results of the Dessau meeting were Olivia Fotopoulova's 11.39 in the women's 100 metres, Nikola Horowska's 23.00 PB in the 200 metres, Christina Hering's 2:01.57 in the women's 800 metres and Sarah Lavin's 13.00 in the women's 100 metres hurdles.
Meeting Iberoamericano in Huelva:
Kenya's Levy Kibet headlined the Meeting Iberoamericano in Huelva (World Athletics Continental Tour Bronze) with a PB of 13:03.09 in the men's 5000 metres. Only 1500m olympic champion Jakob Ingebrigtsen (13:02.03) and Addis Yihune (13:02.10) ran faster that Kibet this year at world level. Eritrea's Merhawi Mebrahtu finished second in a lifetime best of 13:04.49 beating Burundi's Thierry Ndikumwenayo (13:06.46) and Spain's Oussim Ouamaiz (13:06.74). Elzan Bibic finished sixth in a Serbian record of 13:24.42.
Fiordaliza Cofil from Dominican Republic improved her PB to 50.38 in the women's 400 metres to beat Modesta Morauskaite, who improved the Lithuania record to 50.49.
Olympic bronze medallist Holly Bradshaw from Great Britain won the women's pole vault with 4.60m to beat her compatriot Molly Caudery on countback.
Mehdi Belhadj from France won the men's 3000 metres steeplechase in 8:16.39 to beat Victor Ruiz, who set his PB to 8:16.42. Alice Finot from France improved her PB to 9:21.41 to win the women's 3000m steeplechase ahead of Aimee Pratt from Great Britain, who set her lifetime best clocking 9:25.48.
Olympic finalist Gabriel Tuai from France claimed the win in the men's 800 metres in 1:45.12. Maureen Koster prevailed in the women's 1500m in 4:08.77. Gilie Nordas from Norway clocked 3:36.23 to win the men's 1500m over 800m Spanish specialist Adrian Ben, who set his PB with 3:36.41.
Greisys Robles won the women's 100m hurdles in 13.03, Croatia's Filip Pravdica leapt to 7.91m into a headwind of -1-7 m/s to win the men's long jump. Jessica Inchude threw 18.06m to win the women's shot put.
Spain won the women's 4x100 relay in a national record of 43.28. The home team also won the men's 4x100 relay in 38.97. Spain set the national under 20 record in the men's 4x100 with 39.42.
Results Meeting Iberoamericano HUelva
-->