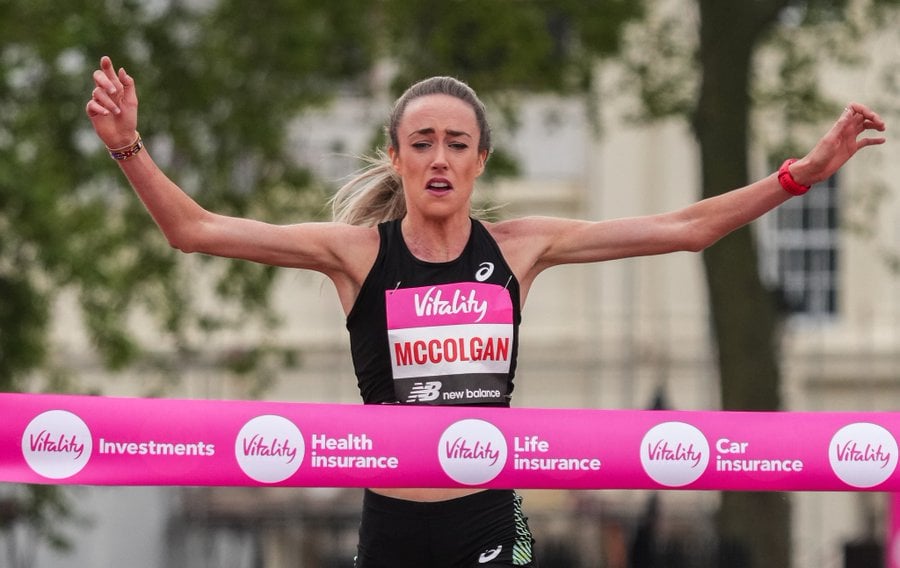 Scottish runner Eilish McColgan established a new European 10km record after taking 2nd place at the Great Manchester Run on Sunday, May 22.
The 31-year-old McColgan shaved two seconds off Paula Radcliffe's record of 30 minutes 31 from 2003. She crossed the finish line in 30 minutes 19 seconds, just four seconds behind Olympic and World Champion Hellen Obiri of Kenya.
Kenyans Ruth Chepngetich clocked 30:29 and Sharon Lokedi ran 31:05 to place third and fourth, respectively.
New Zealand's Jake Robertson won the men's race in 28:06, ahead of Australian Jack Reyner.
Top Results Women's 10km
| Pos | Name | Finish Time |
| --- | --- | --- |
| 1 | HELLEN OBIRI | 00:30:15 |
| 2 | EILISH MCCOLGAN | 00:30:19 |
| 3 | RUTH CHEPNGETICH | 00:30:29 |
| 4 | SHARON LOKEDI | 00:31:06 |
| 5 | SARA HALL | 00:31:50 |
| 6 | SOFIYA YAREMCHUK | 00:32:36 |
| 7 | CHARLOTTE PURDUE | 00:32:55 |
| 8 | STEPHANIE TWELL | 00:33:12 |
| 9 | LILY PARTRIDGE | 00:33:33 |
| 10 | GERDA STEYN | 00:33:42 |
Top Results Men's 10km
| Pos | Name | Finish Time |
| --- | --- | --- |
| 1 | JAKE ROBERTSON | 00:28:06 |
| 2 | JACK RAYNER | 00:28:16 |
| 3 | ANTONIO ABADIA | 00:28:22 |
| 4 | HAMID BEN DAOUD | 00:28:23 |
| 5 | ABDULQANI SHARIF | 00:28:29 |
| 6 | BEN CONNOR | 00:28:31 |
| 8 | KHALID CHOUKOUD | 00:28:35 |
| 7 | JAVIER GUERRA | 00:28:35 |
| 9 | LAHSENE BOUCHIKHI | 00:28:44 |
| 10 | ELLIS CROSS | 00:28:56 |
-->