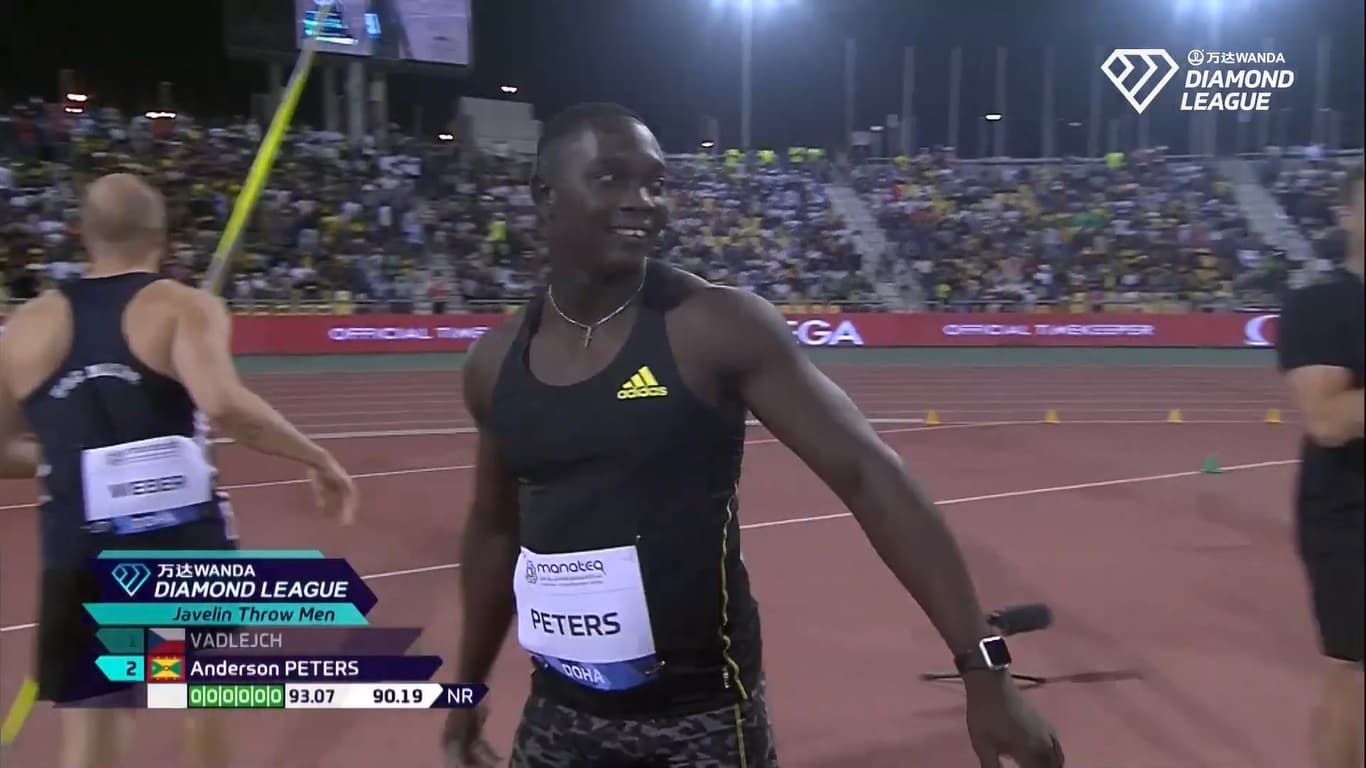 Anderson Peters from Grenada set the area record of 93.07m to beat Jakub Vadlejch in a great men's javelin throw contest. US sprinter Gabrielle Thomas and Brazilian hurdler Alison Dos Santos set meeting records in the women's 200 metres and in the men's 400 metres hurdles clocking 21.98 and 47.24 respectively on a windy day in the opening leg of the Wanda Diamond League at the Qatar's Sports Sports Club in Doha. Sanghyeok Woo from South Korea took the win in the men's high jump beating world and Olympic champion Mutaz Barshim with 2.33m.
Men's javelin throw:
World champion Anderson Peters and Jakub Vadlejch threw over the 90 metres barrier. Peters from Grenada took the lead with 90.19m in the fifth round, but he was overtaken by Vadlejch, who improved his PB to 90.88m in the fifth round. Peters responded in the sixth round with 93.07m setting the fifth best performance in history and the new area record. Julian Weber took third place with 86.09m in the third round.
Doha was once again a lucky place for Peters who won the world title in the Qatari city in 2019. The Grenadan thrower moved into fifth in the world all-time list behind Jan Zelezny, Johannes Vetter, Thomas Rohler and Aki Parviainen.
Anderson Peters: "I came here twice. I love to be here in Doha trying to get better and be more in shape".
Men's 200 metres:
World 200 metres champion Noah Lyles held off Fred Kerley in a very close 200m race in a wind-assisted 19.72 (+2.1 m/s). Kerley took second place in 19.75. World 400m indoor champion Jereem Richards finished third in 20.15 edging Olympic champion André De Grasse with the same time.
Noah Lyles: "I perform better under pressure. The crowd makes me excited. I feel good and satisfied about my position right now. My plan for the world championship is to win".
Women's 200 metres:
Olympic 200m bronze medallist Gabrielle Thomas won the women's 200 metres in 21.98 equalling the Doha meeting record held by Allyson Felix. Multiple Olympic medallist Shericka Jackson from Jamaica finished second with 22.07 ahead of the world and European champion Dina Asher-Smith from Great Britain (22.37).
Gabrielle Thomas: "I was nervous. I feel great now. It is such a great feeling to play with the crowd. It gives me good energy. It is beautiful to be here in Doha".
Men's 400 metres hurdles:
Olympic bronze medallist Allison Dos Santos from Brazil came from behind in the final straight to win in a world-leading time of 47.24 ahead of the world and Olympic silver medallist Raj Benjamin, who clocked 47.49. Thomas Barr from Ireland took third place in 49.67 beating Kyron McMaster (49.93).
Alison Dos Santos: "This is my third time here in Doha. I love the crowd. It gives me motivation. I feel proud. We prepared well and we started the season fast. I am always trying to improve and be better. My goals for the world championships are to work hard and become faster".
Men's high jump:
World indoor champion Sanghyeok Woo from South Korea mastered the windy conditions to take the win in the men's high jump with 2.33m on his Diamond League debut. Woo needed three attempts to clear 2.24m and two attempts at 2.27m before clearing 2.30m and 2.33m at the first time of asking. He made two failures at 2.35m and one at 2.37m. Local star Mutaz Barshim cleared 2.30m in his first attempt to finish second in his first competition since his Olympic gold medal in Tokyo. Django Lovett from Canada cleared 2.27m in his third attempt to finish third. Gianmarco Tamberi cleared 2.20m in the third attempt before failing three attempts at 2.24m and had to settle with seventh place.
Mutaz Barshim: "This year is different, because I have not been jumping since Tokyo, but you have to be smart and take your goals step by step. It is good to get started. The amazing crowd and atmosphere gave up good competition. I produce my best when it is crowded with fans".
Women's 100 metres hurdles:
World record-holder Kendra Harrison took a narrow win in the women's 100m hurdles in a wind-assisted 12.43 holding off Diamond League Tobi Amusan from Nigeria and Jamaica's Britany Anderson by 0.01.
Kendra Harrison: "Races are very exciting. Everybody is fast. Honestly, we were so close. The crowd is awesome. After covid, it's good to have a crowd here. The goal is to get gold in Eugene. I just preparing for the events coming up. I try to fix my stats to improve".
Tobi Amusan: "Regarding the world championship, it is better to focus on one goal at a time. I look forward to the World Championships. I can't complain about my performance. Overall I expected to execute my race as I was very close".
Women's 3000 metres:
Last year's Wanda Diamond League champion Francine Nyonsaba from Burundi won an exciting head-to-head battle with double Olympic 1500m champion Faith Kipyegon in the final straight clocking a world-leading time of 8:37.71. Kypiegon clocked 8:38.05 to finish second ahead of Jessica Hull from Australia (8:40.97), Yasemin Can from Turkey (8:41.38) and Girmawit Gebrzihair from Ethiopia (8:41.88).
Francine Nyonsaba: "I am happy to return to Doha for the second time after the world championships in 2019. I feel so happy and grateful. I am so happy that I came and I won. I worked hard to be a top athlete. I come from a small country,, this win is to inspire the others".
Women's 400 metres:
Olympic silver medallist Marileidy Paulino from Dominican Republic won the third Diamond League race of her career in the 400 metres in 51.20 beating former Diamond League champion Stephanie Ann McPherson from Jamaica (51.69) and double Olympic champion Shaunae Miller Uibo from the Bahamas (51.84).
Men's 1500 metres:
World indoor bronze medallist Abel Kipsang continued his good period of form with the first Diamond League win of his career in 3:35.70 beating world champion Timothy Cheruiyot (3:36.16) and Ethiopia's Teddesse Lemi (3:37.06).
Timothy Cheruiyot: "The race was good. This is my first competition of the season. I am expecting to improve year by year".
Men's 800 metres:
World indoor silver medallist Noah Kibet took the first Diamond League win of his career in 1:49.08 beating Australia's Peter Bol (1:49.35) and Canada's Marco Arop (1:49.51) in a race slowed by a strong wind.
Noah Kibet: "It feels so good to win. I didn't expect to win. Special thanks to my manager for this opportunity. I am happy to see many Kenyans supporting me, and I am looking forward to the world championships".
Men's 3000m steeplechase:
Olympic champion Soufiane El Bakkali held off Lemecha Girma by 0.01 in a very close 3000m steeplechase race to take the win in the photo-finish in 8:09.66. Abraham Kibiwot from Kenya finished third with 8:16.40.
Soufiane El Bakkali: "I am so happy to win the first round of the Diamond League. I am so happy that I managed
Women's triple jump:
Shanieka Ricketts from Jamaica, who won the world silver medal in Doha in 2019, leapt to 14.82m with a strong tailwind of +6.2 m/s to take the win ahead of world indoor silver medallist Maryna Bekh Romanchuk from the Ukraine, who jumped 14.73m with a tailwind of +6.3 m/s, and Thea Lafond from Dominica (14.46m +3.8 m/s).
Women's shot put:
The US shot putter Chase Ealey took the win in the women's shot put with 19.51m beating her compatriots Maggie Ewen (19.32m) and Jessica Ramsey (18.99m).
Chase Ealey: "I feel so good. The weather is so good. I am really excited and happy. I had a long travel but I am very happy. I am trying to get myself ready to win more of that".
The men's pole vault was canceled due to windy conditions.
-->