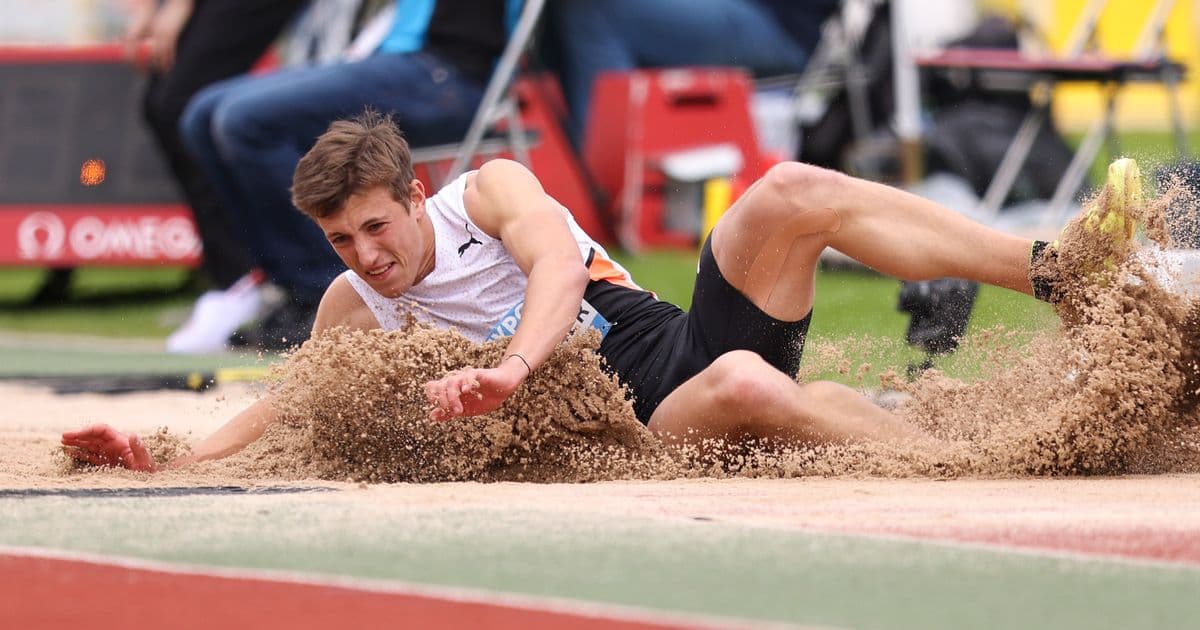 Switzerland's Simon Ehammer leads overnight in the men's decathlon at the Stadtwerke Ratingen Mehrkampf Meeting, a World Combined Events Tour Gold meeting, with 4583 points ahead of German decathletes Nico Beckers (4320) and Marcel Meyer (4111).
Ehammer set the world best in the long jump for a decathlon competition with the impressive mark of 8.30m. The Swiss athlete, who was competing for the first time since winning the world indoor silver medal in Belgrade, broke the national long jump record that had been held by Julien Fivaz since 2003 with 8.27m. The previous world long jump best was set by Damian Warner with 8.28m in Gotzis last year. Ehammer, who is planning to compete in the long jump at this year's World Championships, set the qualifying standard for Eugene.
Ehammer clocked the fastest time with 10.65 in the 100 metres before improving with each round in the long jump 7.69m, 7.97m and 8.30m.
Nico Beckers set a shot put meeting record and lifetime best of 16.63m. Ehammer improved his PB to 14.68m.
World champion Nicklas Kaul and world bronze medallist Kai Kazmirek threw respectively 13.73m and 13.78m.
German decathlon champion Tom Novak cleared 2.07m in the high jump. Ehammer maintained his overall lead with his 2.04m clearance.
Ehammer clocked a good 48.30m to end the first day with 4583 points, 125 points on the pace to break his PB of 8231 points.
Malik Diatke broke the 400m meeting record with his PB of 46.76.
Beckers is ranked second overnight with 4320 ahead of Meyer (4111).
Simon Ehammer: "The first day was awesome, as was the atmosphere. I would have liked to have been a little faster in the 100m, but 10"65 into a headwind is still good for the first race of the season. The 8.30m felt great, but the 7.97m just before felt even better. I am looking forward to tomorrow and I want to improve my PB significantly".
Women's heptahlon:
Sophie Weissenberg, who won the European Under 23 silver medal in 2019, leads the heptathlon with 3696 points ahead of 2017 world silver medallist Carolin Schäfer (3643) and France's Léonie Cambouis (3620). Just 76 points separate the top three contenders.
Schäfer went to the lead with her 13.57 in the 100m hurdles ahead of Cambours (13.58) and Weissenberg (13.78).
Cambours cleared 1.80m in the high jump to take the lead in the overall ranking ahead of Weissenberg, who jumped 1.77m. Schäfer cleared 1.71m.
US Shaina Burns, who competed last week at the Multistars in Grosseto, moved up to fourth in the overall standing with 14.70m in the shot put. Weissenberg threw 13.59m to take the overall lead.
Weissenberg clocked the fastest time in the 200m with 24.03m to extend her lead beating Schäfer (24.40) and Cambours (24.44).
-->