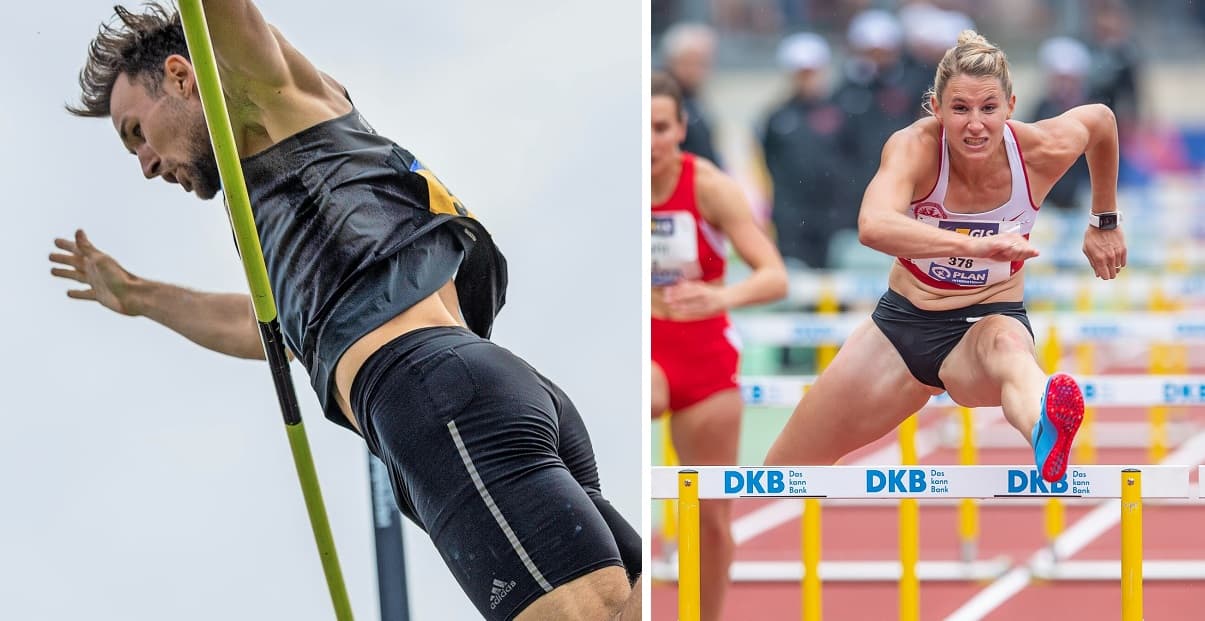 Reigning world decathlon champion Nicklas Kaul from Germany and 2017 world silver medallist Carolin Schaefer from Germany are in the spotlight at the Stadtwerke Ratingen Mehrkampf-Meeting. The German leg of the World Athletics Combined Events Tour Gold celebrates its 25th anniversary.
Kaul will take on this year's world indoor silver medallist Simon Ehammer from Switzerland and 2017 world outdoor bronze medallist Kai Kazmirek from Germany. The line-up also features five more decathletes with a PB over 8000 points.
Kaul won the world outdoor title in Doha 2019 at the age of 21 with his PB of 8691 points. Kaul made a major breakthrough in 2016 when he won the world under 20 gold medal in Bydgosz with 8162 and continued his progress one year later when he won the European Under 20 gold medal in Grosseto 2017 with the world under 20 record of 8435. He finished fourth with 8260 at the 2018 European Championships in Berlin and won the European Under 23 title in Gavle 2019 with 8572. The decathlete from the German town of Mainz did not finish the decathlon at the Olympic Games in Tokyo due to injury and has completed just one decathlon competition since then in Gotzis, where he finished fifth with 8263 points. At the start of the 2022 season he competed in individual events in a local meeting in Frankfurt, where he clocked 14.60 in the 110m hurdles, cleared 4.90m in the pole vault and threw the discus to 45.22m.
Kazmirezk finished fourth at the 2016 Olympic Games in Rio de Janeiro setting his PB of 8560 points and won the world bronze medal in London 2017 with 8468. The 31-year-old German decathlete won the Combined Events Challenge last year after scoring 8190 in Goetzis and 8184 in Ratingen. He did not complete his heptathlon competition at the World Indoor Championships in Belgrade last March due to a stomach problem.
Swiss rising star Simon Ehammer won the world under 20 bronze medal in Tampere 2018, the European Under 20 gold medal in Boras 2019 with 7851 points and the world indoor silver medal in the heptathlon in Belgrade 2022 behind olympic champion Damian Warner with a Swiss record of 6363 points. During the 2022 indoor season the 22-year-old Swiss athlete also improved his long jump PB to 8.26m in Aubière last January, the world indoor best performance in an indoor heptathlon competition.
Ehammer is aiming to improve his PB of 8231 points set in Langenthal in 2020.
The line-up also features Matthias Brugger from Germany, who set his PB of 8304 points in Goetzis 2018, Tim Nowak, who recorded 8229 points in Talence 2018, Andreas Bechmann, European Under 23 gold medallist in Tallin 2021, and Marcus Nilsson, who set his PB of 8120 in Ratingen in 2018 and won the world under 20 bronze medal in Moncton 2010.
Women's heptathlon:
Carolin Schaefer set her PB of 6836 points in Goetzis in 2017 and won the Ratingen meeting with 6667 points, the world silver medal in 2017 in London with 6696 points later that year. The 30-year-old German heptathlete took part in two editions of the Olympic Games finishing fifth in Rio de Janeiro 2016 with 6540 points and seventh in Tokyo 2021 with 6419 points. In the Japanese capital she set her javelin throw PB of 54.10m. She won the Ratingen meeting for the second time in her career in 2018 with 6549 and went on to win the European bronze medal in Berlin in front of her home fans with 6602 points.
Schaefer started her 2022 season with two individual competitions in Frankfurt, where she clocked 13.70 in the 100 metres hurdles and threw the javelin to 49.73m.
Schaefer will be joined by 2019 European Under 23 silver medallist Sophie Weissenberg from Germany, who set her PB of 6293 points in Goetzis in 2019. Weissenberg set PBs of 8.50 in the 60m hurdles, 1.78m in the high jump and 13.04m in the shot put.
Hanne Maudens from Belgium will be aiming to improve her PB of 6252 points set in Goetzis in 2018. The 25-year-old Belgian heptathlete won bronze medals at the 2016 World Under 20 Championships and 2019 European Under 23 Championships. She improved her 400m PB to 53.06 last year, but she returned to combined events last winter setting a pentathlon indoor PB of 4212 points.
The other athletes to watch are 21-year-old French heptathlete Leonie Cambours, who finished seventh in the pentathlon at the World Indoor Championships in Belgrade and set a heptathlon PB of 6192 points in Montpellier in 2021, Anna Maiwald from Germany, who set her PB of 6174 points in Ratingen in 2019, and Katie Stainton from Great Britain, who finished second at the European Combined Events Team Championships in Lutsk with her PB of 6029 points.
-->