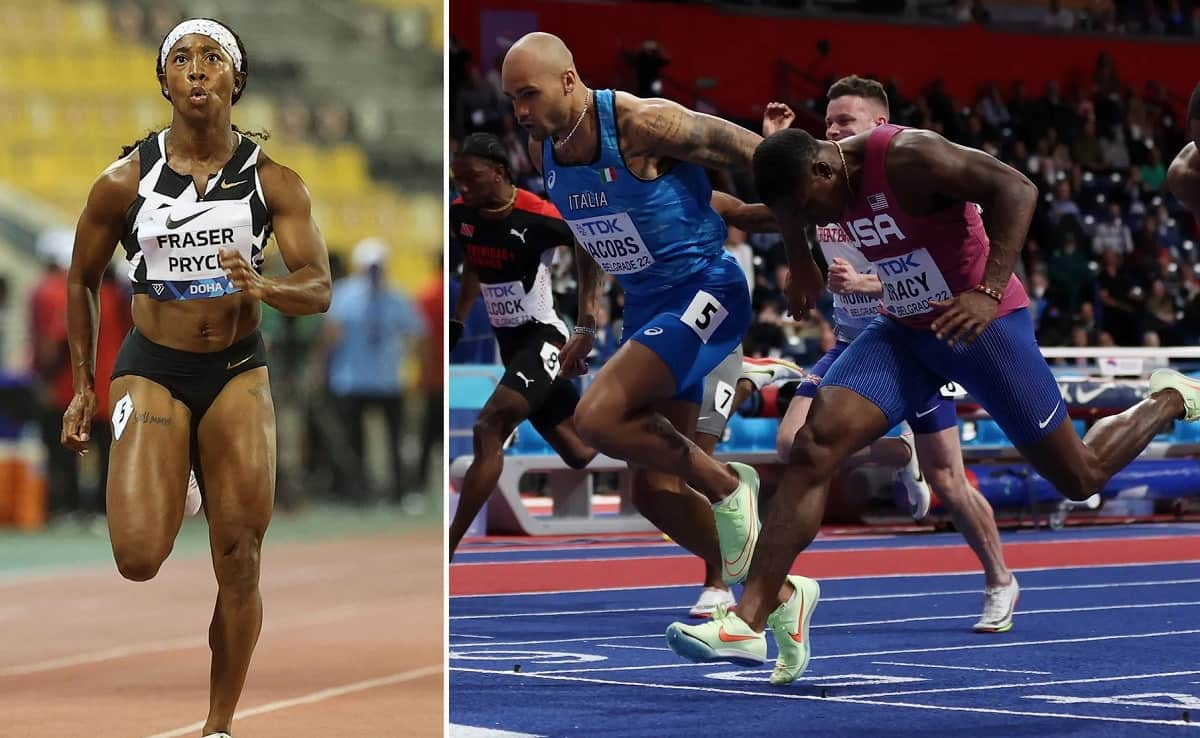 Olympic 100m champion Marcell Jacobs will face Olympic silver medallist Fred Kerley, African 100m record holder Ferdinand Omanyala from Kenya, 200m Olympic silver medallist Kenny Bednarek in the men's 100 metres at the Kip Keino Classic at the Moi International Sports in Kasarani, a residential area in Nairobi, for the third leg of the World Athletics Continental Tour Gold. 
Watch Kip Keino Classic 2022 live stream
Jacobs will run his first 100m race since the Olympic final in Tokyo. He succeeded Usain Bolt as Olympic 100 metres champion in Tokyo 2021 setting the European record with 9.80. Jacobs won the world indoor gold medal in the 60 metres in Belgrade last March in a European record of 6.41. He is the first reigning Olympic champion to win the world indoor title. 
Fred Kerley set the second fastest time in the world this year in the 200 metres with 19.80 last April in Walnut. Only Erryon Knighton ran faster than Kerley this year with his phenomenal 19.49 clocking in Baton Rouge. 
Kerley also clocked 9.99 in the 100m in Miami and 44.47 in the 400m in St- George. 
Kerley won the Diamond League final in Zurich in the 100m in 9.87 last September becoming the first sprinter to take two Diamond Trophies in the 100m and in the 400m. Ten days later Kerley improved his 200m PB clocking 19.76 in last year's edition of the Kip Keino Classic in Nairobi. He has become the third sprinter to join the exclusive sub-10s, the 20s and 44s club for the 100m, 200m and 400m. 
Kerley is looking forward to the re-match of the Olympic final against Marcell Jacobs. 
Fred Kerley: "It's wonderful to be back where I ended my season last year. I believe it is going to be a very fast race because of the quality field that is there. Jacobs is a great athlete and definitely a worthy opponent. He beat me to gold in Tokyo but I am ready for the competition. That is I am here to compete with the best. I am looking forward to it. Omanyala is running good times and is the fastest sprinter in the field, having downed 9.77 last year. He can run better than that especially after running 9.98 recently. I am really glad to be back in Kenya. Last year I came here and I ran a PB and it was a wonderful experience. Kasarani is a nice stadium. It feels special to be back to my roots again since my first trip to Africa. Fans should expect a fast and fun race at the same time. I am happy fans are back in the stadium and we should expect lots of cheering". 
The Kip Keino Classic is part of Kerley's preparation for the World Championships in Eugene. 
"The Championships will be staged on my home soil and I want to finish on the podium. I am sure the silver from Tokyo Olympics will turn to gold".  
Omanyala made the headlines at last year's edition of the Kip Keino Classic when he improved the African 100m record clocking 9.77 to finish second to Trayvon Bromell. It will be the second time Omanyala will face Jacobs after the World Athletics Indoor Tour Gold meeting in Liévin in the 60 metres last February. Jacobs won that race in 6.50, while Omanyala finished fourth in 6.57.  
Kenny Bednarek won the Olympic 200 metres silver medal in Tokyo setting his PB of 19.68. The US sprinter won the Diamond League final in the 200 metres in 19.70 in Zurich and was one of the most consistent sprinters in the world in the 200m with 13 times under 20 seconds.  
Olympic 4x100 relay champion Filippo Tortu from Italy also returns to the Kasarani Stadium, where he finished third in the 200 metres improving his PB to 20.11 at last year's edition of the Kip Keino Classic. 
The line-up also features Mike Rodgers, who won the world gold medal in the 4x100 relay and finished fifth in the 100 metres final at the World Championships in Beijing 2015, South African sprinters Gift Leotlela, 4x100 gold medallist at the 2021 World Relays Championships, and Sinesipho Dambile, 2021 World Athletics Under 20 Championships 200m bronze medallist. 
Women's 100 metres: 
Shelly Ann Fraser Pryce and Christine Mboma will face off in a star-studded women's 100 metres. 
Fraser Pryce won eight Olympic gold medals (including two consecutive 100m gold medals) and ten world outdoor titles. The Jamaican sprinter set the third fastest time in history in the 100m with 10.60 in Lausanne and won the Olympic bronze medal in the 100m and the gold medal in the 4x100 relay in Tokyo. She dipped seven times under 10.80 in the 100 metres and twice under 22 seconds in the 200 metres in 2021. 
Shelly Ann Fraser Pryce: "My huge base of Kenyan fans on my social media pages have been requesting me for long to come compete in Kenya. I want to repay that with a promise of good, exciting and fast race. It was a long journey from my hometown of Kingston but it feels good to be in Kenya for the first time".
Christine Mboma returns to the Kasarani Stadium, where she won the world under 20 title in 21.84. The Namibian 18-year-old sprinter won the Olympic silver medal in the 200m in Tokyo in 21.81, the Memorial Van Damme in Brussels in 21.81 and the Diamond League final in Zurich in 21.78. She crowned a successful 2021 season with a win in the 200m in 22.39 in the Kip Keino Classic in Nairobi. Last weekend Mboma scored a double win in the 100m in 10.97 and in the 200m in 21.87 in the Gaborone Continental Tour Bronze meeting. 
The other sprinter to watch is Javianne Oliver, who won the US Trials final in the 100m and the olympic silver medal in the 4x100 in Tokyo. 
Women's 200 metres: 
Mboma is entered in both the 100 and 200 metres in Nairobi. Over the longer distance she will face Gina Bass from Gambia, who finished sixth in the 200m final at the World Championships in Doha, and US sprinter Dezerea Bryant. 
Men's 200 metres: 
Canada's olympic 4x100 silver medallist Aaron Brown will face 400m Commonwealth Games gold medallist and Olympic 4x400 relay bronze medallist Isaac Makwala from Botswana and US sprinter Kyree King. 
Men's hammer throw: 
The men's hammer throw will be a re-match of the Tokyo Olympic final between gold medallist Wojciech Nowicki from Poland and his compatriot Pawel Fajdek, who won the Olympic bronze medal. 
Nowicki improved his PB to 82.52m when he won the Olympic gold medal breaking his bronze medal streak after finishing third at his previous four global championships. 
Fajdek will be chasing his second consecutive win in the Nairobi Continental Tour meeting. The four-time world champion took the win in the Kenyan capital with 79.19m beating Nowicki, who finished second with 77.99m. The Pole threw 81.53m to win the bronze medal in Tokyo. 
Fajdek leads 86-21 in his 107 head-to-head clashes against Nowicki. 
The line-up is rounded out by Mikhaylo Kokhan from the Ukraine, who finished fifth at World Championships in Doha 2019 and fourth at the Olympic Games in Tokyo, and Chritos Frantseskakis from Greece, European Under 23 silver medallist in Tallin 2021. 
Women's hammer throw: 
Poland's Anita Wlodarczyk will line-up as the big favourite in the women's hammer throw. Wlodarczyk won three consecutive Olympic gold medals in  2012, 2016 and 2021, four world titles in 2009, 2013, 2015 and 2017, four European gold medals in 2012, 2014, 2016 and 2018 and holds the world record with 82.98m. 
Women's 3000 metres steeplechase: 
Reigning Olympic champion Peruth Chemutai will take on world under 20 record holder Celliphine Chepsol, who won the 3000m steeplechase race at last year's edition of the Kip Keino Classic in 9:30.55, 2016 African champion Norah Jeruto, and reigning under 20 champion Jackline Chepkoech. 
Chemutai won the Olympic gold medal in Tokyo 2021 in her lifetime best of 9:01.45 and finished fifth at the World Championships in Doha. Chepsol won two world under 20 titles in 2016 and 2018 and set the world under 20 record clocking 8:58.58 at the Prefontaine Classic in Eugene in 2017. 
Jeruto, who recently changed her citizenship to represent Kazakhstan, set the third fastest time in history clocking 8:53.65 in Eugene and won the Diamond League in Zurich last year. 
Men's 3000 metres steeplechase: 
Reigning world champion and 2016 Olympic gold medallist Conseslus Kipruto will face reigning world under 20 champion Amos Serem, olympic bronze medallist Benjamin Kigen and Commonwealth Games silver medallist Abraham Kibiwot. 
Men's 1500 metres: 
Abel Kipsang will go up against 2016 world under 20 champion Kumari Taki in the men's 1500 metres. Kipsang finished fourth in the Olympic final in 3:29.65 and won the world indoor bronze medal in Belgrade in 3:33.56 last March. 
Men's 800 metres: 
World 1500m champion Timothy Cheruyiot will step down in distance to test his form in the 800 metres. Cheruiyot will face olympic 800m bronze medallist Ferguson Rotich. 
The rising stars to watch are world under 20 champion Emmanuel Wanyonyi from Kenya and his compatriot Noah Kibet. Wanyonyi won the world under 20 gold medal in Nairobi last August in 1:43.76. Kibet won the world under 20 bronze medal in that race setting his PB of 1:44.88 at the age of 17 and went on to win the world indoor silver medal in Belgrade. 
Women's 1500 metres: 
World 1500m finalist Winny Chebet will line up in the women's 1500 metres that also features last year's world under 20 champion Purity Chepkirui and Winfred Yavi Mutile from Barhein, who finished fourth in the 3000m steeplechase at the World Championships in Doha 2019.
Women's 800 metres: 
Reigning world outdoor champion Halimah Nakaayi will run her first 800 metres race since her world indoor bronze medal in Belgrade last March. Nakaayi improved her national indoor record to 1:58.58 in Liévin last February. The Ugandan middle distance runner will face Kenya's Mary Moraa and Naomi Korir, Noelle Yarigo from Benin, Ethiopian champion Worknesh Mesele, who set her PB of 1:58.71 in Hengelo last year. 
Men's 5000 metres: 
Daniel Mataiko will face Jacob Krop in an all-kenyan affair. Mataiko set his half marathon PB clocking 58:26 in Valencia in 2021, Krop finished sixth in the 5000m at the World Championships in Doha 2019 and fifth at the World Indoor Championships in the 3000m in Belgrade 2022. 
Women's 400 metres: 
US sprinter Wadeline Jonathas starts as the top name in the women's 400 metres. Jonathas won the NCAA outdoor title in 2019 and finished fourth in the world championships final in 49.60 in Doha later that year. 
Men's javelin throw: 
Kenya's Julius Yego will clash against Egyptian record holder Ihab Abdirhaman. Yego won the world title in Beijing 2015 with 92.72m and won the Olympic silver medal in Tokyo with 88.24m. 
Women's high jump: 
Ukrainian jumpers Oksana Okuneva (fourth at the European Indoor Championships 2017) and Katheryna Tabashnyk (fifth at the European outdoor Championships in Belgrade 2018) are the favourites in the women's high jump which also features Laura Zialor from Great Britanin.