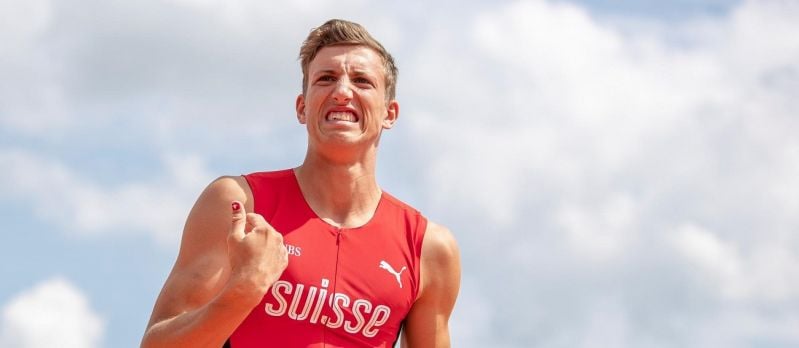 Markus Rooth and Annik Kalin set two national records to win the 35th edition of the Multistars at the Carlo Zecchini Stadium in Grosseto.
Markus Rooth won the men's decathlon with 8307 points becoming the third Norwegian decathlete to win at the Multistars after Lars Rise in 2016 and Martin Roe in 2018 and 2021. Rooth produced an outstanding competition during the weekend setting five PBs in the 100m (10.90),110m hurdles (14.46), 1500m (4:33.08), pole vault (5.05m) and shot put (14.25m) and produced a wind-assisted 7.70m in the long jump. Rooth set the second best performance in the history of the Multistars behind Andrey Krauchanka's meeting record of 8390 points set in 2013.
Rooth won two bronze medals at the European Under 20 Championships in Boras 2019 and at the European Under 23 Championships in Tallin 2021 and set the second world all-time best under 20 performance with 8238 points in Oslo in 2020.
Rooth ended the first day in third place with 4207 points behind his compatriot Sander Skotheim and Dario Dester from Italy. The 20-year-old athlete from Oslo started the second day with a PB of 14.46 in the 110m hurdles and moved into second place with 45.80m in the discus throw. He improved his PB to 5.05 in the pole vault to take the lead with 6832 points and threw the javelin to 60.83m. Skotheim set his lifetime best in the javelin with 61.55m to close his gap to 34 points on Rooth.
Skotheim clocked 4:29.11 in the final 1500m race ahead of Rooth, but it was not enough to overtake his compatriot in the overall standing. Rooth improved his PB to 4:33.08 to take a very close win over Skotheim, who scored a lifetime best of 8298 points.
Markus Roth: "Grosseto is my lucky place. I had a great decathlon with some ups and downs. I am super excited, especially with my PBs in the long jump and in the pole vault. I am now qualified for the European Championships in Munich".
Dario Dester finished third with 8109 points improving his own Italian Under 23 record set at European Under 23 Championships in Tallin last year with 7936. Dester improved two PBs during the second day in the discus throw (41.65m) and in the 1500m (4:28.64) and three more PBs during the first day in the 100m (10.76), 400m (47.76) and shot put (13.90m). He equalled his lifetime best of 7.61m in the long jump.
Dester set the second best performance in Italian decathlon history behind Beniamino Poserina, who scored 8169 in 1996. It was the best ever performance by an Italian decathlete in the history of the Multistars meeting.
Dario Dester: "It's a great feeling to break the 8000 points barrier by a big margin. My goal was to set the qualifying standard fo the European Championships in Munich and have time to prepare for this goal. The World Championships are also a possible goal thanks to the World Athletics Ranking. I will compete in Arona on 4 and 5 June and at the Italian Championships in Rome on 25-26 June"
Women's throw:
Annik Kalin won the women's heptathlon setting the Swiss record with 6398 points. The 22-year-old Swiss athlete added more than 200 points to her previous PB of 6170 set in 2020.
She won two events during the weekend in the long jump improving his PB to 6.55m and 100m hurdles in 13.43 and set another PB in the javelin throw with 49.11m.
Kalin ran 2:20.45 in the 800 metres to break the Swiss record with 6398 points in her first heptathlon competition since 2020. She improved Geraldine Ruckstuhl's previous national record by 41 points.
Annik Kalin: "It's amazing. I wasn't able to take part in any heptathlon competition since 2020 because of a back injury: I set the qualifying standard for the European Championships in Munich".
Sveva Gerevini took second place improving her PB to 6011 points. The 25-year-old Italian indoor record holder improved her outdoor PBs in the long jump with 6.12m and in the 800m with 2:09:45. She has become the first Italian heptathlete to break the 6000 points barrier since 2003, when Gertrud Bacher scored 6063 in Talence.
Sveva Gerevini: "It's a step forward in my career. It means a lot to add more than 100 points to my previous PB. My goal is to break Gertrud Bacher's Italian record".
European Under 23 silver medallist Claudia Conte completed the podium finishing third with 5914. Two more PBs were set by Edyta Bielska from Poland with 5859 points and Chiara Schuler with 5816 points.
-->