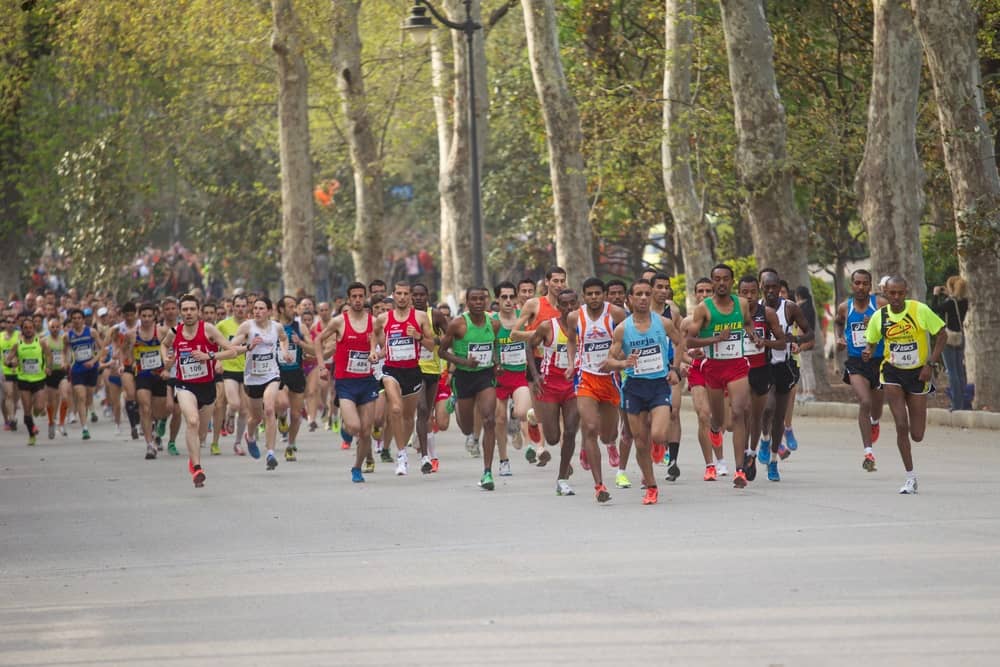 Men's and women's elite fields for the 2022 Madrid Marathon.
The men's field has 13 runners with sub 2:10 personal best times. The fastest men in the field are 40-year-old Ethiopian Dadi Gemeda who holds a lifetime best of 2:05:41 from 2012 and 45-year-old Kenyan Mark Kiptoo with a PB of 2:06:00 from 2015 in Eindhoven. Kiptoo is the World record holder in the men's master category with 2:07:50 in 2018. Even though both runners hold World-class personal best times they will presumably not be in the mix for the win on Sunday as their best times come from years ago and other runners such as Ethiopia's Zewudu Bekele, Uganda's Stephen Kiprotich, the 2012 Olympic marathon champion, Bahrein's Shumi Leche and Kenya's John Langat have clocked fast marathon times just recently.
In the women's race, Worknesh Alemu of Ethiopia is a clear favorite to win the race in Madrid. She is by far the best runner in the field with a 2:24:42 PB from the Amsterdam marathon in 2019, the same year she won Mumbai Marathon at 2:25:45.
The Madrid Marathon 2022 takes place on Sunday, April 24 at 9:00am local time.
Watch Madrid Marathon Live Stream
Men's Elite Field
Dadi Gemeda (ETH) - 2h05:41
Mark Kiptoo (KEN) - 2h06:00
Zewudu Bekele (ETH) - 2h06:31
Stephen Kiprotich (UGA) - 2h06:33
Shumi Leche (BAH) - 2h06:43
John Langat (KEN) - 2h06:43
Augustino Sulle (TAN) - 2h07:46
Abdela Gemeda (ETH) - 2h08:06 - Ganador vigente
Polat Arikan (TUR) - 2h08:14
Shumet Mengistu (ETI) - 2h08:47
Birhanu Addissie (ETI) - 2h09:27
Bernard Too (KEN) - 2h09:45
Stephen Kiplimo (KEN) - 2h09:54
Tariku Novales (ESP) - Debut
Women Elite Field
Worknesh Alemu (ETI) - 2h24:42
Zinash Getachew (ETI) - 2h27:15
Obse Deme (ETI) - 2h27:47
Aberu Mulisa (ETI) - 2h28:02
Tigist Bedada (ETI) - 2h29:02
Kasu Lemeneh (ETI) - 2h29:08
Meseret Alemu (ETI) - 2h29:14
Toroitich Chebet (UGA) - 2h29:44
Freyne Gemeda (ETI) - 2h29:32
-->