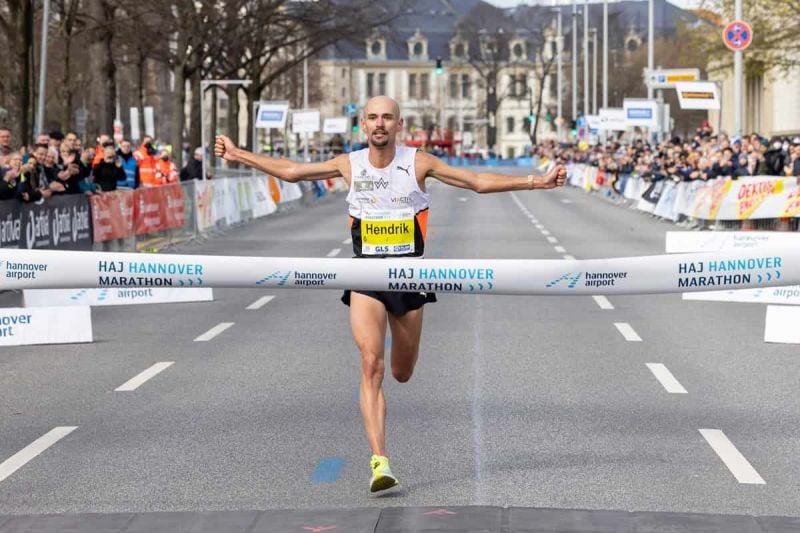 In freezing conditions Germans Hendrik Pfeiffer and Domenika Mayer took the HAJ Hannover Marathon and the national championships which were included in the event.
Hendrik Pfeiffer clocked 2:10:59 and was well ahead of Kenyan debutant Josphat Kiptis who ran 2:13:47. Martin Olesen of Denmark took third in 2:14:35. Despite temperatures around zero Celsius Domenika Mayer ran a surprisingly strong marathon debut with 2:26:50. German pre-race favourite Rabea Schöneborn was second with 2:27:35 while Croatia's Matea Parlov Kostro took third in 2:28:39. Hendrik Pfeiffer and the top three women all achieved the qualifying standards for the European and the World Championships.
In total 18,098 athletes were registered for the 30th edition of the HAJ Hannover Marathon, which is a World Athletics Label Road Race. 3,527 athletes ran the marathon distance. "We are impressed with the event and obviously we were able to make our participants happy," said Race Director Stefanie Eichel. Next year organisers hope to be able to come back with a bigger field and with a much stronger elite race. The 31st edition of the HAJ Hannover Marathon is scheduled for 26th March 2023.
A group of eight runners passed the half way mark in 65:25. That was almost exactly as planned. At around 25k Hendrik Pfeiffer began to take the initiative. He broke away with Kenyans Josphat Kiptis and Wilfred Kiptoo. Until the 30k mark they had support of pacemaker and fellow-Kenyan Kiprotich Kirui. With around 12k to go Hendrik Pfeiffer left behind his rivals and was then all alone at the front, building a huge lead.
"The atmosphere was superb. The spectators helped me getting through the race. It was a bit tough during the final twelve kilometers," said Hendrik Pfeiffer, who ran his second fastest marathon in Hannover. The German has a PB of 2:10:18 from 2020. "I have reached all my goals today, which was important for me," said Hendrik Pfeiffer, who won the race and his first major German title. Additionally he achieved the qualifying standards for the European and the World Championships.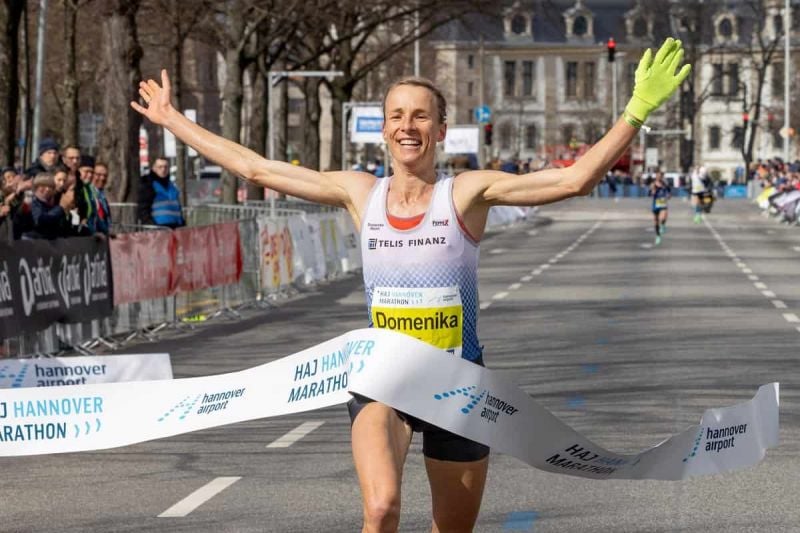 In the women's race Domenika Mayer, Rabea Schöneborn and Kenya's Flomena Ngurais were in the leading group when the half marathon mark was passed in 1:13:36. By 30k pre-race favourite Rabea Schöneborn had lost around 20 seconds and soon after that Flomena Ngurais could not cope with Domenika Mayer's pace. The Kenyan dropped back to fourth later when Matea Parlov Kostro overtook her around the 40k mark.
"I did not think too much about what could happen. Sometimes in a race it just rolls, sometimes it does not. Today was a good day. I just concentrated on my pacemakers. But the wind was partly disturbing," said Domenika Mayer, who is a mother of two. "It was a great debut. Of course I had no clue before what could happen." While Domenika Mayer had a promising half marathon PB of 69:52 she had a Corona infection recently. Because of this her triumph was quite a surprise. And she came relatively close to Hannover's course record: Three years ago Kenya's Rachel Mutgaa clocked 2:26:15.
Runner-up Rabea Schöneborn ran 2:27:35 which was her second best marathon time. "It was a struggle today and I am happy to have finished," she said.
Men top results
1. Hendrik Pfeiffer GER 2:10:59
2. Josphat Kiprop Kiptis KEN 2:13:47
3. Martin Olesen DEN 2:14:35
4. Wilfred Kiptoo KEN 2:14:43
5. Frank Schauer GER 2:14:43
6. Erik Hille GER 2:15:04
Women Top Results
1. Domenika Mayer GER 2:26:50
2. Rabea Schöneborn GER 2:27:35
3. Matea Parlov Kostro CRO 2:28:39
4. Flomena Ngurais KEN 2:30:42
5. Runa Skrove Falch NOR 2:33:53
6. Vaida Zusinaite-Nekriosiene LTU 2:36:04
More information about the HAJ Marathon Hannover is available at: www.marathon-hannover.de
-->