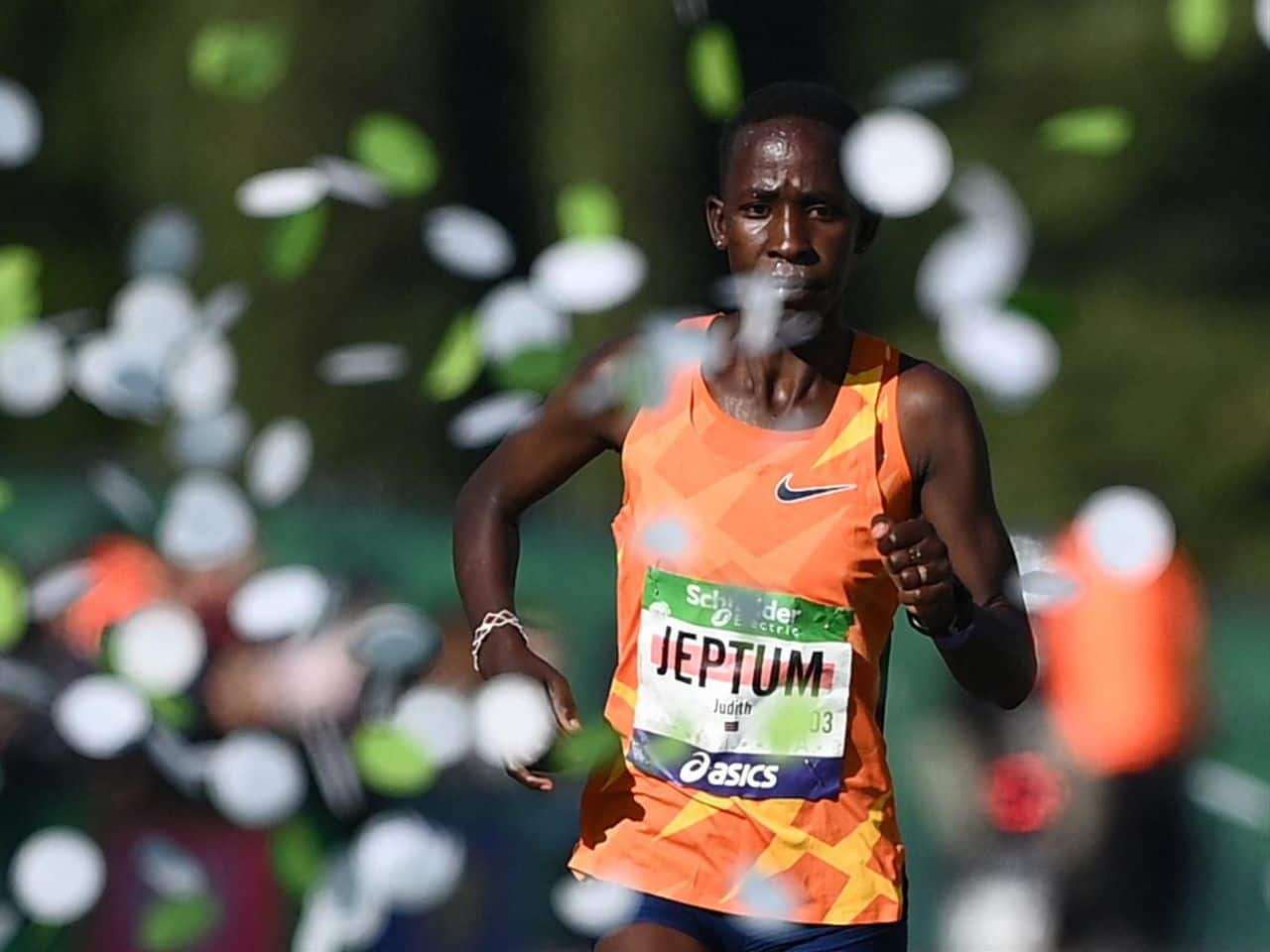 Kenya's Judith Korir Jeptum broke the French all-comers time clocking the first sub-2:20 marathon on French soil with 2:19:48 in sunny but cold weather conditions at the Schneider Electric Paris Marathon, a World Athletics Elite Label.
A seven-women group led by pacemakers Sharon Chelimo and Marion Kibor set off at a fast pace covering the first 10 km in 32:23, inside the course record pace of 2:20:55 set by Kenya's Purity Rionoripo in 2017. The pace slowed a bit in the next kilometres, but the leading pack went through at halfway in 1.08:31.
Jeptum increased her pace at 25 km and went through at 30 km in 1:37:44 with a one-minute gap over the rest of the field. The 26-year-old Kenyan runner crossed the finish-line in 2:19:48 improving her PB by almost three minutes.
Fantu Jimma from Ethiopia finished runner-up in 2:22:52 beating her compatriot Besu Sado, who completed the podium in 2:23:16. Adanesh Anbesa took fourth place in 2:24:07 holding off Yenenesh Dinkesa by two seconds.
Jeptum recently set her half marathon PB clocking 1:05:28 in Ras Al Khaimah.
Judith Korir Jeptum: "The cold weather made the race hard. I tried to do my best and to push hard".
Ethiopia's Deso Gelmisa won the men's race in 2:05:07. Last year's Chicago Marathon winner Seifu Tura from Ethiopia took a runner-up spot in 2:05:10 beating 10000m European champion Morhad Amdouni, who broke the French record with 2:05:22 in the third marathon race of his career setting the fourth fastest European time in history. Benoit Zwierzchiewski had held set the previous French record clocking 2:06:36 in 2003. Amdouni finished eighth at the World Half Marathon Championships in Gdynia 2020 in 59:40.
Gelmisa and Tura broke away at 30 km building a gap of 50 metres over Amdouni. The two Ethiopian runners clocked a fast split in 29:13 between 30 and 40 km.
Gelmisa edged Tura by just three seconds in a thrilling sprint finish to take nine seconds off his previous PB set in Valencia last December, where he finished second.
Abayneh Degu crossed the finish-line in fourth place 2:06:03 ahead of his compatriot Olika Adugna (2:06:27).
Top results men
1. Deso Gelmisa (ETH) - 2:05:07
2. Seifu Tura (ETH) - 2:05:10
3. Morhad Amdouni (FRA) - 2:05:22
4. Abyeneh Degu (ETH) - 2:06:03
5. Olika Adugna (ETH) - 2:06:27
6. Hillary Kipsambu (KEN) - 2:06:53
7. Mohamed Reda El Aarabi (MAR) - 2:06:55
8. Limenih Getachew (ETH) - 2:07:27
9. Aychew Bantie (ETH) - 2:07:44
10. Asefa Mangstu (2:08:30)
Top results women
1. Judith Jeptum (KEN) - 2:19:48
2. Fantu Jimma (ETH) - 2:22:52
3. Besu Sado (ETH) - 2:23:16
4. Adanech Anbesa (ETH) - 2:24:07
5. Yenenessh Dinkesa (ETH) - 2:24:07
6. Jackline Chepngeno (KEN) - 2:24:59
7. Meseret Belete (ETH) - 2:25:41
8. Janet Ruguru (KEN) - 2:25:57
9. Beyenu Degefa (ETH) - 2:26:18
10. Lindsey Flanagan (USA) - 2:26:54
-->