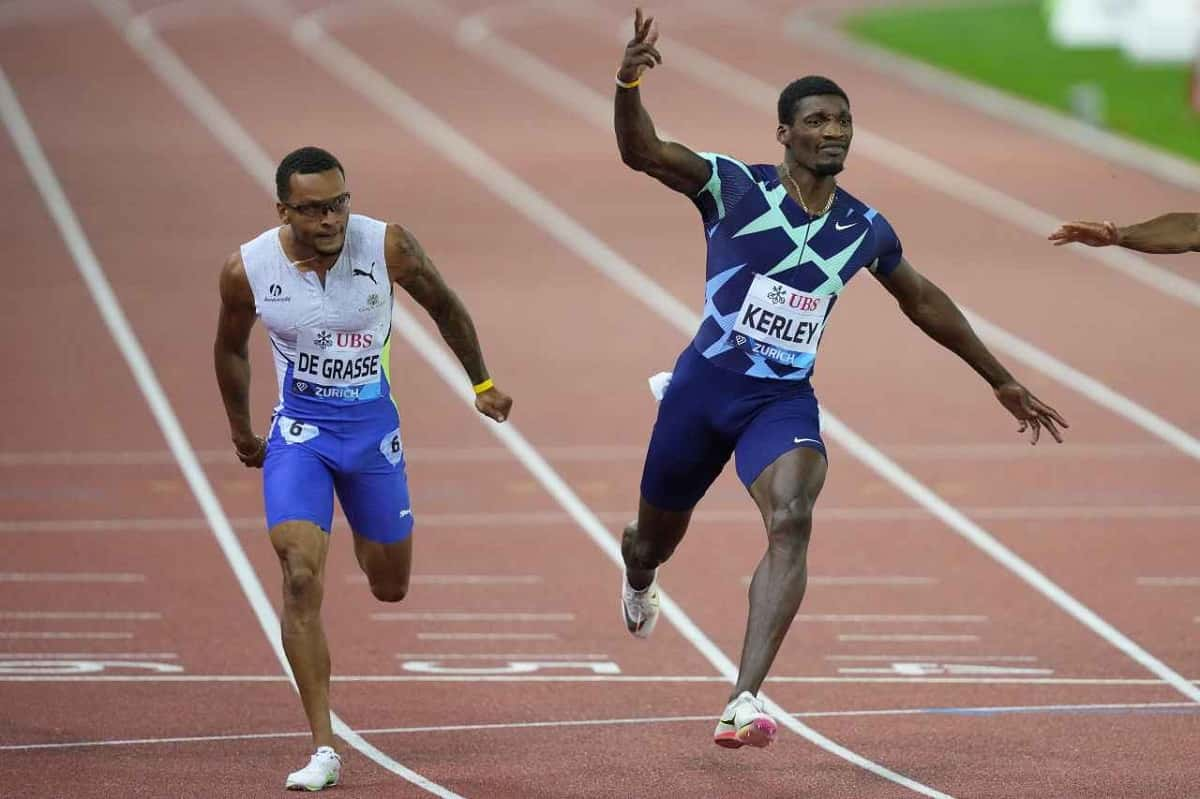 On Saturday, Fred Kerley clocked a solid of 9.99 seconds in the 100m at Miami Hurricanes Invitational in Coral Gables, Florida.
"9.99, I take it," Kerley wrote on his Twitter page.
Kerley, who surprisingly won silver behind Italian Lamont Jacobs at the Tokyo Olympic games 100m, initially was scheduled to compete at the Texas Relays. He chose not to travel to Austin but to stay and contest the 100m in Florida.
His 9.99 seconds in Florida is the 2nd fastest 100m time in the World behind Ghanian sprinter Benjamin Azamati who stormed to a new P.B. of 9.90 at Texas relays on Friday.
Kerley holds World-class personal best time in the 100m of 9.84, in the 200m of 19.76, and in the possesses a P.B. of 400m 43.64.
He is among the handful of athletes that hold sub-10, sub-20, and sub 44 second personal best times.
Results Miami Hurricanes Invitational
Meanwhile, on the final day at Texas Relays, Gabby Thomas, the 200m Bronze Medalist Olympic Games, clocked fast but wind-aided 21.69 in the 200. She finished just ahead of Tamara Clark, who posted 21.72 for second place. Less than an hour before the 200m, Thomas and Clark finished neck to neck in a windy 100m (2.9m/s), with Thomas claiming the win in 10.92 to Clark's 10.94. However, both sprinters did not price the fastest 100m times of the day; just a few minutes earlier in the collegiate 100m final, Celera Barnes ran the event even faster. She posted a wind-aided10.82 (2.8m/s) narrow win over Jada Baylark (10.83).
Keni Harrison, the world record-holder in the 100m hurdles, opened her outdoor season with the fourth-fastest time of her career. Harrison won the windy (3.9m/s)100m hurdles with a time of 12.32, just 0.12 seconds ahead of Tonea Marshall.
-->