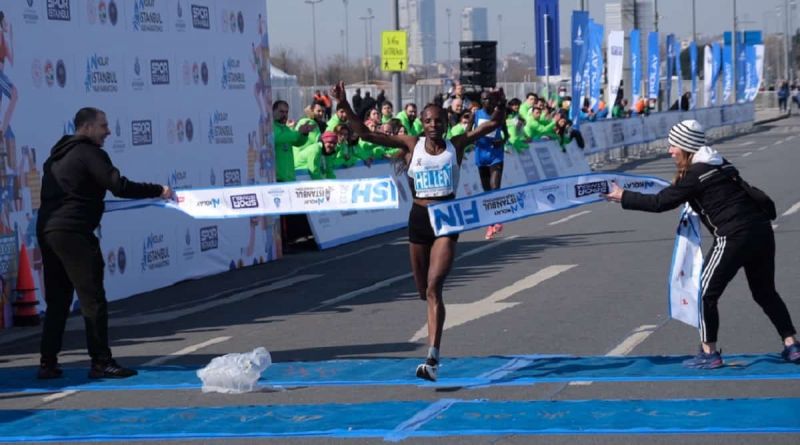 Hellen Obiri clocked the tenth fastest time ever with 64:48 to win the 17th N Kolay Istanbul Half Marathon while Rodgers Kwemoi ran a course record of 59:15 to make it a Kenyan double. Strong winds during the second half of the race prevented even faster times on a sunny day at the Bosphorus.
Dominating the race 24-year-old Rodgers Kwemoi improved the course record by 20 seconds. Daniel Mateiko was second in 60:05 while fellow-Kenyan Emmanuel Bor, who had started the race as a pacemaker, finished third with 60:20. Romania's Nicolae Soare was the fastest European runner in 12th position with 63:33 and Ramazan Özdemir followed in 14th with 64:02 as the fastest athlete from Turkey.
Hellen Obiri ran another impressive race. When the 32-year-old World Cross Country and 5,000 m World Champion broke the tape in 64:48 she was more than a minute ahead. Ethiopians Tsehay Gemechu and Bekelech Gudeta took second and third with 65:52 and 66:35. While Kenya's Vicoty Chepngeno finished fourth in 66:58 Yasemin Can of Turkey was fifth with 67:57.
The N Kolay Istanbul Half Marathon had a record number of over 7,000 starters. It is Turkey's biggest spring road race and a World Athletics Elite Label Road Race.
"The N Kolay Istanbul Half Marathon has continued its great development and has bounced back strongly after the Covid restrictions. We are happy that we had over 7,000 starters for the first time, we got a men's course record and another very strong performance from Hellen Obiri. It was a great event and we will continue to build on this success," said Race Director Renay Onur.
With the wind in their back during the first part of the race the leading women produced some spectacular split times. Hellen Obiri and Tsehay Gemechu reached the 5 k point in 14:43 - no-one has run faster this year over this distance and they were well inside the world record of 62:52 at this stage. Soon after that Hellen Obiri was alone in the lead behind her pacemaker and had an advantage of over half a minute at 10 k. Her split time of 29:59 (only a small number of athletes have ever run faster at this distance) pointed towards a 63:15 finish. But facing the wind Hellen Obiri had already clearly slowed and then reached 15 k in 45:25. The course record of 64:02 and her personal best of 64:22 got out of reach quickly in the final part of the race.
"It was so windy during the second half. I would have been able to run quite a bit faster without the wind. But it was nonetheless a good race," said Hellen Obiri, who now switches her attention to shorter road races. In contrast to earlier plans, the Kenyan intends to return to the track in the summer: "I want to run the 5,000 meters at the World Championships since I am the defending champion. My first marathon will then more likely follow in 2023."
With four women achieving times of sub 67:00 and another seven finishing inside 70:00 the race had a great depth. And there was a national record further back in the field as well: Moira Stewartova finished 12th, improving the Czech Republic's record to 70:14.
The first split times of the leading men were very fast as well. Kenyan training partners Rodgers Kwemoi and Daniel Mateiko were led by pacemaker Emmanuel Bor and then recorded a 5 k time of 13:39, which indicated a 57:35 finish. The world record stands at 57:31. However as in the women's race that pace dropped considerably in the windy conditions. The trio passed 10 k in 27:35 and it was then Kwemoi who surged ahead. Whenever Mateiko and Bor seemed to catch up Kwemoi found another gear and went clear again. He then established a big lead in the final section of the race, despite going much slower than in the first half.
"It was a good race. But the wind was very strong and I also felt my hamstring at around 10 k, so I could not go that fast anymore," said Rodgers Kwemoi, who is a training partner of Eliud Kipchoge in Kaptagat. "My next goal in the half marathon is a time of 58:00. But now I will first focus on qualifying for the World Championships, where I want to run the 10,000 metres. I will run a marathon in future, but only after the Olympics."
Men leading results
1. Rodgers Kwemoi KEN 59:15
2. Daniel Mateiko KEN 60:05
3. Emmanuel Bor KEN 60:20
4. Edmond Kipngetich KEN 60:30
5. Brian Kwemoi KEN 60:50
6. Tegegn Tamerat ETH 61:15
7. Isaac Kipkemboi KEN 61:40
8. Daniel Kiprotich KEN 61:43
9. Ashenafi Kiros ETH 61:44
10. Gerald Vincent KEN 61:47
Women leading results
1. Hellen Obiri KEN 64:48
2. Tsehay Gemechu ETH 65:52
3. Bekelech Gudeta ETH 66:35
4. Vicoty Chepngeno KEN 66:58
5. Yasemin Can TUR 67:57
6. Medhin Gebreslassie ETH 68:27
7. Stella Rutto ROU 68:29
8. Nigsti Haftu ETH 68:32
9. Pauline Esikon KEN 69:11
10. Ayinadis Teshome ETH 69:21
More information is available at: https://www.istanbulyarimaratonu.com/en/
-->