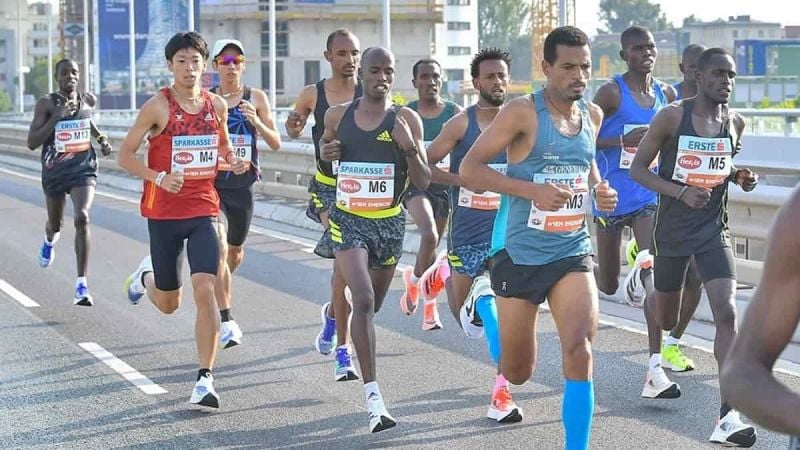 The two defending champions will both be returning to the Vienna City Marathon on 24th April: Kenyans Leonard Langat and Vibian Chepkirui. While some elite women's contenders were released earlier organisers now confirmed a number of male competitors. There will be unprecedented depth in Vienna's men's elite field with five athletes featuring personal bests of sub 2:06. This group is led by Ethiopia's Mekuant Ayenew who has a PB of 2:04:46. Additionally the Vienna City Marathon will feature a rematch between Derara Hurisa of Ethiopia, who had crossed the line first last year but was then disqualified for inadvertently wearing an illegal racing shoe, and Leonard Langat.
Well over 27,000 runners have so far registered for Austria's leading road race, including entries for shorter running events. Online entry for the 39th Vienna City Marathon, which is a World Athletics Marathon Label Road Race, is still possible at: www.vienna-marathon.com
"Elite racing forms a thrilling part of our event. These runners bring high quality performances and often emotional stories to our race," said Race Director Wolfgang Konrad. "We are very happy to welcome back both winners from last year to Vienna. And we keep our fingers crossed for Derara Hurisa, who will also return."
In unusually warm conditions Derara Hurisa became the first athlete being disqualified for wearing an illegal shoe in a major city marathon last September in Vienna. The Ethiopian, who has a personal best of 2:08:09, crossed the line first in 2:09:22. However it appeared the he wore shoes that have a sole thickness of five centimeters while a maximum of four is allowed. Derara Hurisa had chosen the shoes for the race because he used them in training and thought they were within the rules. The athlete looked upset and distraught when he learnt about the disqualification and will be eager to take his second chance when he returns to Vienna. Though he was happy to become the winner it was not the ideal scenario for Leonard Langat as well. "Of course I would have preferred to have broken the tape," said the Kenyan, who improved his PB to 2:09:25 in Vienna last year.
Such is the strength of the elite field this time that both runners might have to improve their personal bests quite significantly if they want to be in contention for victory on 24th April. With a personal record of 2:04:46 Mekuant Ayenew is the second fastest runner ever entered into a Vienna City Marathon behind former world record holder Dennis Kimetto (2:02:57). The Kenyan did not finish the 2018 race. Mekuant Ayenew, who won the Sevilla Marathon 2020 when he clocked his PB, heads the start list.
The other four athletes with personal bests of sub 2:06 are Goitom Kifle of Eritrea (2:05:28), Bahrain's Marius Kimutai (2:05:47), Oqbe Kibrom from Eritrea (2:05:53) and Ethiopian Abdi Fufa (2:05:57). While Kimutai was the winner of the Rotterdam Marathon in 2017 Kifle achieved a notable 14th place in the Olympic marathon in Sapporo last summer.
The group of leading runners look to be in a perfect position to target the course record of the Vienna City Marathon. Ethiopia's Getu Feleke established this mark when he won the race with 2:05:41 back in 2014.
For more information please visit: www.vienna-marathon.com
-->