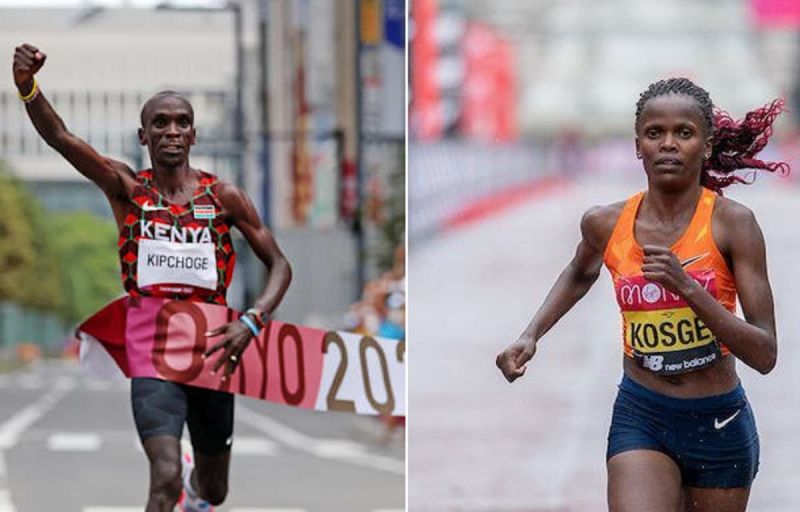 Kenyans Eliud Kipchoge and Brigid Kosgei triumphed at the 2022 Tokyo Marathon on Sunday, March 6.
Kipchoge cemented his status as the greatest marathon runner of all time as he won the Tokyo marathon on Sunday. He joined Wilson Kipsang as the only man to win four separate World Marathon Majors events. The Olympic champion has only Boston and New York to go. Kipchoge has dominated the marathon running since 2013 as he has won 14 of his 16 marathons.
Amos Kipruto clocked a personal best of 2:03:13 to take second in Tokyo Marathon. Ethiopian Tamirat Tola concluded the men's podium with a time of 2:04:14.
Brigid Kosgei, the current women's marathon record holder, won the women's race in a dominant fashion, smashing the course record and Japanese all comers record with an astonishing time of 2:16:02. Her winning time is also the third fastest marathon ever. Ashete Bekere of Ethiopia finished second, running 2:17:58, a personal best. At the same time, her compatriot Gotytom Gebreslase came in third in a big personal best of 2:18:18.
Complete Tokyo Marathon 2022 results
Top results women
| | | | |
| --- | --- | --- | --- |
| 1 | KOSGEI Brigid | KEN | 2:16:02 |
| 2 | BEKERE Ashete | ETH | 2:17:58 |
| 3 | GEBRESLASE Gotytom | ETH | 2:18:18 |
| 4 | TANUI Angela | KEN | 2:18:42 |
| 5 | GEBREKIDAN Hiwot | ETH | 2:19:10 |
| 6 | ICHIYAMA Mao | JPN | 2:21:02 |
| 7 | NIIYA Hitomi | JPN | 2:21:17 |
| 8 | HALL Sara | USA | 2:22:56 |
| 9 | BEKELE Helen | ETH | 2:24:33 |
| 10 | MORITA Kaori | JPN | 2:27:38 |
Top results men
| | | | |
| --- | --- | --- | --- |
| 1 | KIPCHOGE Eliud | KEN | 2:02:40 |
| 2 | KIPRUTO Amos | KEN | 2:03:13 |
| 3 | TOLA Tamirat | ETH | 2:04:14 |
| 4 | SUZUKI Kengo | JPN | 2:05:28 |
| 5 | KITATA Shura | ETH | 2:06:12 |
| 6 | KORIR Laban | KEN | 2:06:37 |
| 7 | SONOTA Kenya | JPN | 2:07:23 |
| 8 | YUZAWA Shun | JPN | 2:07:31 |
| 9 | KIKUTANI Kento | JPN | 2:07:55 |
| 10 | GITHAE Michael | KEN | 2:07:55 |
-->