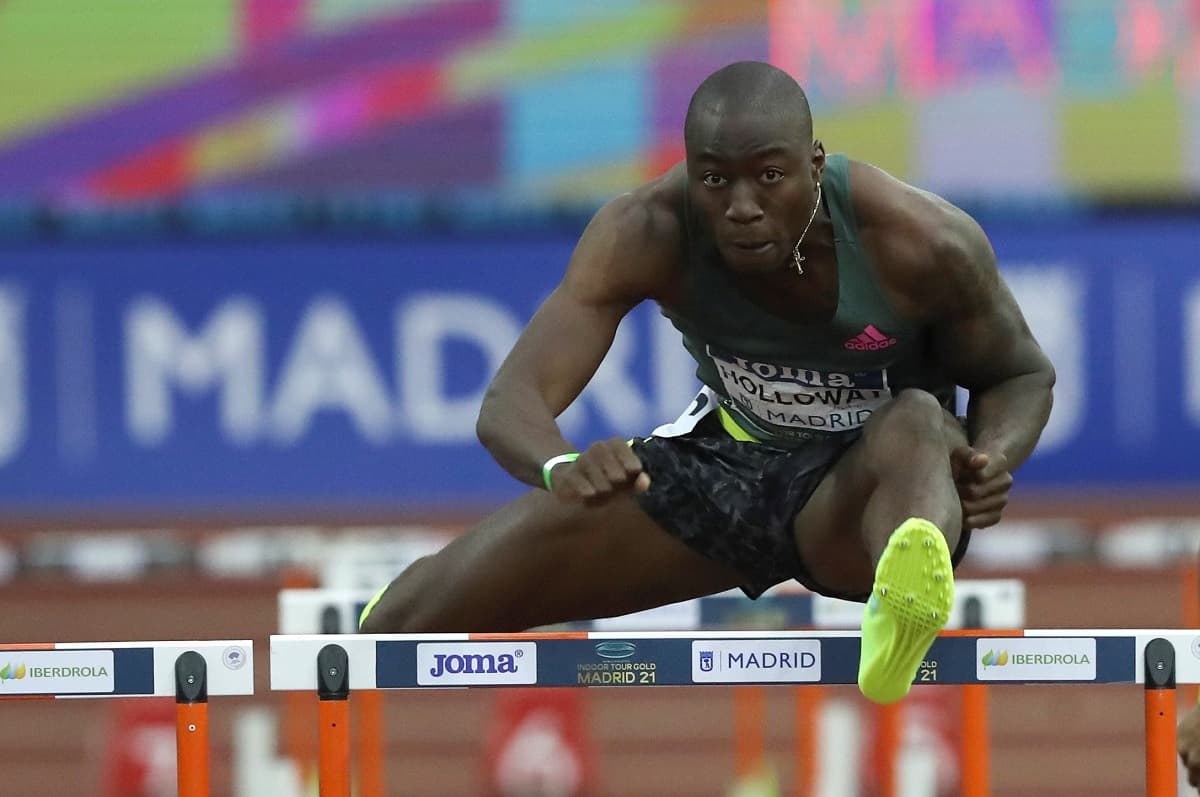 Ryan Crouser, Garrett Scantling and Grant Holloway were in the spotlight on the second day of the 2022 US Indoor Championships in Spokane on Sunday, February 27.
Double olympic champion and world record holder Ryan Crouser booked his spot at the World Indoor Championships in Belgrade with a win in the men's shot put. Crouser opened the final with a world leading mark of 22.03m and improved to 22.24m in the third round and 22.51m in the fourth round. Josh Awotunde secured the second qualifying spot for Belgrade by finishing runner-up with 21.74m.
Garrett Scantling won the men's heptathlon with a world leading mark of 6382 points moving up to third on the US all-time list and ninth on the world all-time list ahead of former olympic champions Erki Nool and Bryan Clay.
Scantling, who finished fourth at the Olympic Games in Tokyo 2021 in the decathlon, set two individual PBs in the 60 metres with 6.86 and in the 1000m with 2:43.04. The former American Football player also leapt to 7.34m in the long jump, threw 16.16m in the shot put, cleared 2.05m in the high jump and 5.20m in the pole vault and clocked 7.81 in the 60m hurdles.
World 110m hurdles champion Grant Holloway won the men's 60m hurdles final in 7.37 extending his winning streak to 46 consecutive victories over this distance. Holloway equalled Terrence Trammell's championships record from 2009. World indoor silver medallist Jarret Eaton booked the second spot for Belgrade with a second place in 7.47.
Olympic finalist Gabby Cunningham improved her PB to win the women's 60m hurdles to 7.82 ahead of Alaysha Johnson (7.91), 2018 world indoor silver medallist Christine Clemons (7.92) and Dior Hall (7.93).
World 100m and 4x100 relay champion Christian Coleman equalled the world leading time of 6.45 to win the men's 60 metres ahead of 2014 world indoor silver medallist Marvin Bracy, who equalled his lifetime best clocking 6.48.
Former NCAA 100m champion Mikiah Brisco equalled her seasonal best of 7.07 holding off Marybeth Sant Price by 0.01.
Reigning world indoor champion Sandi Morris won the women's pole vault with 4.80m. Morris failed one attempt at 4.60m and trailed olympic champion Katie Nageotte for most of the competition. Nageotte had a clean sheet until 4.75m, but she made two failures at 4.80m. Morris sealed the win by clearing 4.80m in her second attempt.
Jarrion Lawson leapt to 8.19m in the final attempt to win the men's long jump ahead of of Marquis Dendy (8.14m) and last year's US Olympic Trials long jump and high jump champion Ju'Vaughn Harrison (8.05m).
World championships fourth placer Bryce Hoppel clocked 1:45.30 to win the men's 800m in 1:45.30 beating Isaiah Harris by one second.
Ajée Wilson won the women's 800m final in 2:01.72 ahead of Olivia Baker (2:02.14).
Elle Purrier St Pierre bounced back from the third place in the 1500m with a win in the 3000m in 8:41.53 ahead of Alicia Monson (8:43.65) and Weini Kelati (8:47.77).
Donald Scott claimed the win in the men's triple jump with 16.88m ahead of Chris Carter (16.67m) and reigning world indoor champion Will Claye (16.63m).
Vashti Cunningham, who won the world indoor title in Portland 2016, won the women's high jump with 1.91m beating Nicole Greene and Jelena Rowe on countback.
-->