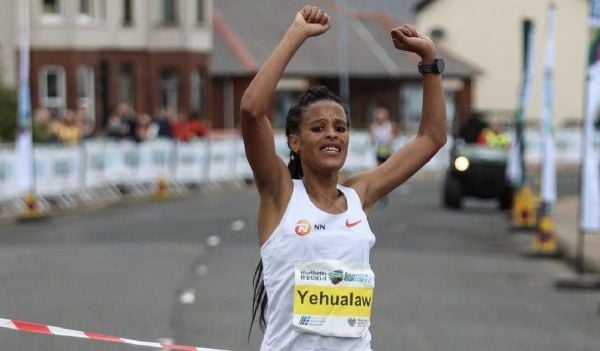 Ethiopa's Yalemzerf Yehualaw broke the 10 km record clocking 29:14 in the Castellon 10 km toad race, a World Athletics Label Race.
The world half marathon bronze medallist improved the previous ratified world record set by Joyciline Jepkosgei and the yet-to-be ratified world record time of 29:38 set by Barhein's Kalkidan Gezahegn.
Yehualaw has become the first woman in history to break the 29:20 barrier in the 10 km road race.
Yehualaw clocked 1:03:44 in the Lane Half Marathon last August but the time was not ratified as a world record, as the course was 54 metres shorter. The Ethiopian runner went on to finish runner-up with 1:03:52 in the Valencia half marathon, when Letesenbet Gidey broke the world record clocking 1:02:52.
Yehualaw was on pace for a sub-29 minute pace when she went through the 3 km in 8:36 and the 5 km in 14:28. She ran the slowest split of 3:00 in the seventh kilometre. She clocked 14:46 in the second half with a final km in 2:52 to cross the finish-line in 29:14.
Only world record holder Letesenbet Gidey and Olympic champion Sifan Hassan ran faster over the distance on the track with 29:01.03 and 29:06.82.
Kenya's Vicoty Chepnego, who won the Houston half marathon in 1:05:03, finished runner-up in 30:14 ahead of 2013 world 5000m silver medallist Mercy Cherono (30:48).
"It was hard for me not to be able to compete in the Valencia 10 km race due to a positive Covid-test, but I resumed my training and faced today's race very optimistically. I knew I had the world record in my legs and wanted to produce a challenging performance for any athletes who may attempt the record in the near future. I will likely do a half marathon in the coming months. I won't focus on the track season because I probably would not challenge for a place on Ethiopia's 10000m team for the World Championships. Instead, I plan to tackle the marathon later in the year and the World Half Marathon Championships in Yangzhou in November", said Yehualaw.
Kenya's Ronald Kwemoi won the men's race setting a course record of 27:16 beating his brother Samwel Chebolel by two seconds. Tadese Takele from Ethiopia completed the podium finishing third in 27:20.
Kwemoi launched his sprint in the final 400 metres to take the win in his first road race. The kenyan runner holds the world under 20 record in the 1500m.
"I enjoyed the race. The circuit is very fast. I decided to attack in the closing stages as I am a 1500m runner and knew I would be able to win that way", said Kwemoi.
-->