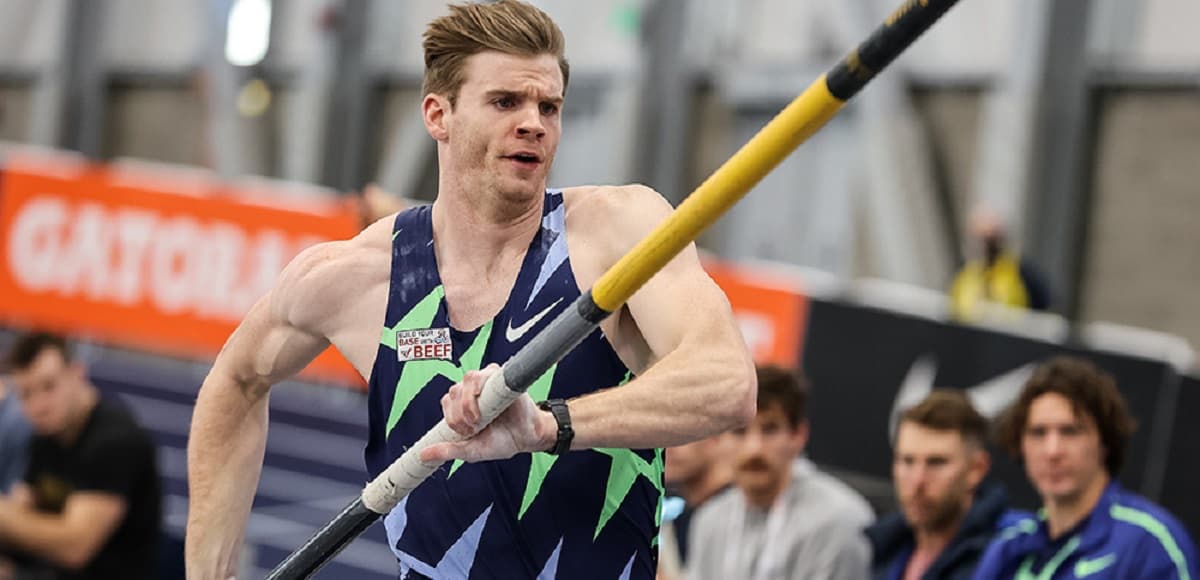 Report day 1 for the USA Track and Field Indoor Champions 2022 which is held Spokane, Washington from February 26 to 27.
Olympic silver medallist Chris Nilsen won the US indoor title in the men's pole vault clearing 5.91m at the US Indoor Championships in Spokane, Washington.
A record number of five athletes cleared 5.81m. This depth had never achieved at a national championships event in any country indoors or outdoors.
Nilsen had a clean sheet until 5.81m before clearing 5.86m at the third time of asking. Olympic fourth placer LC Lightfoot cleared 5.86m in the first attempt to take the lead. Nilsen responded by clearing 5.91m in his first attempt to win the competition.
Nilsen made three unsuccessful attempts at the North American Indoor record of 6.03m.
Zach McWorther managed to clear 5.61m in the third attempt before clearing 5.71m,5.76m and 5.81m at the first time of asking, but the failed three times at the next height of 5.86m. Matt Ludwig had a clean sheet at the first three heights of 5.51m, 5.61m and 5.71m before clearing 5.81m at the third attempt to finish fourth over Jacob Wooten on countback.
Women's shot put:
Magge Ewen improved her outright PB to 19.79m to claim the women's shot put. Ewen has moved to second on the world seasonal indoor list behind Portugal's Auriol Dongmo, who threw 19.90m this weekend at the Portuguese Indoor Championships in Pombal.
Ewen backed up this result with throws of 19.50m, 19.37m, 19.10m. Chase Ealey put 19.10m to finish second.
Women's 1500 metres:
Heather MacLean won a thrilling women's 1500m final in 4:06.09. Josette Norrie finished runner-up in 4:06.13 edging Elle Purrier St. Pierre by just 0.01.
Men's 3000 metres:
Cole Hocker won his second national title in the men's 3000 metres clocking 7:47.50 to finish more than a second ahead of Emmanuel Bor (7:48.64) and Dillon Maggard (7:49.05).
Men's high jump:
Ju'Vaughn Harrison (double US Olympic Trials and NCAA champion in the high jump and in the long jump) won the high jump with 2.28m. Darryl Sullivan finished runner-up with 2.25m on countback over Darius Carbin.
Women's long jump:
Quanesha Burks took the win in the women's long jump with 6.55m. Tiffany Flynn took second place with 6.49m on countback over Shaa'Keela Saunders.
Women's pentathlon:
Chari Hawkins improved her PB to 4492m to win the women's eptathlon beating Kendell Williams (4399 points) and Maddie Nickal (4120 points).
-->