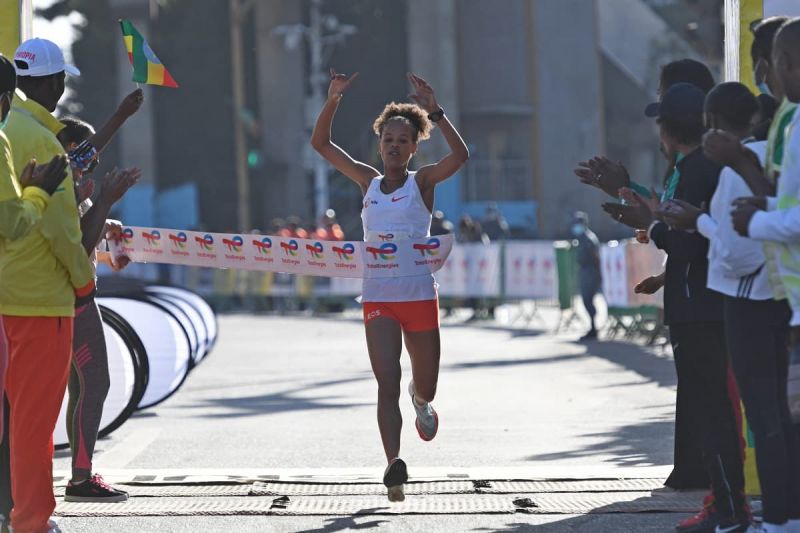 The 22-year-old Yalemzerf Yehualaw opened her 2022 season sensationally by defending her title of Great Ethiopian Run 10km with an amazing time of 30:14. Yehualew smashed the course record by over a minute as she crossed the line ahead of Girmawit Gebregziabiher (30:26).
Yehualew's run is startling because the event is held in Addis Ababa, which is 2350m above sea level. Her time is the fastest 10km ever recorded at high altitude, and it also breaks the African all-comers' record of 30:55 that had been set by Sheila Chelangat in Port Gentil, Gabon, in 2019.
The 17-year old 2021 World Junior 5000m silver medallist Melkanat Wudu, who made an international 10km debut, came home in third place with a fantastic time of 30:41.
Yehualew emerged on the world stage at the 2020 World half marathon championships in Poland, where she claimed the bronze medal. At the 2021 Valncia Marathon she set the 2nd fastest half marathon time in history of 1:03:51.
In the men's 10km race, Gemechu Dida took a shock victory over former Dubai Marathon champion Getaneh Molla, with less than a second separating the first three runners.
The men's race also produced exceptional results considering 2350m altitude. The top 9 runners broke the 28-minute barrier. Dida's winning time of 27:22 destroyed the long-standing men's race record of 28:19, set by Deriba Merga back in 2006. Getaneh Molla clocked 27:23 for a second while Boki Diriba finished 3rd with a time of 27:24. Antenayehu Dagnachew, who rounded out top 10, clocked 28:03, also faster than the previous course record.
Women 10km top results
1 Yalemzerf Yehualaw (ETH) 30:14
2 Girmawit Gebrzihair (ETH) 30:26
3 Melknat Wedu (ETH) 30:41
4 Gete Alemayehu (ETH) 31:03
5 Bosena Mulate (ETH) 31:14
6 Hawi Feyisa (ETH) 31:15
7 Birtukan Wolde (ETH) 31:19
8 Anchinalu Desse (ETH) 31:35
9 Mebrat Gidey (ETH) 31:39
10 Ayenaddis Teshome (ETH) 31:46
Men 10km top results
1 Gemechu Dida (ETH) 27:22
2 Getaneh Molla (ETH) 27:23
3 Boki Diriba (ETH) 27:24
4 Moges Tuemay (ETH) 27:29
5 Getachew Masresha (ETH) 27:31
6 Cornelius Kibet Kemboi (KEN) 27:37
7 Teresa Ggnakola (ETH) 27:41
8 Solomon Berihun (ETH) 27:53
9 Ashenafi Kiros (ETH) 27:58
10 Antenayehu Dagnachew (ETH) 28:03
-->