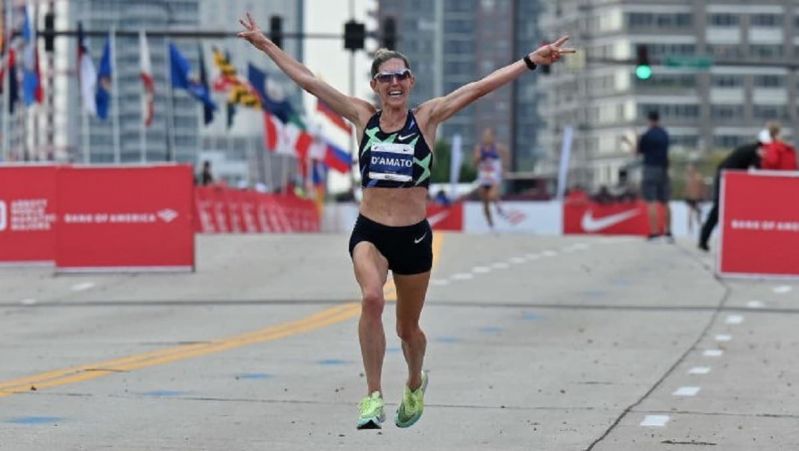 15-year-old American marathon record of 2:19:36 set by Deena Kastor was broken today at the Chevron Houston Marathon.
Keira D'Amato surprised everyone at the Houston Marathon on Sunday by winning the women's marathon race in a new American record time of 2 hours 19 minutes and 12 seconds.
The 37-year-old D'Amato shaved 24 seconds off Deena Kastor's American record at the 2022 Houston Marathon.
More than 10 years ago D'Amato, who works as a real estate agent, is married and has two kids, quit middle distance running soon after she finished college, because she was not successful nationally.
D'Amato returned to running five years ago and after almost a one year of training she debut in the marathon with 3 hours and 14 minute performance at the Shamrock Marathon in Virginia Beach. Today she set an American record with 2:19:12, a World class time that could win many her any major marathon in the World.
"I keep checking it to make sure that that's what I ran,"
"I just can't believe it. I'm really tired but I'm really, really happy…I just feel like dreams come true, you know?." D'Amato told ABC13 broadcast.
At the 2020 U.S. Olympic Trials in Atlanta she took 15th place. The same year on December 20 she clocked the eighth-fastest time by an American of 2:22:56 at the Marathon Project in Arizona. Today D'Amato's 2:19:12 is tied for the 22nd-fastest time in World history.
Another headline at the 2022 Houston Marathon produced Sarah Hall. The 38-year-old Hall smashed American Half Marathon record with 67:15 and shaved 10 seconds from Molly Huddle's previous record. Hall finished second to Kenya's Vicoty Chepngeno, who won the women's half marathon race with an American all-comers record of 65:03 and to become the 11th-fastest woman in history.
Top results women's marathon
1. Keira D'Amato (USA) - 2:19:12 US National record
2. Alice Wright (GBR) - 2:29:08
3. MAggie Montoya (USA) - 2:29:08
4. Roberta Groner (USA) - 2:32:02
5. Atsede Tesema (ETH) - 2:32:38
6. Brittney Feivor (USA) - 2:32:39
7. Kathya Mirell Garcia Barrios (ITA) - 2:32:54
8. Christina Welsh (USA) - 2:33:00
9. Bookmyer (USA) - 2:33:19
10. Andrea Pomaranski (USA) - 2:33:35
Top results women's half marathon
1. Vicoty Chepngeno (KEN) - 1:05:03
2. Sara Hall (USA) - 1:07:15
3.Dominique Scott (RSA) - 1:07:32
4. Finona O'Keeffe (USA) - 1:07:42
5. Jessica Judd (GBR) - 1:07:52
6. Emily Durgin (USA) - 1:07:54
7. Caren Mayo (GBR) - 1:08:41
8. Dakotah (Lindwurm (USA) - 1:09:36
9. Nell Rojas (USA) - 1:09:42
10. Annie Frisbie (USA) - 1:10:27
-->