After two year-break Frankfurt marathon will return with new sports sponsor

Posted by:
Races News Service
Wednesday, 12 January 2022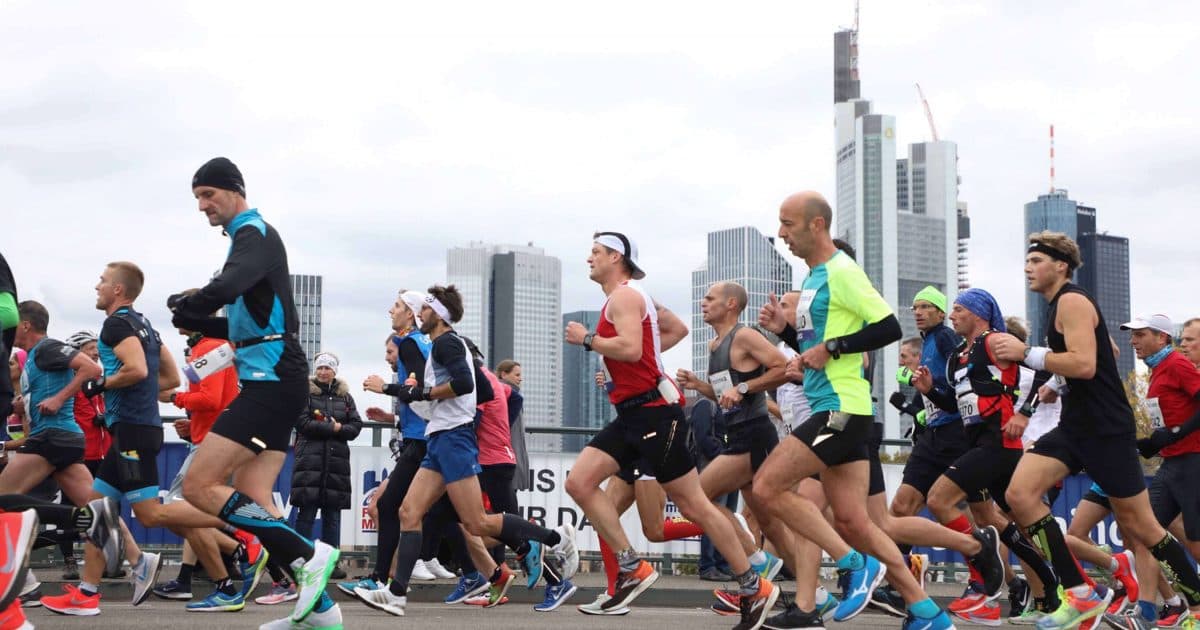 Following a two-year break because of the Corona Pandemic organisers of the Mainova Frankfurt Marathon are confident that their race will return on 30th October. First held in the spring of 1981 with over 3,000 participants the event is Germany's oldest city marathon. Over 14,000 marathon runners competed in 2019 when the race was last held. The former Gold Label Road Race, which is now an Elite Label Road Race of World Athletics, will have a new sports sponsor this year: Hoka One One. Online entry for the 39th edition of the Mainova Frankfurt Marathon is possible from now on at: www.frankfurt-marathon.com
Hoka One One, a division of Deckers Brands, has been named as an official sportswear partner of the Mainova Frankfurt Marathon for five years. Commencing in 2022, Hoka's official partner status aims to enhance participants' experience and help to further broaden interest in the event, engaging with its strong following in the running community.
The imposing Frankfurt skyline sets the stage for Frankfurt's largest street festival with many bands and stages, presenters, and music groups entertaining the runners along the route. As they approach the finish line, participants run the red carpet into the historic Frankfurt Festhalle - a spectacular indoor finish.
The Mainova Frankfurt Marathon has been recognized as a Gold Label Road Race by World Athletics and is also one of the most environmentally friendly marathons worldwide, winning the 'AIMS Green Marathon Award' in 2014 in recognition of this.
"In Hoka, we have found a strong partner for the further development of the Mainova Frankfurt Marathon. As experts in innovation and quality in the field of running, we are very much looking forward to working together over the coming years. We are particularly impressed that Hoka are dedicated to strongly supporting our efforts in environmental initiatives for a sustainable marathon. We are therefore very much looking forward to the partnership, from which our participants will certainly benefit. After two tough years in which the Mainova Frankfurt Marathon unfortunately could not take place due to the Corona Pandemic, we are now looking forward with confidence. The partnership with Hoka will give us new momentum for the coming years," said Race Director Jo Schindler.
Mike McManus, Director of Global Sports Marketing, added: "As the longest established race in Germany, Hoka is thrilled to be announcing our support of the historic Mainova Frankfurt Marathon. We are committed to bringing an outstanding running experience to the participants, and to enhancing this already world-class event with our commitment to bold innovation and our love of the sport.
Through its support of this event, Hoka aims to ignite its ambitions in Europe and beyond, in line with its mission of empowering all athletes to feel like they can fly. As well as the creation of a world-class customer experience, the focus will be using this incredible platform to raise awareness amongst new and existing Hoka fans about the brand and its products.
More Information and online entry are available at: www.frankfurt-marathon.com
-->