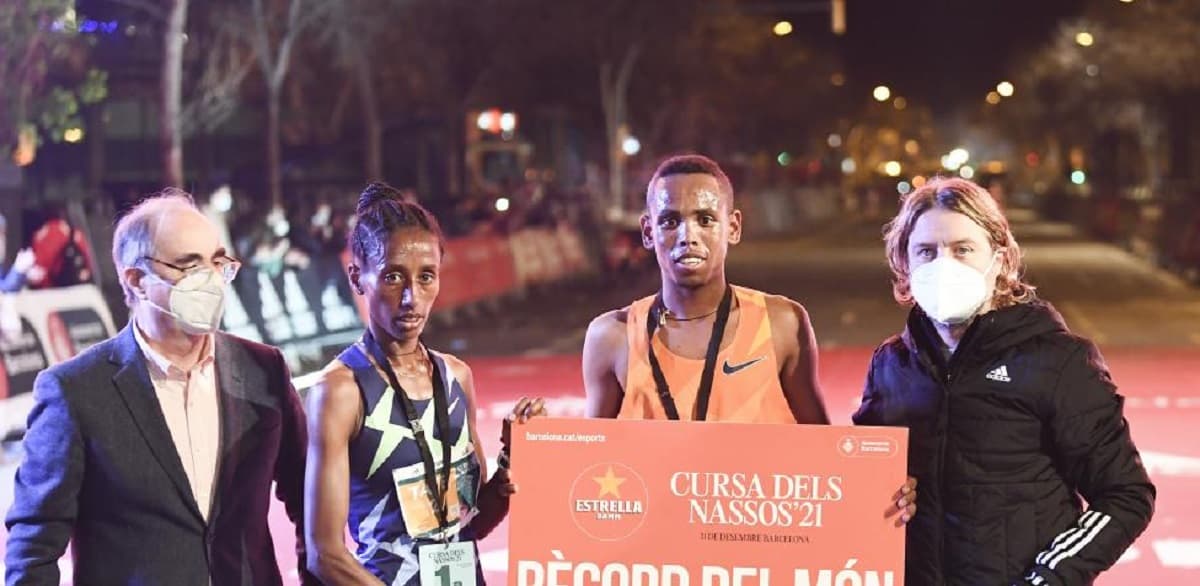 Ethiopians Ejegayehu Taye and Berihu Aregawi smashed the world 5km records on Friday night at the Cursa dels Nassos, the World Athletics elite label road race, that took place in Barcelona.
Aregawi, the 5000m Diamond League champion this year, arrived to this competion eying Joshua Cheptegei's 5km World record.
After the first kilometer Aregawi dropped the pacemeker and ran the rest of the race by also. The 20-year-old broke the tape in 12:49 crushing Cheptegei's world record by two seconds. The second place finisher Peter Marumil was miles behind in 13:30. Mike Foppen took third with a finishing time of 13:37.
In the women's race Ejegayehu Taye, the Ethiopian record holder for the 3000m at 8:19.52, just in her second international road race managed to destroy the women's 5k world record by more than 20 seconds. The women's race started together with the men's race so the the 21-year-old Taye had a big group of men that paced her through the race. Taye's unbelievable winning time of 14:19 shaved 24 seconds from the previous 5km world.
Swedens's Meraf Bahta took the second place with 15:04 performance while Carla Dominguez of Sapin was third in 15:51.
Top results women's 5km international
| Pos. | Athlete | Results |
| --- | --- | --- |
| 1 | Ejgayehu Taye Haylu | 0:14:19 |
| 2 | Meraf Bahta | 0:15:04 |
| 3 | Carla Domínguez | 0:15:51 |
| 4 | Meritxell Soler | 0:16:02 |
| 5 | Naima Ait Alibou | 0:16:52 |
| 6 | Cristina Silva Feliu | 0:17:14 |
| 7 | Marina Martinez | 0:17:23 |
| 8 | Julia Samuelsson | 0:17:27 |
| 9 | Laura Rodriguez Botella | 0:17:29 |
| 10 | Marina Freixa Valls | 0:17:55 |
| 11 | Rebeca Suarez Gonzalez | 0:18:22 |
Top results men's 10km international
| Pos. | Athlete | Results |
| --- | --- | --- |
| 1 | Berihu Aregawi Teklehaimanot | 0:12:49 |
| 2 | Peter Maru | 0:13:30 |
| 3 | Mike Foppen | 0:13:37 |
| 4 | Mehdi Belhadj | 0:13:38 |
| 5 | Yohan Durand | 0:13:39 |
| 6 | Santiago Catrofe | 0:13:39 |
| 7 | Carlos Mayo | 0:13:40 |
| 8 | Gebregewergs Teklay Biyu | 0:13:58 |
| 9 | Adam Maijó Frígola | 0:14:04 |
| 10 | Abdenasser Oukhelfen | 0:14:05 |
-->