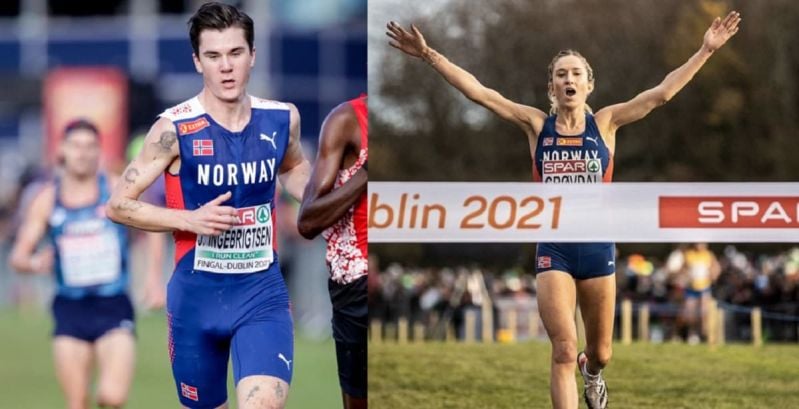 Jakob Ingebrigtsen and Karoline Grovdal scored a memorable double for Norway at the SPAR European Cross Country Championships in Fingal-Dublin. Both Norwegian stars had won the European Cross Country title at Under 20 level.
Results: 2021 European Cross Country Championships
Men's senior race:
Jakob Ingebrigtsen claimed his first European senior gold medal in his debut in this age category winning the men's 10 km race at the Sport Ireland Campus in Fingal-Dublin in 30:15 following his four consecutive under 20 titles from 2016 to 2019. Jakob's older brother Filip won this title in Tilburg 2018.
The 21-year-old Norwegian middle-distance star beat two-time European champion Aras Kaya from Kenya (30:29), three-time European under 23 cross country champion Jimmy Gressier from France (30:34) and the other Frenchman Hugo Hay (30:38).
Ingebrigtsen crowned a memorable 2021 season in which he won the Olympic 1500 metres in Tokyo setting the European record of 3:28.32. His older brother Filip did not finish the race.
The leading group was whittled down to four runners by the end of the second large lap : Aras Kaya, Jakob Ingebrigtsen, Jimmy Gressier and Yeman Crippa with one lap and a half to go. Crippa suddenly dropped out of the race because of a stomach problem on the penultimate lap.
Kaya pushed the pace ahead of Ingebrigtsen. They broke away from Gressier at the bell. Ingebrigtsen stepped up his pace, dropping Kaya and increased his lead to cross the finish-line in 30:15.
Jakob Ingebrigtsen: "It felt really good, but I have to admit 10 km is not the best distance for me. At the same time we do a similar distance training to these sort of races in our normal weeks, but you are always thinking worst case scenario. There is a lot of mud here. It is a tough race, a long race with a lot of good competitors this year. I felt like I ran with a pretty good feeling throughout the whole race. The crowd was crazy and they really helped us. I am really happy there were lots of spectators here today".
France placed three athletes in the top top six and four in the top eight to win the gold medal in the team competitition with 13 points ahead of Spain (30 points) and Norway (47 points).
Women's senior race:
Karoline Bjerkeli Grovdal completed the Norwegian double by winning the women's senior race in 26:34 twelve years after her triumph in the under 20 race, which were held in Dublin but in a different venue. It was the last time Ireland hosted the European Cross Country Championships.
Grovdal beat 2017 European Cross Country silver medallist Meraf Bahta from Sweden (26:44) and 2017 European Under 23 champion Alina Reh from Germany (26:53).
The Norwegian runner reached the podium in the past five editions winning four bronze medals and a silver.
Bahta and Kostanze Klosterhalfen went to the front in the early stages of the race. They pushed the pace but they were joined by Yasemin Can, 2019 bronze medallist Samwarit Mengstaeb from Sweden, Selamawit Teferi from Israel and Mekdes Woldu from France.
Woldu lost contact with the leading group. The five-women leading group stayed together at the front. Grovdal and Jessica Judd from Great Britain were running 20 metres back. Grovdal caught up with the leading group in the next km. Can dropped back.
Klosterhalfen pushed the pace at 5 km, while Grovdal was running on her shoulders. Forty metres behind Judd and Reh were running in fourth and fifth place. Before the sixth km Klosterhalfen dropped back. Grovdal and Bahta ran a head-to-head battle in the final 2 km. Grovdal launched the decisive kick with 500 metres to go to cross the finish-line in 26:34. Reh pulled away from Judd in the final km to take the bronze medal. Klosterhalfen finished fifth in her first appearance at these championships since Samorin 2017 where she finished second in the under 23 race behind Reh. Mengseab crossed the finish-line in sixth place.
Jessica Judd just missed out on the bronze medal, but Great Britain won the seventh gold team medal in the last ten editions. Jennifer Nesbit and Jessica Gibbon finished 10th and 11th to complete the British triumph with 25 points ahead of Germany (29 points). Sweden won their first ever team medal with 38 points.
Fionnuala McCormack finished ninth in 27:52 just one week after clocking 2:23:58 at the Valencia Marathon.
Four-time European Cross Country champion Yasemin Can from Turkey had to settle with 14th place.
Karoline Bjerkeli Grovdal: "I have won so many bronze and silver medals at European level, both on the track and cross country, so for me to take the gold means a lot. I am so happy for having been able to do that. It was a really tough and strong field, with so many good athletes on the starting line, so it is extra special to win gold. It was not until the last lap that I realised that I would be able to take the win. I am 31 now. Twelve years ago I took gold here in the under 20 race in Dublin. It was very special to take gold here in Dublin. This city has been good to me".
Men's under 23 race:
Charles Hicks from Great Britain won the men's under 23 race in 24:29 beating Darragh McElhinney from Ireland (24:33) and Ruben Querinjean from Luxemburg (24.36) in an exciting sprint in the final straight after leading for much of the race. McElhinney looked like he would have to settle for bronze, but he produced a strong finish to edge Querinjean for second.
Hicks broke away in the early stages of the race but he was caught up with McElhinney. The two favourites were joined at the front by Querinjean, who was fifth with one lap to go. Hicks pulled away on the uphill final straight to cross the finish-line with a gap of four seconds over McElhinney. Querinjean won the first ever medal for Luxemburg in the history of these Championships.
Ireland placed two more athletes in the top 15 (Keeland Kilrehill 6th and Michael Power 13th) winning the team under 23 gold medal with 21 points ahead of Great Britain (24 points) and France (36 points).
Charles Hicks: "It was neck and neck. The guy from Luxemburg came from behind in the end and put an amazing push in. I think me and Darrah McElhinney were struggling at that point. I think he brought us through, and took a lot of the slack from both of us. I think this contributed to how this 1-2-3 played out. The crowd was just just cheering him so much. It was good to see although it was putting me under a lot of pain. When Darragh came back, I knew how much this race meant to him, but also how much it meant to me, so I went for it. The team GB are always going for first. There are a few of us still on the younger side of Under 23, so we are hoping to come out even stronger next time".
Women's under 23 race:
Nadia Battocletti won her third consecutive European Cross Country gold medal following her back-to-back under 20 titles in Tilburg 2018 and Lisbon 2019. Battocletti crossed the finish-line in 20:32 beating Klara Lukan from Slovenia and Mariana Machado from Portugal, who finished second and third sharing the final time of 20:36. The top-three finishers repeated the same podium as in the under 20 race in the 2019 edition in Lisbon. Sarah Healy had to settle with fifth place after running in the leading group for most of the race.
Battocletti led the Italian team to the European gold medal. Anna Arnaudo and Giovanna Selva finished sixth and eleventh contributing to the Italian triumph with 18 points ahead of France (25 points) and Great Britain (37 points). Ireland finished fifth.
Battocletti hit the front in the late stages of the race and pulled away to beat Lukan by four seconds. Machado came through to claim bronze in 20:36 ahead of Manon Trapp from France, who crossed the finish line in 20:42.
Nadia Battocletti: "I have trained very well in the past few months. It was a hard race. The enthusiasm from the Tokyo Olympic Games played a part in it. It was a really tough race with strong athletes, like Klara Lukan, Mariana Machado and Sarah Healy. I am very happy. I know that Ireland is very strong in Cross Country, so thank you to the organisation. It was a beautiful display out here. My team told me that I could probably win easily, but in my head I know that when I step on the course, I don't know the shape of the other girls, don't know anything about them, so I need to come out here and do my race. It is not true that it is easy when you are the favourite, the reality is different, and I always try to run fast to get a win. It is not easy though".
Men's under 20 race:
Axel Varg Christensen from Denmark won the gold medal in the under 20 category in 17:53. Christensen took the lead after 1500 metres and increased his gap on the chasing group after each km to cross the finish-line with a huge margin of 25 seconds.
The 17-year-old Danish runner won the silver medal in the 3000 metres steeplechase at the European Under 20 Championships in Tallin last July. Christensen followed in the footsteps of olympic 1500m champion Jakob Ingebrigtsen, who won four consecutive European Under 20 gold medals from 2016 to 2019.
Christensen led an all-Scandinavian podium beating Abdullahi Dahi Rabi from Norway (18:18) and 5000m European Under 20 champion Joel Lilleso from Denmark (18:21).
Christensen pulled away at halfway taking a lead of 9 seconds over Dahi Rabi, who had recently won the Nordic title ahead of Christensen last November. Christensen continued to push his pace in the second half of the race.
Axel Varg Christensen: "Obviously, Abdullahi, my teammate Joel and Pol Oriach, the guy who beat me in the steeplechase this summer at the European Under 20 Championships in Tallin, were my main opponents, so I felt I had to get my revenge today. Having competed them before was definitely an advantage because I felt I had something to prove. I wanted to get that medal really bad".
The Dane became just the second athlete to win an individual men's title for his country after Carsten Jorgensen in the senior race in 1997.
Great Britain won the European under 20 team gold medal beating Ireland and Israel. The three best British scorers finished in ninth, tenth and fifteenth to win the team ranking with 34 points. The Irish team finished just one point behind Great Britain. Israel placed three runners in the top 20 to take the first ever medal at these championships with 37 points.
Women's under 20 race:
Megan Keith from Great Britain won the European Under 20 title in 13:41 beating this year's 1500m European under 20 champion Ingeborg Ostgard from Norway (13:44) and Emma Heckel from Germany (13:46).
Keith and 3000m steeplechase European Under 20 silver medallist Greta Varga pushed the pace on the second lap. Emma Heckel, who finished third in the 5000m at the European Under 20 Championships in Tallin last summer, caught up with Keith with one lap to go.
Keith and Heckel ran a head-to-head race over the next km. Keith, who won the British Cross Country Trials in Liverpool, pulled away with 500 metres to go to cross the finish-line in 13:41. Ingeborg Ostgard launched her sprint to overtake Heckel in the final 50 metres winning the silver medal three seconds behind Keith.
Germany won the team gold medal beating Spain and Great Britain. The three top German athletes finished the race in the top 10 to clinch their first title in this age category since 2015. Despite Keith's triumph Great Britain had to settle with third place.
Megan Keith: "I feel incredible. I am in shock. I just don't know what has just happened. I am really happy. I loved the track. I am from Scotland. I am used to the hills. I knew this would play in my favour, so I tried to capitalise on that, and it might help. My crazy dream was to be on a path that I might be in the mix for a medal, but I didn't think I could win the whole thing".
Mixed relay:
The British quartet formed by Hannah Nuttall, Luke Duffy, 800m Olympic finalist Alexandra Bell and Benjamin West won the gold medal in the mixed relay in 18:01 ahead of France (18:05) and Belgium (18:06). Ireland took a lead at halfway after strong legs by 1500m middle distance star Clara Mageean and Luke McCann, but Bell clocked a 4:47 split to hand over to West with a four-second lead. West held on to repeat the British triumph in the relay event in Lisbon 2019.
Alexandra Bell: "I have not heard a stage and an audience like that for so long. It was unbelievable".
-->