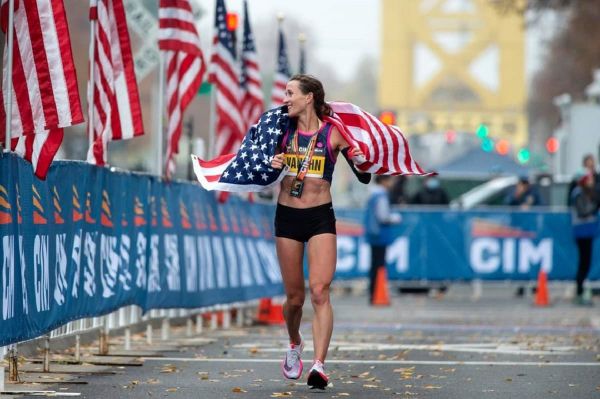 American middle distance runner Sarah Vaughn surprised by winning the California International Marathon on Sunday, December 5 on her marathon debut.
The 35-year-old Vaughn who competed in the women's 1500 metres at the 2017 World Championships in Athletics clocked an impressive 2:26:53 at California International Marathon to become one of the fastest marathon debutants in America.
Vaughn's marathon time of 2:26:53 was also a new course record.
"Sacramento has always been wonderful to me in my running career," Vaughn said in a statement. "I made my first Team USA here at Sac State, and last time I was here, I won a race. I had to keep the streak going."
Molly Grabill (USA) took a second place here in Sacramento in 2:29:17 while Carrie Dimoff (USA) crossed the line in third in 2:29:33.
Top 10 women finished inside the 2 hours and 35 minutes.
Brendan Gregg won the men's race at the California International Marathon with a personal best time of 2 hours, 11 minutes, and 21 seconds.
"I love coming back here," Gregg said. "I've done other marathons, but I always want to come back and do it at home at the people's marathon."
Gregg and Vaughn, will both take home $10,000 in prize money, plus any performance bonuses.
More than 9,000 runners took part at the 2021 California International Marathon.
Top results men marathon
1. Brendann Gregg (USA) - 2:11:21
2. Rory Linkletter (USA) - 2:12:52
3. Nick Hauger (USA) - 2:12:59
4. Milton Rotich (USA) - 2:13:16
5. Will Nation (USA) - 2:13:24
6. Tyler McCandless (USA) - 2:14:10
7. JJ Santana (USA) - 2:14:15
8. CJ Albertson (USA) - 2:14:45
9. Travis Morrison (USA) - 2:15:06
10. Caleb Kerr (USA) - 2:15:24
Top results women marathon
1. Sarah Vaughn (USA) - 2:26:53
2. Molly Grabill (USA) - 2:29:17
3. Carrie Dimoff (USA) - 2:29:33
4. Katja Goldring (USA) - 2:30:14
5. Molly Culver (USA) - 2:30:20
6. Marco Klimek (USA) - 2:30:48
7. Brianna Boehmer (USA) - 2:33:20
8. Nina Zarina (USA) - 2:33:22
9. Brittany Moran (CAN) - 2:33:37
10. Hiruni Wijayartne (USA) - 2:34:22
-->