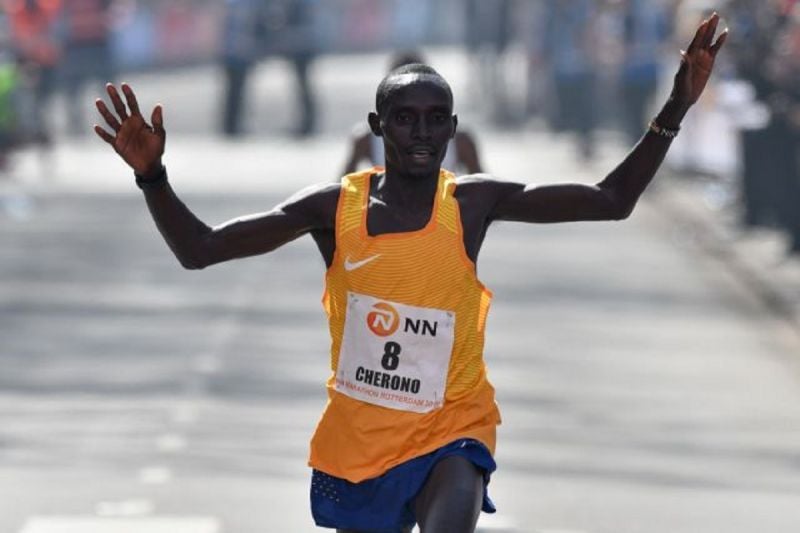 Lawrence Cherono from Kenya won the Valencia Trinidad Alfonso Marathon in 2:05:12 holding off Ethiopia's Chalo Deso by four seconds in the final sprint on a windy day. Cherono reached the top-three in Valencia for the second consecutive edition one year after finishing second in his lifetime best of 2:03:04.
The 33-year-old Kenyan runner won the fourth top marathon of his career after clinching victories in Amsterdam in 2:04:06 in 2018, in the two US Major Marathon races in Boston in 2:07:57 and Chicago in 2:05:45 in 2019. He also finished seventh in London in 2018 in 2:09:25 and fourth at the Olympic Games in Sapporo in 2:10:02.
Cherono and Deso broke away from the rest of the field and exchanged positions at the front after the 35 km. Kacheran caught up with the two leaders with 3 km to go.
The race went down to the wire in the final 500 metres when Cherono launched his sprint to cross the finish-line.
The top seven finishers broke the 2:06 barrier. Philemon Kacheran took third place in 2:05:19 beating two-time New York Marathon winner and three-time world half marathon champion Geoffrey Kamworor from Kenya, who improved his PB to 2:05:23 in his first marathon since he was hit by a motorbike during training in June 2020, Ethiopia's Abebe Negewo (2:05:27), Goitom Kifle from Eritrea (2:05:28) and Kinde Atanaw from Ethiopia (2:05:54).
The Valencia Marathon produced a good depth of performances with 16 runners under 2:08 and 24 runners under 2:10. Gabriel Geay from Tanzania finished eighth in 2.06:10 ahead of Daniel Do Nascimento from Brazil, who set the South American record with 2:06:11 and Herpasa Negasa from Ethiopia (2:06:20). Amanal Petros from Germany improved his national record for the second time in just six weeks to 2:06:27. Hamid Ben Daoud equalled Ayad Lamdassem's Spanish record clocking 2:06:35.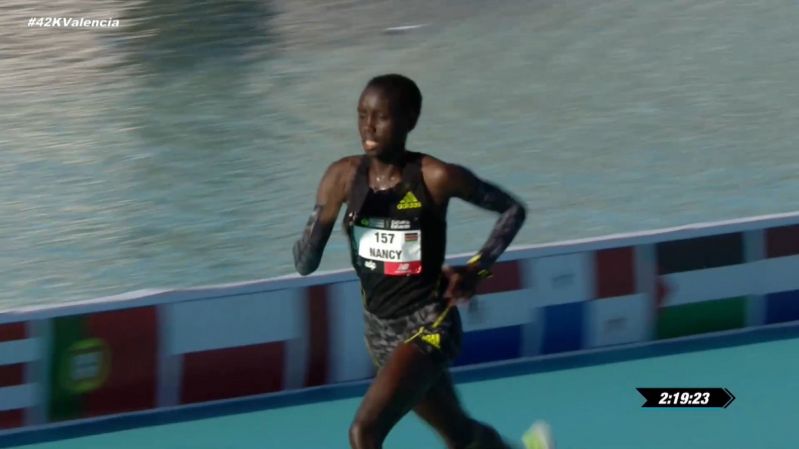 Women's race:
Nancy Jelagat won the women's race in 2:19:30 beating Ethiopian runners Etagegne Woldu (2:20:16) and Beyenu Degefa (2:23.04). Three-time Rome Marathon winner Rahma Tusa crossed the finish-line fourth in 2:23:20.
Jelagat pulled away from the rest of the field at 30 km to smash her previous PB of 2:36:22 set at the Treviso Marathon in 2019. She recently set her half marathon record clocking 1:05:21 in Berlin and ran 30:50 in the 10 km in Herzogenaurach.
Former European Cross Country champion Fionnuala McCormack from Ireland smashed her lifetime best by nearly three minutes to finish fifth with 2:23:58, setting the second fastest time ever by an Irish woman behind Catherina McKiernan, who clocked 2:22:23 in Amsterdam in 1998. McCormack set her previous best time of 2:26:47 in Chicago in 2019.
Giovanna Epis from Italy finished tenth in 2:25:20 setting the fourth fastest European time this year and the fifth Italian best time in history.
The 2021 edition marked the return of the popular mass race after the absence in 2020 due to covid-19 restrictions.
Complete results Valencia Marathon 2021
Top results men marathon
| POS. | Name | Time |
| --- | --- | --- |
| 1 | CHERONO, LAWRENCE | 2:05:12 |
| 2 | DESO, CHALU | 2:05:16 |
| 3 | KACHERAN, PHILEMON | 2:05:19 |
| 4 | KAMWOROR, GEOFFREY | 2:05:23 |
| 5 | NEGEWO, ABEBE | 2:05:27 |
| 6 | KIFLE, GOITOM | 2:05:28 |
| 7 | ATANAW, KINDE | 2:05:54 |
| 8 | GEAY, GABRIEL | 2:06:10 |
| 9 | DO NASCIMENTO, DANIEL | 2:06:11 |
| 10 | NEGASA, HERPASA | 2:06:20 |
Top results women marathon
| POS. | Name | Time |
| --- | --- | --- |
| 1 | JELAGAT, NANCY | 2:19:31 |
| 2 | WOLDU, ETAGEGNE | 2:20:16 |
| 3 | DEGEFA, BEYENU | 2:23:04 |
| 4 | TUSA, RAHMA | 2:23:20 |
| 5 | McCORMACK, FIONNUALA | 2:23:58 |
| 6 | GEBRU, AZMERA | 2:24:01 |
| 7 | ANDESA, ADANECH | 2:24:13 |
| 8 | TUITOEK, DORCAS | 2:24:54 |
| 9 | DINKE, MESERET | 2:25:12 |
| 10 | EPIS, GIOVANNA | 2:25:20 |
-->