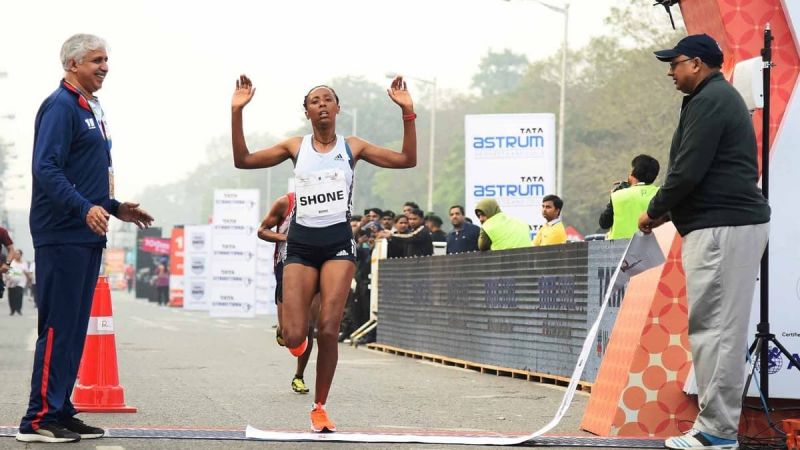 This year Valencia Marathon organisers have planned a sub-70 minute target at the half marathon mark with the goal to break the 2:20 barrier. 
The line-up is led by Ethiopia's Guteni Shone, who narrowly missed the 2:20 barrier when she finished runner-up in 2:20:11 in Dubai in 2020. She finished second in Prague last May setting her seasonal best of 2:21:46. 
Watch Valencia Marathon live stream
Shone will face her compatriot Azmera Gebru, who improved her PB to 2:20:48 at the 2019 Amsterdam Marathon. 
The line-up also features Bornes Kitur Chepkirui from Kenya, winner at the 2018 Prague Marathon in 2:24:19 and in Lubljana in her PB of 2:21:26, Juliet Chekwel, who improved the Ugandan record to 2:23:13 in Seville in 2020, Nancy Jelagat, who holds a half marathon record of 1:05:21, Rahma Tusa from Ethiopia, who won the Rome Marathon three times in a row in 2016, 2017 and 2018, finished fifth in New York in 2018 and holds a PB of 2:23:46, and Dorcas Tuitoek, who ran a lifetime best of 1:06:33 in her career at the Istanbul Half Marathon in 2019 and will run the first marathon of her career. 
Olympic champion Peres Jepchirchir set the course record last year clocking 2:17:16. 
"This year's marathon is extremely competitive, as we like it in Valencia. I don't rule out a sprint finish in the women's race. Valencia offers one of the best courses for achieving personal best times", said elite coordinator Marc Roig.
Geoffrey Kamworor and Lawrence Cherono in the spotlight at the Valencia Marathon
Women's Elite field
| | | | |
| --- | --- | --- | --- |
| BIB | NAME | COUNTRY | PB |
| 151 | Guteni Shone | ETH | 2h20:11 |
| 152 | Azmera Gebru | ETH | 2h20:48 |
| 153 | Bornes Chepkirui | KEN | 2h21:26 |
| 154 | Bedatu Hirpa | ETH | 2h21:32 |
| 155 | Juliet Chekwel | UGA | 2h23:13 |
| 156 | Rahma Tusa | ETH | 2h23:46 |
| 166 | Jessica Augusto | POR | 2h24:25 |
| 165 | Meseret Dinke | ETH | 2h25:31 |
| 167 | Fionnuala McCormack | IRL | 2h26:47 |
| 168 | Daria Mykhailova | UKR | 2h27:29 |
| 169 | Bojana Bjeljac | CRO | 2h27:42 |
| 209 | Iwona Bernardelli | POL | 2h27:47 |
| 170 | Failuna Matanga | TAN | 2h27:55 |
| 171 | Laura Hottenrott | GER | 2h28:02 |
| 172 | Giovanna Epis | ITA | 2h28:03 |
| 173 | Sonia Samuels | GBR | 2h28:04 |
| 174 | Nazret Weldu | ERI | 2h28:07 |
| 175 | Paola Bonilla | ECU | 2h28:24 |
| 164 | Elena Loyo | ESP | 2h28:25 |
| 176 | Kokob Tesfagaber Solomon | ERI | 2h28:37 |
| 178 | Marcela Cristina Gómez | ARG | 2h28:58 |
| 179 | Úrsula Sánchez | MEX | 2h29:11 |
| 180 | Majida Maayouf | MOR | 2h29:24 |
| 181 | Irene Pelayo | ESP | 2h30:07 |
| 210 | Risper Gesabwa | MEX | 2h30:49 |
| 211 | Gulzhanat Zhanatbek | KAZ | 2h33:25 |
| 212 | Aydee Loayza Huaman | PER | 2h34:48 |
| 213 | Fortunate Chidzivo | ZIM | 2h35:19 |
| 182 | Emma Mitchell | IRL | 2h36:00 |
| 157 | Nancy Jelagat | KEN | 2h36:22 |
| 214 | Neja Krsinar | SLO | 2h36:27 |
| 215 | Fanny Pruvost | FRA | 2h37:51 |
| 184 | Ivette Mejia | USA | 2h38:00 |
| 185 | Alexandra Marina Rosa de Oliveira | POR | 2h38:20 |
| 186 | Yesica Más | ESP | 2h39:36 |
| 187 | Aicha Bani | MOR | 2h40:00 |
| 188 | Cristina McKnight | ESP | 2h40:29 |
| 189 | Cristina Giurcanu | ESP | 2h42:01 |
| 190 | Stefania Leontiadou | GRE | 2h44:43 |
| 217 | Patricia Schreurs | NED | 2h44:44 |
| 191 | María Isabel Vélez | MEX | 2h47:25 |
| 192 | Barbara Ramon | ESP | 2h48:23 |
| 193 | Juana García Pérez | ESP | 2h48:44 |
| 194 | Emilia Siltanen | FIN | 2h50:00 |
| 218 | Mandana Nouri | IRN | 2h54:28 |