Karsten Warholm and Elaine Thompson-Herah Named World Athletes of the Year

Posted by:
Watch Athletics
Wednesday, 01 December 2021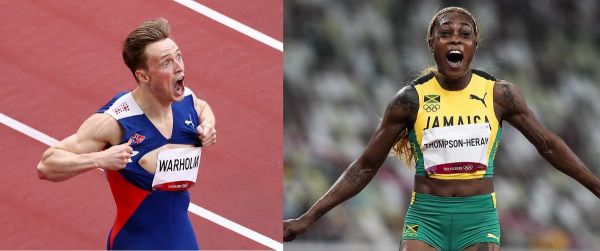 Norway's Karsten Warholm and Jamaica's Elaine Thompson-Herah were named World Athletics 2021 World Athletes of the year on Wednesday in Monaco.
Warholm was awarded male athlete of the year after his astonishing season where he broke the 400m hurdles World record twice. In Oslo in July he clocked 46.78 seconds to brake the 29-year-old world record set by Kevin Young at the 1992 Barcelona Olympics. Just one one month later at the Tokyo Olympics the 25-year-old Warholm obliterated his own 400m hurdles World record with one of the greatest Olympic track and field performances of all time of 45.94 seconds in winning gold.
"First when I saw the time [in Tokyo], I was like, 'This must be a mistake!' Because I didn't see that one coming. And I didn't see the victory coming before crossing the finish line." Warholm said in a closed ceremony in Monaco,
Jamaican Elaine Thompson-Herah was named female World Athletics Athletes of the Year.
Thompson-Herah defended her Olympic 100m and 200m titles and added third gold in winning the 4x100m relay. She also clocked 100m and 200m personal best times of 10.54 and 21.53 respectively moving her to second on the world all-time lists in both events.
"I went very close to the world record so you know, anything is possible," hints newly crowned Female World Athlete of the Year," Thompson-Herah said. "The 2022 World Athletics championships in Oregon is most definitely my next big target."
-->