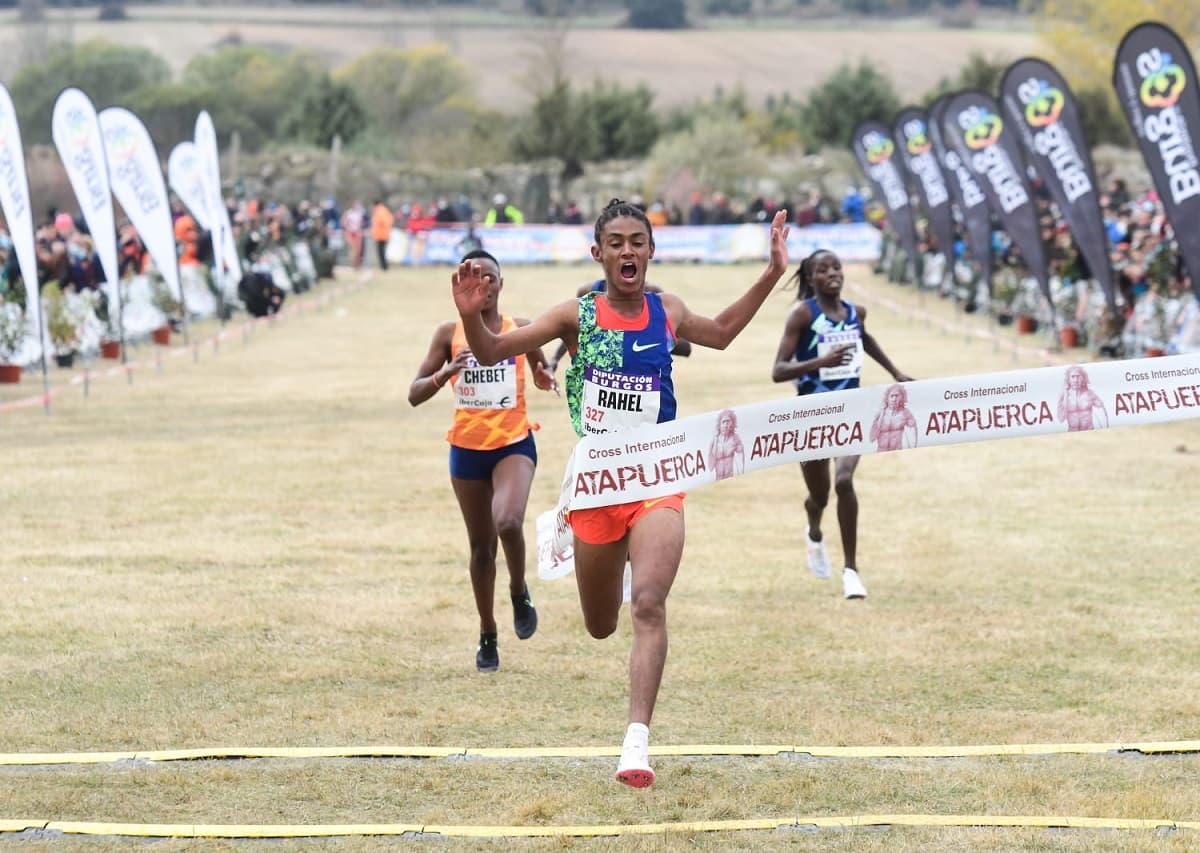 Rahelo Ghebrenyohannes from Eritrea took a surprising win in the women's 8000m race at the 17th edition of the Cross Internacional de Atapuerca near the northern Spanish town of Burgos, the fourth Gold standard meeting of the World Athletics Cross Country Tour.
Ghebrenyohannes crossed the finish-line in 25:02 holding off world under 20 cross country champion Beatrice Chebet and 5000m world silver medallist Margaret Chelimo in a thrilling sprint in the final straight. Chebet clocked 25:04 in second place sharing the same time as Chelimo.
Norah Jeruto, who improved her PB in the 3000m steeplechase to 8:53.55 in Eugene and won the Diamond League final in the 3000m in Zurich last September, crossed the finish-line in fourth place in 25:06 ahead of 3000m steeplechase world under 20 record holder Celliphine Chepsol (25:18), Esther Chebet from Kenya (25:40) and Meskeram Mamo from Ethiopia (25:47).
Nadia Battocletti from Italy finished 12th and was the first among European athletes in 26:21 in the first of her two cross country races of the season ahead of the European Cross Country Championships in Dublin on 12 December. Battocletti beat Olympic 3000m steeplechase finalist Caroline Robles from Spain, who crossed the finish-line in 15h place.
Men's race:
Aron Kifle completed the Eritrean double by winning the men's 9000m race in 25:33 edging 22-year-old Rodrigue Kwizera from Burundi by one second.
Kifle finished fourth at the 2019 World Cross Country Championships in Ahrus and won the world half marathon bronze medal in Valencia in 2018. The Eritrean runner recently clocked 1:00:53 at the Barcelona Half Marathon.
Kwizera continued his good period of form finishing second after winning three consecutive cross country races on Spanish soil this autumn season in Castellon, Soria and San Sebastian.
Joel Ayeko from Uganda completed the podium finishing third in 25:36 sharing the same time as his compatriot Thomas Ayeko.
Abdessamad Oukhelfen from Spain crossed the finish-line in fifth place in 25:44 ahead of Thierry Ndikumwenayo (25:47).
Top results women general 8000m | results
1. GHEBRENEYOHANNES, RAHEL - ERITREA 25:03
2. CHEBET, BEATRICE - KENIA 25:04
3. CHELIMO KIPKEMBOI , MARGARET - KENIA 25:04
4. JERUTO TANUI , NORAH - KENIA 25:06
5. CHEPTEEK CHESPOL, CELLIPHINE - KENIA 25:18
6. CHEBET, ESTHER - KENIA 25:40
7. MAMO, MESKERAM - ETIOPIA 25:47
8. MAIWA MULI , LUCY - KENIA 26:02
9. GETNET, TIGET - ETIOPIA 26:03
10. WONDEMAGEGN, ZERFE - ETIOPIA 26:08
Top results men general 9000m | results
1. KIFLE, ARON - ERITREA 25:33
2. KWIZERA , RODRIGUE - SPAIN 0:25:34
3. AYEKO, JOEL - UGANDA 0:25:36
4. AYEKO, THOMAS - UGANDA 0:25:36
5. OUKHELFEN BEN HADDOU, ABDESSAMAD - SPAIN 25:44
6. NDIKUMWENAYO , THIERRY - SPAIN 25:47
7. AYANA, GIZEALEW ABEJE - ETIOPIA 25:51
8. MAYO NIETO, CARLOS - SPAIN 26:04
9. KIPLANGAT, HOSEA - UGANDA 26:08
10. 1HAILESELASSIE, YEMANE - ERITREA 26:12
-->