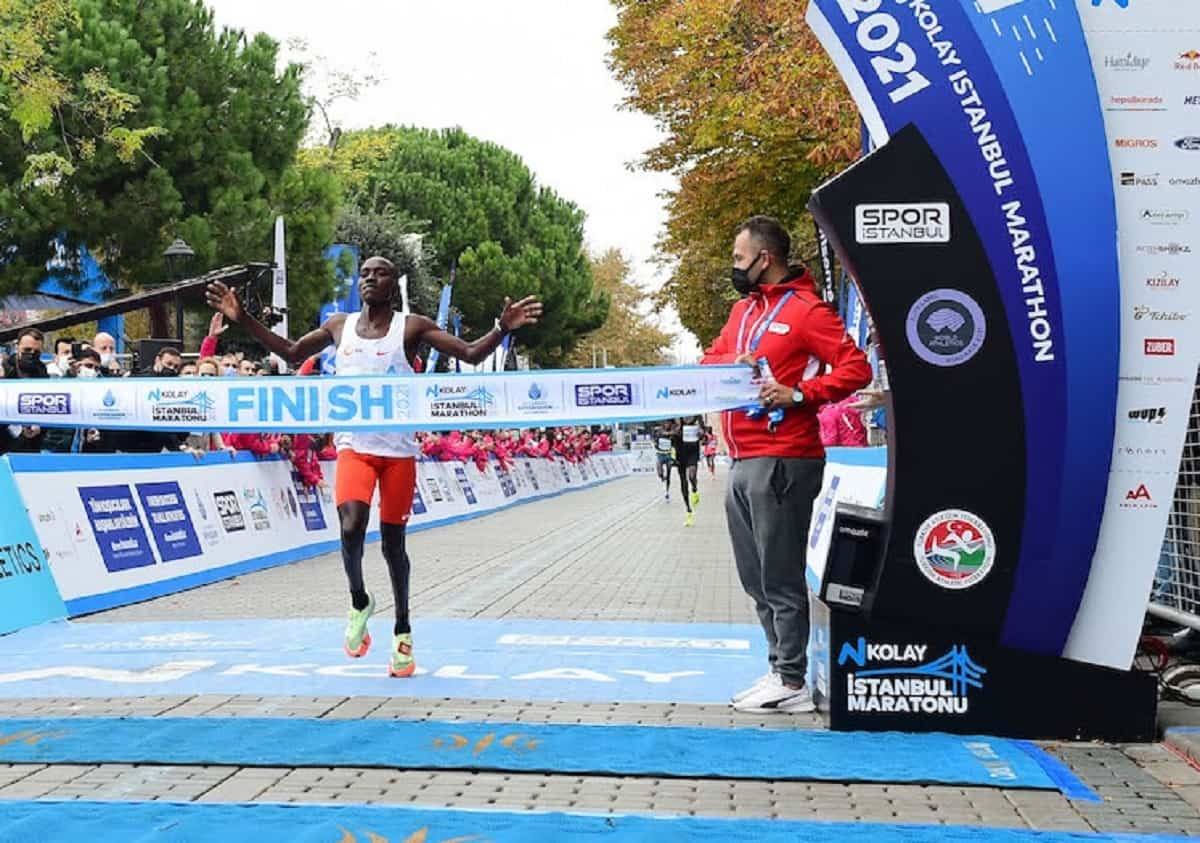 Running his debut at the classic distance Victor Kiplangat became the surprise winner of the N Kolay Istanbul Marathon. The 21 year-old Ugandan, who is a training partner of Olympic 5,000 m Champion and world record holder Joshua Cheptegei, clocked 2:10:18 after battling with three other contenders in the final mile of the race. Kenya's Robert Kipkemboi took second with 2:10:23 while Solomon Mutai of Uganda was third in 2:10:25.
There was even more drama in the women's race: With just 500 metres to go Kenyan Sheila Jerotich came from behind to then triumph on Istanbul's Sultanahmet Square in 2:24:15. To make it even more stunning: The runner the 32 year-old overtook shortly before the finish was her sister, Jackline Chepngeno. While she was the runner-up in 2:24:21, Ethiopia's Ayantu Abdi followed in third place with 2:24:45. It is most likely unique that sisters took the first two places in a major international marathon. The men's and women's winners receive a prize purse of 35,000 Dollar each.
Including events at shorter distances a total number of over 35,000 runners entered the race. With this figure the N Kolay Istanbul Marathon was one of the biggest races worldwide since the beginning of the pandemic. In view of the Covid 19 situation strict hygiene regulations were in place. The N Kolay Istanbul Marathon is a World Athletics Elite Label Road Race.
Men's Race
Starting on the Asian side of Istanbul the course has a significant drop once it reaches European territory within the first five kilometres. Despite this drop and good weather conditions the pace was slow. The favorites opted for a tactical race instead of following a pace which was set to break the Turkish allcomers' record of 2:09:35. A group of 17 men then passed the half way mark in 65:21.
There was no proper attack until very late in the race. Runners knew about the steep climb up to the finish that waited for them in Istanbul's historic centre and held back. Records were out of reach, but a thrilling race for victory developed.
It was Robert Kipkemboi who finally started a move with around five kilometers to go. Fellow-Kenyan and defending champion Benard Sang lost contact to the group and when the 38th kilometer was covered in 2:53 course record holder Daniel Kibet could not follow as well. He had won the N Kolay Istanbul Marathon in 2019 with 2:09:44. Four runners were still in contention when the climb began with around a mile to go: Kenyans Robert Kipkemboi and Moses Kemei as well as Ugandans Victor Kiplangat and Solomon Mutai. Surprisingly it was the debutant who took the lead and pushed hard all the way up the hill. Kiplangat, who has a good half marathon PB of 59:26, was rewarded with his biggest career win.
"I am thrilled to have won my debut marathon. But I knew that I was in good shape. I train in very hilly terrain and was confident that I would be strong in the final section," said the 21 year-old winner, who trains with Joshua Cheptegei in Kapchorka in Uganda at an altitude of around 2,000 m. "Joshua is my idol. And he helps me a lot," said Victor Kiplangat, who thinks that he has the potential to run 2:05 to 2:06 in his next marathon in spring. "If I achieve such a time on a flat course I hope to get selected for the World Championships' marathon next summer. And then I would love to come back to Istanbul to defend my title."
While the first four finishers ran a negative split which is very rare in Istanbul due to the nature of the course, Turkey's best runner produced a fine performance as well: Hüseyin Can finished 14th with 2:16:01 and broke the national record for under 23 year-olds.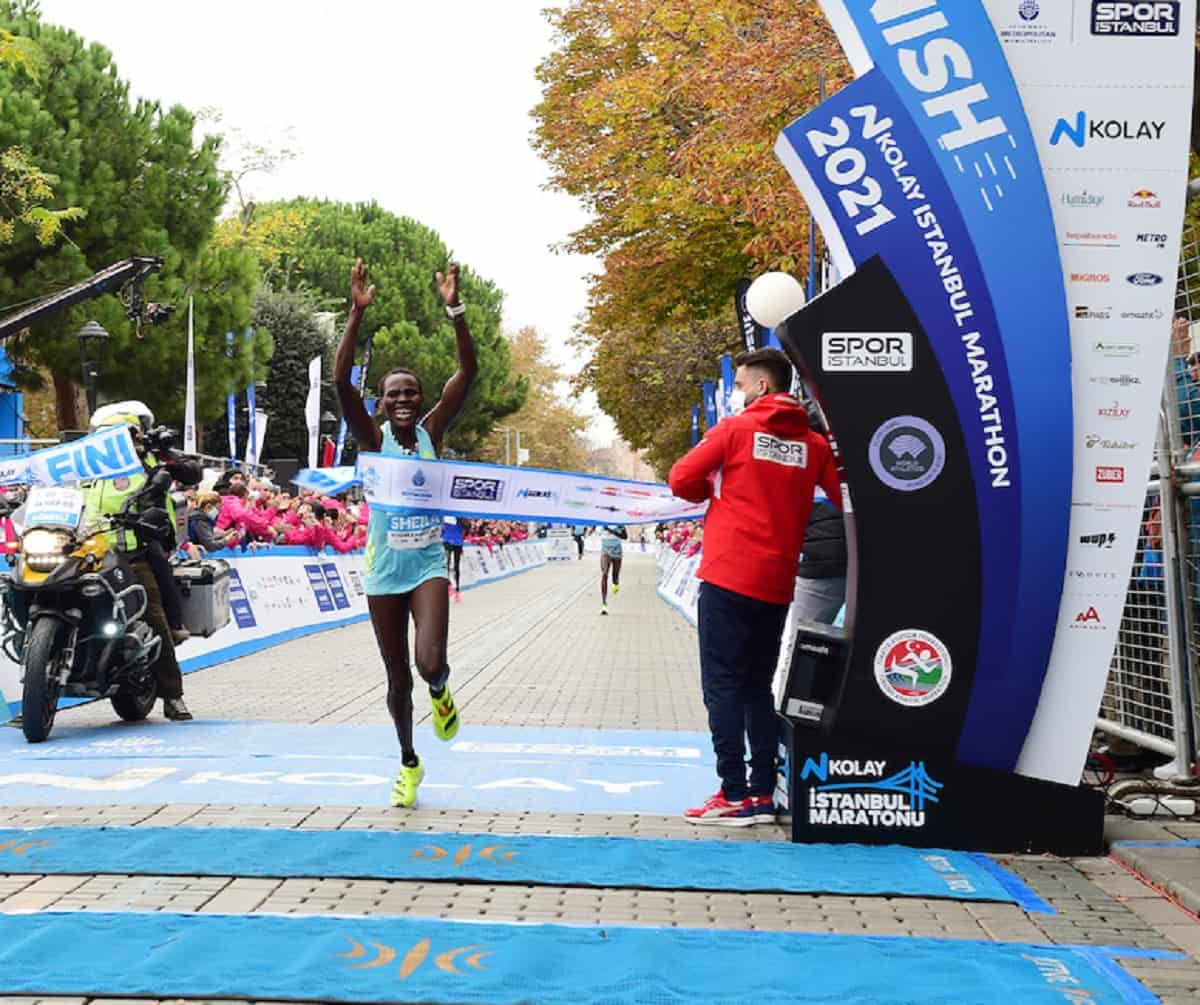 Women's Race
In contrast to the men the women ran a blistering pace during the first part of the race. A group of ten runners passed the 10k point in 32:48 which pointed towards a 2:18:30 finishing time. Three years ago Kenya's World Champion Ruth Chepngetich established a sensational course record of 2:18:35. However the leaders could not hold on to this sort of pace. They reached half way in 70:19 and then passed the 30k mark in 1:40:48.
Four runners were left in the leading group shortly after 30k: Sheila Jerotich, Jackline Chepngeno, Ayantu Abdi and Judith Cherono of Kenya. Cherono soon dropped back and then it was Jackline Chepngeno who moved clear. At 40k she was already 22 seconds ahead and looked certain to win the race. But during the uphill stretch Sheila Jerotich came closer and closer and finally overtook her sister with just 500 metres to go.
"I am not disappointed at all. My aim was to finish on the podium and I have achieved that," said Jackline Chepngeno, who improved her PB by 17 seconds with a time of 2:24:21. It was only then when she revealed that it was her sister, who had stopped her from winning the race. "We are best friends, we train together and we are actually sisters. Since we are both married we have different names." While Sheila Jerotich, who improved her PB from 2:26:06 to 2:24:15 in Istanbul, can not speak English her sister translated for her: "I am really happy to have won the race. Next year we both want to come back to Istanbul."
Results
Men:
1. Victor Kiplangat UGA 2:10:18
2. Robert Kipkemboi KEN 2:10:23
3. Solomon Mutai UGA 2:10:25
4. Moses Kemei KEN 2:10:28
5. Benard Sang KEN 2:10:59
6. Daniel Kibet KEN 2:11:09
7. Mengistu Nigatu ETH 2:11:15
8. Chalachew Tiruneh ETH 2:11:20
Women:
1. Sheila Jerotich KEN 2:24:15
2. Jackline Chepngeno KEN 2:24:21
3. Ayantu Abdi ETH 2:24:45
4. Judith Cherono KEN 2:27:23
5. Fetale Tsegaye ETH 2:28:53
6. Zinash Debebe ETH 2:29:45
7. Emily Kipchumba KEN 2:30:25
8. Betty Chepkwony KEN 2:30:28
More information is available at: https://maraton.istanbul
-->