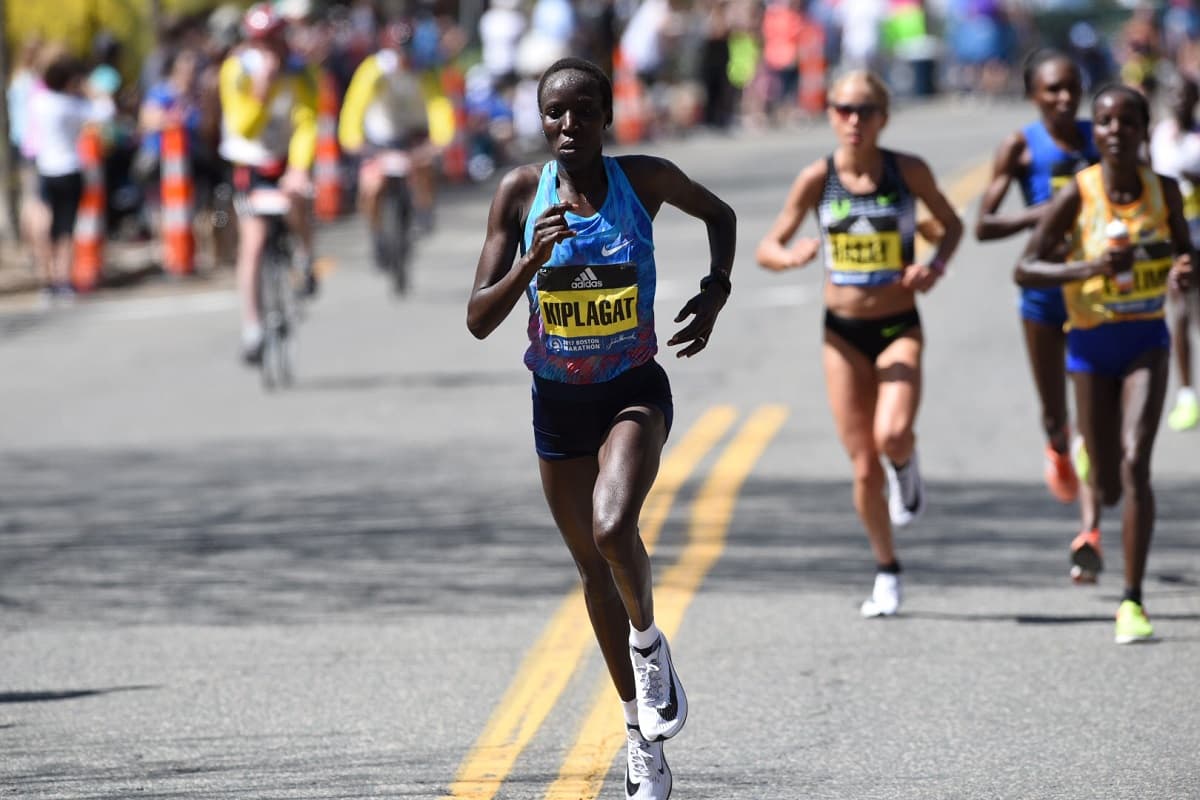 Kenya's Edna Kiplagat headlines the women's line-up at the 125th edition of the Boston Marathon from Hopkinton to Boylston Street on Monday 11th October. The oldest US Marathon will be held for the first time in history in autumn.
See the Boston Marathon live stream and results
Kiplagat won two consecutive world marathon titles in Daegu 2011 and Moscow 2013, three World Marathon Majors races in New York in 2010 in in 2:28:20, in London in 2014 in 2:20:21 and the Boston Marathon in 2017 in 2:21:52. The 41-year-old Kenyan runner set her PB of 2:19:50 in London in 2012.
Kiplagat will face Ethiopian runners Mare Dibaba, 2015 world marathon champion and2016 Olympic bronze medallist, Sutume Asefa Kebede, third in Tokyo 2020 in 2:20:30, Workenesh Edesa, who set her PB of 2:20:24 in Valencia in 2019 and won marathons in Marrakesh in 2015, Xiamen in 2016, Lanzhou in 2019 and Kenya's Angela Tanui, who won the Tuscany Camp Global Elite Race in Siena in 2:20:08 last April setting the fastest time in the world this year and the Venice Marathon in 2018.
The best US runners in the field are Jordan Hasay (third in two editions in Boston in 2017 in 2:23:00 and in 2019 in 2:25:20 and in Chicago in 2:20:57 in 2017) and Desirée Linden (winner in Boston in 2018 and two-time second placer in Boston in 2011 and Chicago in 2010). Thirteen women in the field have broken the 2:23 barrier.
The best debutants in the field are Caroline Chepkoech Kipkurui, who set her PB of 1:05:07 in Ras Al Khaimah in 2018, and Monicah Ngige, who clocked 1:07:29 in Houston in 2019.
Full Elite 2021 Boston Women's Field
Edna Kiplagat^ ..2:19:50 (London, 2012)…….. Kenya
Mare Dibaba…….2:19:52 (Dubai, 2012) ……. Ethiopia
Angela Tanui …….2:20:08 (Siena 2021) CR……. Kenya
Workenesh Edesa …2:20:24 (Valencia, 2019)…. Ethiopia
Sutume Kebede …2:20:30 (Tokyo, 2020)…….. Ethiopia
Jordan Hasay ……2:20:57 (Chicago, 2017)……….USA
Helah Kiprop…….2:21:27 (Tokyo, 2016)……….. Kenya
Atsede Baysa…….2:22:03 (Chicago, 2012)…. Ethiopia
Diana Chemtai Kipyogei ………2:22:06 (Istanbul, 2020) ……. Kenya
Desiree Linden…..2:22:38 (Boston, 2011) …………USA
Biruktayit Eshetu ..2:22:40 (Toronto, 2019)….. Ethiopia
Tigist Abayechew .2:22:45 (Dubai, 2020…….. Ethiopia
Purity Changwony…..2:22:46 (Siena, 2021)……….. Kenya
Caroline Rotich….2:23:22 (Chicago, 2012)……. Kenya
Molly Huddle…….2:26:33 (London, 2019)………..USA
Mary Ngugi………2:27:36 (New York City, 2019) …Kenya
Nell Rojas…………2:28:09 (Duluth, 2019) …………USA
Paige Stoner……..2:28:43 (Chandler, 2020)………USA
Shiho Kaneshige..2:28:51 (Osaka, 2020) ……… Japan
Dakotah Lindwurm ….2:29:04 (Duluth, 2021) …………USA
Netsanet Gudeta .2:29:15 (Paris, 2017) ……… Ethiopia
Kellys Arias……….2:29:36 (Hamburg, 2016) NR ……..Colombia
Julia Griffey………2:29:58 (Chandler, 2020)………USA
Bethany Sachtleben…..2:31:20 (Lima, 2019. USA
Dot McMahan^..2:31:48 (Duluth, 2011) …………USA
Sydney Devore…..2:32:39 (Pittsburgh, 2018)……..USA
Hilary Dionne ……2:33:03 (Sacramento, 2018) ….USA
Brittany Charboneau.2:33:14 (Atlanta, 2020)…………USA
Dawn Grunnagle^ ….2:33:14 (Berlin, 2019)…………..USA
Susanna Sullivan .2:33:27 (Chandler, 2020)………USA
Heather Lieberg^ ….2:34:07 (St. Paul, 2019) ………..USA
Caitlin Phillips……2:34:43 (Berlin, 2019)…………..USA
Laurie Knowles^.2:36:01 (Chicago, 2016)……….USA
Courtney Olsen …2:36:21 (Sacramento, 2018) ….USA
Brittany Moran…..2:36:22 (Sacramento, 2019) . Canada
Emma Spencer ….2:37:05 (Berlin, 2018)…………..USA
Rachel Hyland …..2:37:22 (Sacramento, 2018) ….USA
Andrea Pomaranski …2:37:39 (Duluth, 2021) …………USA
AnnMarie Kirkpatrick …..2:37:49 (Sacramento, 2018) ….USA
Gina Rouse^……2:38:41 (Atlanta, 2020)…………USA
Nina Zarina………2:38:50 (Duluth, 2021) …………USA
Jordan O'Dea …..2:38:57 (Lowell, 2019)………….USA
Christina Murphy^……….2:39:15 (Columbus, 2013)…….USA
Laura Paulsen……2:41:17 (Greenville, 2021)…….USA
Hilary Corno^….2:42:14 (Chicago, 2018)……….USA
Caroline Chepkoech……….Debut (1:05:07 Half)….. Kazakhstan
Monicah Wanjuhi Ngige …Debut (1:07:29 Half)…………. Kenya
Elaina Tabb ………Debut (1:10:44 Half)…………….USA
-->