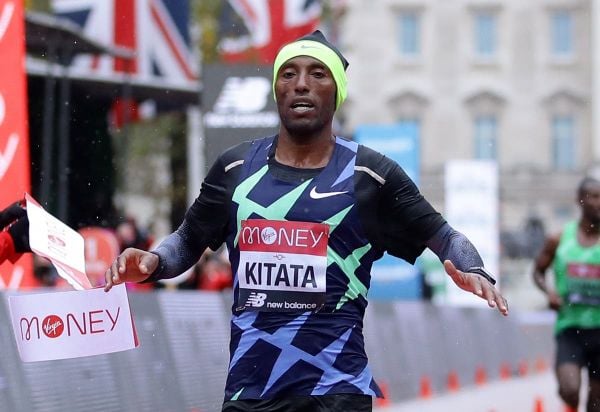 Shura Kitata from Ethiopia will be aiming to win his second consecutive title at the Virgin London Marathon, a World Athletics Elite Platinum Label Road Race and one of the six Abbott Marathon Major races, on Sunday 3 October.
Kitata won last year's edition in 2:05:41 in rainy conditions edging Vincent Kipchumba from Kenya by just one second in a dramatic sprint finish.
London Marathon live stream and results
In his previous appearances at the London Marathon Kitata finished second improving his PB to 2:04:49 in 2018 and fourth in 2:05:01 in 2019. He pulled out of the Olympic marathon last August after suffering in the hot and humid conditions in Sapporo.
Shure Kitata: "I was disappointed to have to pull out of the Olympic marathon, but I just did not adapt to the weather well. It was very cold in Ethiopia before leaving for Tokyo and when we got there, the weather took its toll on my body and made my breathing very hard. I am healthy and looking forward to racing in the London Virgin Marathon again. I am preparing very well. Winning last year was an unforgettable memory and it gave me huge excitement to bring back such a big victory to my country and make my family and coaches proud".
Kipchumba won the Amsterdam Marathon in 2019 in 2:05:09 and clocked 2:05:42 in London last year.
Sisay Lemma also returns to London where he finished third last year. The Ethiopian runner did not finish the Olympic race in Tokyo, but he finished third in Berlin in his PB of 2:03:36 in 2019 and Tokyo in 2:04:51 in 2019.
Kenya's Titus Ekiru starts with the fastest time in the world this year set in Milan with 2:02:57 last May.
The line-up also features Kenya's Evans Chebet, who won the Valencia Marathon in 2020 setting the fastest time in the world with 2:03:00, Birhanu Legese from Ethiopia, two-time Tokyo Marathon winner and third in Valencia in 2020 in 2:03:16, Mosinet Geremew and Mule Wasihun, who finished second and third in London in 2019 clocking 2:02:55 and 2:03.16 respectively.
Men's Elite Runners
| Athlete name | Country | PB |
| --- | --- | --- |
| Shura KITATA | ETH | 2:04:49 |
| Birhanu LEGESE | ETH | 2:02:48 |
| Mosinet GEREMEW | ETH | 2:02:55 |
| Titus EKIRU | KEN | 2:02:57 |
| Evans CHEBET | KEN | 2:03:00 |
| Sisay LEMMA | ETH | 2:03:36 |
| Kinde ATANAW | ETH | 2:03:51 |
| Vincent KIPCHUMBA | KEN | 2:05:09 |
| Jonathan MELLOR | GBR | 2:10:05 |
| Tristan WOODFINE | CAN | 2:10:51 |
| Mohamud AADAN | GBR | 2:12:20 |
| Joshua GRIFFITHS | GBR | 2:13:11 |
| Charlie HULSON | GBR | 2:13:34 |
| Andrew DAVIES | GBR | 2:14:36 |
| Nicholas TORRY | GBR | 2:15:04 |
| Eoghan TOTTEN | IRL | 2:16:09 |
| Weynay GHEBRESILASIE | GBR | 2:17:26 |
| Matthew LEACH | GBR | 2:17:38 |
| Josh LUNN | GBR | 2:17:59 |
| Dan NASH | GBR | 2:18:51 |
| Ross SKELTON | GBR | 2:19:21 |
| Doug MUSSON | GBR | Debut |
| Jamie CROWE | GBR | Debut |
| Philip SESEMANN | GBR | Debut |