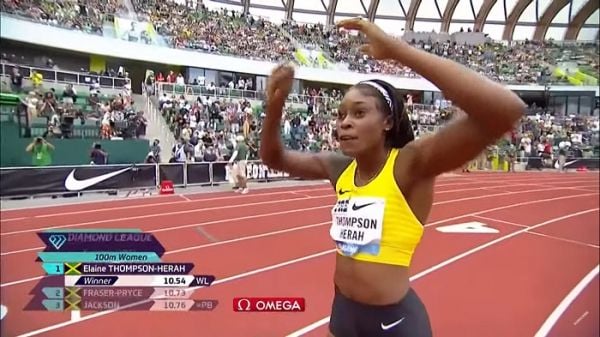 Jamaican star Elaine Thompson Herah will headline the women's 100m race at the Wanda Diamond League meeting in Paris Charlety Stadium.
Thompson Herah won her second consecutive 100m Olympic title in 10.61 and went on to set the second fastest time in history with 10.54 at the Eugene Prefontaine Classic last Saturday.
The 29-year-old had to settle with second place in Lausanne with the second fastest losing time 10.64 behind Shelly Ann Fraser Pryce, who was expected to run in Paris, but she pulled out of the meeting after winning in Lausanne in 10.60.
Olympic 100m bronze medallist Shericka Jackson finished third in Tokyo, Eugene and Lausanne and improved her PB to 10.76 in the Oympic final. Jackson finished in the top-three in Lausanne in 10.92.
Dina Asher Smith did not get through to the Olympic final in Tokyo after suffering from a harmstring injury at the the British Trials but she bounced back by winning the Olympic 4x100 bronze medal. The 200m world champion finished third in the 200m in Eugene in 22.19. The other British sprinter Darryl Neita reached her first Olympic 100m final and finished fifth in Lausanne equalling her PB to 10.96.
Swiss sprinters Ajla Del Ponte and Mujinga Kambundji are set to return to the track two days after competing on the home track in Lausanne. Del Ponte set two Swiss records with 10.91 in the Olympic heats and 10.90 in La Chaux de Fonds and dpped under the 11 seconds barrier clocking 10.97 in Lausanne, where she beat Kambundji by 0.04. Kambundji won the first Diamond League race of her career in the Eugene 200m with a wind-assisted 22.06.
See the Paris Diamond League meeting live stream and TV coverage.
Men's pole vault:
The men's pole vault always provides a thrilling show in Paris Charlety stadium.
Armand Duplantis will be looking to bounce back from a rare defeat in Lausanne, where he had to settle with fourth place with 5.62m in windy conditions. Duplantis won the Olympic gold medal with 6.02m before missing two good attempts at the world record height of 6.19m. The 21-year-old made his first appearance in Paris Charlety where he finished second with 5.90m behind Kendricks.
Christopher Nilsen won the first Diamond League competition of his career in Lausanne with 5.82m beating Sam Kendricks on countback. Kendricks won the past two editions of the Paris meeting in 2018 with 5.96m and 2019 with 6.00m.
Renaud Lavillenie won five times in his career. The French star suffered from an ankle injury, but he said in the press conference that he wants to enjoy himself in front of his home fans. The French crowd will have a lot to cheer about, as the line-up also features Renaud's younger brother Valentin Lavillenie (European indoor silver medalist behind Duplantis) and European Under 23 champion Ethan Cormont, who trains with Lavillenie under the guidance of French pole vault coach Phillippe D'Encausse.
Men's 200 metres:
The men's 200m race will feature Kenny Bednarek and Fred Kerley, who won the Olympic silver medals in the 200m and 100m in Tokyo. Bednarek won his third 200m Diamond League race of the season in Lausanne with a wind-assisted 19.65 beating Kerley, who clocked 19.77. Kerley won the 100m silver medal in Tokyo in 9.84 and finished fourth in the 200m at the US Trials in Eugene in 19.90. The line-up also features Josephus Lyles, who improved his PB to 20.03, Isaac Makwala from Botswana, who won the 4x400 Olympic bronze medal, Canada's Aaron Brown, who finished sixth in the 200m and won the bronze medal in the 4x100 relay at the Olympic Games in Tokyo, Eseosa Desalu from Italy, Olympic gold medallist in the 4x100 relay, Mouhammadou Fall from France, who clocked a wind-assisted 9.97 in La Chaux de Fonds.
Women's 400 metres:
Allyson Felix will face Marileidy Paulino from Dominican Republic and Femke Bol from the Netherlands.
Paulino won the Olympic silver medal in the 400m in Tokyo with her national record of 49.20 beating Allyson Felix, who clocked 49.46 becoming the most decorated female athlete in Olympic athletics history with 11 medals. Felix won once in her career in the 200m in the Paris meeting with 22.14.
Bol won the Olympic bronze medal in the 400m hurdles improving the European record to 52.03 and set the meeting record clocking 53.05 in Lausanne.
The line-up also features Candice McLeod from Jamaica, who finished fifth in the Olympic final with 49.61, Quanera Hayes, winner at the US Trials, and Sada Williams, who finished second in Lausanne behind Paulino.
Women's high jump:
Mariya Lasitskene will be looking to continue her winning streak after winning her first Olympic gold medal with a world leading mark with 2,04m and the Lausanne high jump competition with 1.98m on countback over Yaroslava Mahuchik. The Russian high jump star will face olympic silver and bronze medallists Nicola McDermott from Australia and Yaroslava Mahuchik.
Mahuchik won the Stockolm competition with 2.03m beating McDermott, who set an Oceanian record with 2.01m. McDermott improved her record to 2.02 in the Olympic final before finishing third in Lausanne with 1.95m.
Men's triple jump:
Fabrice Zango is the man to beat in the men's triple jump in front of his home fans. Zango, who competes for the French club Artois Athlétisme and studies engineering at the Artois University in Lille, won the first medal in olympic history of Burkina Faso in any sport with hi sbronze in Tokyo. The world indoor record is aiming to come close to the 18 metres barrier, a distance he has not reached outdoors yet. Zango will face Yasser Mohamed Triki from Algeria, who finished fifth with 17.43m and won the Oslo Diamond League meeting with 17.24m, 2016 European champion Max Hess, US Donald Scott, who finshed sevenh at the Olympic Games, and Italy's Tobia Bocchi, fourth at the European Inddor Championships in Torun 2021.
Women's 100m hurdles:
Megan Tapper from Jamaica won the Olympic bronze medal in Tokyo with 12.55 after improving her PB to 12.53 in heats. The Jamaican hurdler starts as the favourite. However, the race is wide open as the eight hurdlers are divided by just 22 hundredths of a second. Tapper will face Tobi Amusan from Nigeria and Nadine Visser, who finished fourth and fifth in the Olympic Games final and Jamaica's Brittany Anderson, who is the fastest entrant with her PB of 12.40 set in the Olympic semifinal, and Gabrielle Cunningham, who finished seventh at the Olympic Games in Tokyo.
Men's 110m hurdles:
Fresh Olympic champion Hansle Parchment from Jamaica won the 110m Olympic gold medal in Tokyo in 13.04 beating the big favourite Grant Holloway. Parchment will take on US Devon Allen, who won the Lausanne Diamond League race in 13.07, European champion and world bronze medallist Pascal Martinot Lagarde from France, who finished third in Lausanne in 13.17 and fifth at the Olympic Games despite some physical problems, this year's Olympic bronze medallist Ronald Levy from Jamaica, US Daniel Roberts, who won the 2019 edition of the Paris meeting in 13.08.
Women's 400 metres hurdles:
Shamier Little bounced back from her fourth place at the US Trials with two sub-53 seconds time (52.39 in Stockolm and 52.85 in Szekesfehrvar) and finished second in her most recent races in Eugene (53.79) and Monaco (53.78). Little will face Anna Ryzhikova (52.96) and Janieve Russell (53.08).
Men's Javelin throw:
Johannes Vetter from Germany started the season with seven competitions over the 91 metres, including a 96.29m at the European Team Championships in Chorzow but he had a difficult day at the Olympic Games in Tokyo, where he had to settle with ninth place. The 2017 world champion bounced back with a Diamond League win with 88.54m. Vetter will face Olympic silver and bronze medallists Jakub Vadlejch and Vitezlav Vesely from Czech Republic and Julian Weber from Germany, fourth in Tokyo.
Women's discus throw:
US Valarie Allman won the women's discus throw gold medal in Tokyo. The former US dancer set her seasonal best of 70.01m missing her PB by just 14 cm. She is the only entrant to have thrown over the 70 metres.
Allman will take on two-time olympic champion Sandra Perkovic, who set her seaonal best of 68.31m in Florence and won twice in Paris in 2016 and 2018, and Olympic silver medallist Kristin Pudenz from Germany and bronze medallist Yaimé Perez from Cuba and 2016 Olympc silver medallist Melina Robert Michon from France.
Men's 800 metres:
Canadian 800m specialist Marco Arop did not get through to the final at the Olympic Games in Tokyo, but he bounced back with two Diamond League wins in Eugene in 1:44.50 and Lausanne in 1:44.51.
Arop will face olympic silver medallist Ferguson Cheruiyot Rotich, who clocked a seasonal best of 1:43.57 in Monaco last July, Patryk Dobek, who switched his distance from the 400m hurdles to the 800m and won the European Indoor gold medal and the Olympic bronze medal, and Olympic fourth placer Peter Bol from Ausralia, who set the Oceanian record with 1:44.11 in the Olympic semifinal. The local crowd will supprt 23-year-old Gabriel Tuai, who finished a surprising seventh in the Olympic final in Tokyo.
Men's 3000m steeplechase:
Soufiane El Bakkali starts as the favourite in the men's 3000m steeplechase. The Morocan runner became the first non-Kenyan to win the men's Olympic 3000m steeplechase gold medal since Bronislaw Malinowski at the 1980 Moscow Olympic Games. He will take on 2019 world champion Lemcha Girma, who holds a PB of 8:01.36, 2016 Olympic champion and double world champion Conseslus Kipruto, who dropped out of the Olympic Games Trials after two laps.
Women's 3000 metres:
It's going to be a wide-open competition. Francine Nyonsaba from Burundi won the 2 miles race with a national record clocking 9:00.75 at the Prefontaine Classic in Eugene beating Olympic 10000m silver medallist Letesenbet Gidey and Hellen Obiri.Nyonsaba will take on Beatrice Chebet and wold 5000m silver medallist Margaret Chelimo, who both hold sub-8:30 PBs, Fantu Worku from Ehiopia, who set a lifetime best of 8:32.10, world 5000m bronze medallist Konstanze Klosterhalfen, who holds a PB of 8:20.07 in the 3000m, and Italy' Nadia Battocletti, who finished seventh in the 5000m at the Olympic Games in Tokyo setting the second fastest time in history at national level with 14:46.29.
-->