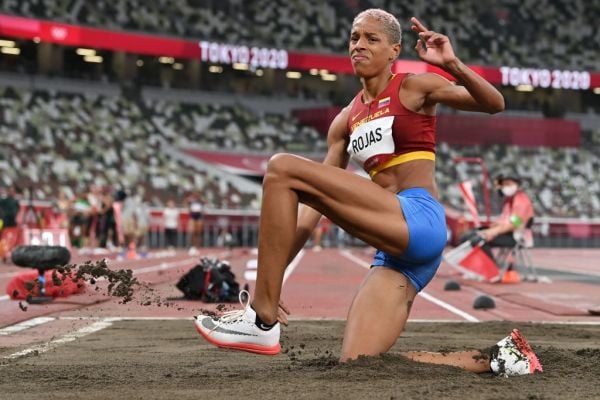 Venezuelan Yulimar Rojas set a new triple jump world record on the third day of the Athletics competition at the Tokyo 2020 Olympic games on Sunday.
Two-time world champion, Rojas, bounded out to a world record of 15.67m in the sixth round.
Rojas started the competition with an Olympic record of 15.41m. He leapt to 14.53m in round two and produced a very long foul in round three.
The Venezuelan jumper leapt to 15.25m in the fourth round and recorded another foul in the fifth round.
In the sixth round, Rojas added 17 cm to the previous world record set by Inessa Kravets with 15.50m at the World Championships. Her phases on her world record jump were 5.86m, 3.82m and 5.99m.
This year's European Indoor champion Patricia Mamona clinched the Olympic silver medal with a national record of 15.01m. Ana Peleteiro improved the national record to 14.87m to win the bronze medal.
Yulimar Rojas: "I am lost for words. I can't describe this feeling and this moment. Gold medal winner, with an Olympic record, and a world record. Wow. It is a fantastic night. I was looking for the world record. I knew I had that distance in my legs today. I was failing a bit in the technical aspect, but the last jump was one to give everything, and it was like that. I was focused on giving my best, enjoying myself, and it came out. It makes me happy. I have to enjoy it now, and live the experience".
Men's 100 metres:
European Indoor champion Marcell Lamont Jacobs from Italy won the Olympic gold medal setting his second European record of the day with 9.80. Jacobs succeeded Jamaican sprint legend Usain Bolt, who won his third Olympic gold medal in Rio de Janeiro, who also clocked 9.80. Jacobs has become the first Italian sprinter to reach the 100m Olympic final. He is the first Italian to win a sprint competition since Pietro Mennea won the gold medal in the 200m in Moscow 1980. He clocked the fastest time in the men's 100m by an athlete not from the USA or Jamaica.
Macell Jacobs: "It's a dream. It's fantastic. Maybe tomorrow I can imagine what people are saying, but today is incredible. Being here together with Tamberi is something spectacular. I believe in him and I believed in myself. It's crazy to succeed Usain Bolt as Olympic champion".
Fred Kerley claimed the silver medal with his PB of 9.84 two years after finishing third in the 400m at the World Championships in Doha. André De Grasse from Canada won his second consecutive Olympic bronze medal in the 100m improving his PB to 9.89. Akani Simbine repeated his fourth place from five years ago in Rio de Janeiro in 9.93. Ronnie Baker and Su Bingtian dipped under the 10 seconds barrier clocking 9.95 and 9.98.
Kerley had won the first semifinal in 9.96 beating De Grasse (9.98). European 100m champion Zharnel Hughes took the win in the second semifinal with his seasonal best of 9.98 beating Enock Adegoke (10.00).
Jacobs had previously finished third in the semifinal in 9.84 improving the previous European record held by Francis Obikwelu and Jimmy Vicaut with 9.86. Su Bingtian from China won this semifinal breaking the Asian record with 9.83 to become the first Chinese sprinter to reach an Olympic 100m final. Baker finished second setting his PB with 9.83. Simbine clocked 9.90 to take the fourth spot behind Jacobs.
Final men's high jump:
Mutaz Barshim from Qatar and Gianmarco Tamberi from Italy shared the Olympic gold medal with 2.37m in an outstanding men's high jump. Both Barshim and Tamberi had a clean sheet until 2.37m before missing three attempts at 2.39m. The two friends decided there would be no need for a jump-off.
Tamberi tore a ligament in his left ankle during his attempt at 2.41m at the Monaco Diamond League meeting in July 2016 a few weeks before the Olympic Games in Rio de Janeiro where he would have started as one of the favourites. Barshim suffered the same injury when he was attempting to jump 2.46m in Szekesfehervar in 2018 and came back to win the Olympic title with 2.37m in Doha two years ago.
Maksim Nedasekau from Belarus needed two attempts to clear 2.19m, but he cleared 2.24m, 2.27m, 2.30m, 2.33m at the first try. The 2021 European Indoor champion failed one attempt at 2.35m and passed his remaining tries at this height. The Belarusian jumper cleared 2.37m at the first time of asking. Sahghyeok Woo from South Korea cleared 2.35m to finish fourth beating Brandon Starc from Australia on countback. Mikail Akimenko equalled his seasonal best of 2.33m to take sixth place on countback over Ju'Vaughn Harrison, who also qualified for the long jump final.
Tamberi was the first to congratulate the new 100m Olympic champion, Marcell Jacobs. The Italian high jump star dropped to the track on his knees next to the cast he wore after his surgery in 2016.
Gianmarco Tamberi: "I was told in 2016 just before Rio there was a risk I would not be able to compete anymore. It's been a long journey. After that I said to myself if I want to come back I am coming back to win this competition and it happened"
Mutaz Barshim: "It's amazing. This is a dream I don't want to wake up from. I have been through a lot. It's been five years that I have been waiting, with injuries and a lot of setbacks, but we are here today sharing this moment and all the sacrifices. It's really worth it now in this moment. Two medals is better than one".
Final women's shot put:
Gong Lijao from China claimed the gold medal in the women's shot put with 20.58m completing her full set of medals after winning bronze in Beijing 2008 and London 2012.
Gong took the lead with 19.95m in the opening round. The Chinese thrower produced two good throws of 19.98m and 19.80m in the third and fourth round before improving her PB by 10 cm to 20.53m in the fourth round. Gong improved once again by five cm to 20.58m on her sixth throw. She became the first Chinese athlete to win an Olympic shot put gold medal.
Gong Lijao: "I was pretty nervous for the first three throws, but after them I just relaxed, and I got my two best scores. I really wanted to break the 20m mark, and today I got that twice for my personal best. I think all of my efforts were worth it. This gold medal is not only for myself. It's for all of my country, for the people who supported me. It's my great pleasure to win this gold medal".
US Raven Saunders, who wore a Hulk mask and sported dyed purple and green hair, won the silver medal with 19.79m.
Raven Saunders: "To be able to go out here and really inspire so many people who have been dealing with mental health issues, so many people within the African American community, and so many people who are black, all around the world, I really just hope that I can continue to inspire and motivate".
Two-time Olympic champion Valerie Adams won bronze with 19.62m to become the first woman to win four Olympic medals in a single field event. Adams had previously won two gold medals in Beijing 2008 and London 2012 and silver in Rio 2016. Adams became the first shot putter in history to reach five Olympic finals.
Valerie Adams: "The feeling of winning a bronze medal was just as good as when I won the gold medal. It just goes to show the strength of a woman. You can be a mother and come back and be a mother as well".
Men's 400m hurdles: semifinals
World record holder Karsten Warholm won the first semifinal in 47.30 beating Raj Benjamin by 0.07. Yasmani Copello also broke the 48 seconds barrier to qualify for the final in 47.88 ahead of Thomas Barr (48.26). South American record-holder Alison Dos Santos from Brazil claimed the second semifinal in 47.31 ahead of Qatar's Abderrahman Samba, who also clocked an impressive 47.47. European Under 23 champion Alessandro Sibilio from Italy broke the 48 seconds barrier for the first time in his career with 47.93 to become the first Italian hurdler to reach the Olympic final since Fabrizio Mori in Sydney 2000.
Women's 100m hurdles semifinals:
Jasmine Camacho Quinn won her semifinal breaking her lifetime best and Olympic time of 12.26 to equal the fourth-fastest time in history. Jamaica's Brittany Anderson clocked the second-fastest time with 12.40 beating world record holder Kendra Harrison (12.51).
Men's 800 metres:
World bronze medallist Ferguson Rotich clocked the fastest time of the semifinals with 1:44.04. Australia's Peter Bol set the Oceanian record clocking 1:44.11 beating this year's US Trials winner Clayton Murphy. European Indoor champion Patryk Dobek finished first in the other semifinal with 1:44,60 ahead of Emmanuel Korir (1:44.74).
Men's 400 heats:
US Michael Cherry clocked the fastest time in the 400m heats with 44.82. Isaac Makwala from Botswana and Anthony Zambrano dipped under 45 seconds with 44.86 and 44.87. This year's US Trials winner Michael Norman finished second in his heat with 45.35, the 14th best time of all qualifiers. Kirani James finished second in the first heat in 45.09 behind Makwala.
Reigning Olympic champion and world record holder Wayde Van Niekerk took third place in the fourth heat in 45.25 behind Anthony Zambrano and Steven Solomon. World record holder Randolph Ross did not get through the first round after finishing fourth in his heat with 45.67.
Women's 3000m steeplechase heats:
Winfred Yavi from Barhein set the fastest ever Olympic qualifying heat time clocking 9:10.80 ahead of Peruth Chemutai from Uganda (9:12.72) and 2017 world champion Emma Coburn from the USA (9:16.91). The three qualifying heats were won by 2017 world silver medallist Courtney Frerichs (9:19.34), world record holder Beatrice Chepkoech (9:19.82) and 2015 world champion Hyvin Kyeng (9:23.17).
Women's hammer throws qualifying round:
World record holder Anita Wlodarczyk easily qualified with the best throw with 76.99m in the first round. The other top qualifiers were Zheng Wang from China (74.29m), Brooke Anderson from the USA (74.00m), 2018 European silver medallist Alexandra Tavernier (73.51m) and Camryn Rogers from Canada (73.97m).
Women's long jump qualifying round:
World Indoor champion Ivana Spanovic from Serbia led the qualifying round with 7.00m. Malaika Mihambo leapt to 6.98m. The other two favourites Brittney Reese and Tara Davis got through to the final with 6.86m and 6.85m.
-->