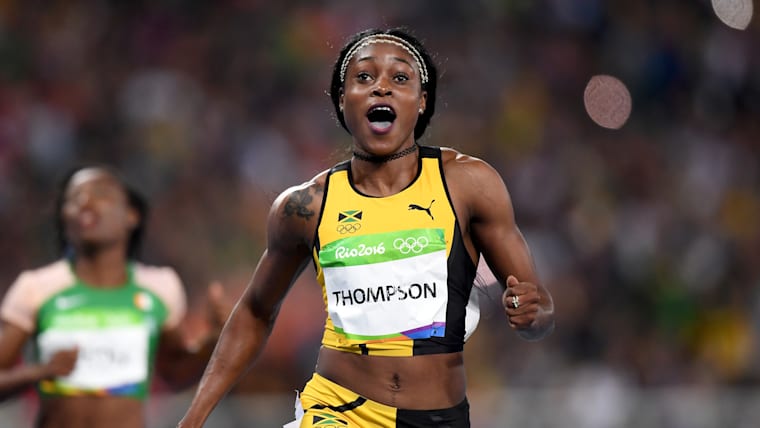 Elaine Thompson Herah won her second consecutive Olympic gold medal in the women's 100 metres in 10.61 into a headwind of -0.6 m/s beating Shelly Ann Fraser Pryce, who won her fourth Olympic medal in the 100m with 10.76.
Thompson Herah set the Olympic record and equalled the second-fastest time in history missing Florence Griffith Joyner's world record by 0.12 in one of the greatest 100m races of all time. The Jamaican star improved by 0.01 the Olympic record, which had been set by Griffith Joyner in Seoul in 1988.
Thompson Herah and Fraser Pryce ran neck and neck by halfway. Thompson Herah found another gear to become the fourth sprinter in history to successfully defend the women's 100m title.
Fraser Pryce added another medal to her collection of medals, which already features two gold medals in the 100m and 200m in 2008 and 2012, the 100m bronze in Rio 2016 and the silver medals in the 200m and 4x100 relay from her past three appearances at the Olympic Games.
Shericka Jackson claimed the bronze medal improving her PB by 0.01 to 10.76 five years after winning the Olympic bronze medal in the 400m.
Marie Josée Ta Lou finished fourth with 10.91 ahead of Swiss stars Ajla Del Ponte and Mujinga Kambundji, who both broke the 11 seconds barrier with 10.97 and 10.99. US Teahna Daniels finished seventh with 11.02 ahead of Daryll Neita from Great Britain (11.12).
Elaine Thompson Herah: "I could not find the words. I screamed so loud because I was so happy. I have been injured so much. I am grateful I could get back out on track this year to retain the title. I have been keeping the faith all this time. It is amazing".
Semifinals 100 metres:
Fraser Pryce and Thompson Herah clocked the fastest times of the semifinals with 10.73 and 10.76.
Shericka Jackson and Marie Josée Ta Lou clocked the same time of 10.79 in the second of the three semifinals. Ta Lou had equalled the African record with 10.78 last year.
Darryil Neita from Great Britain edged out Michelle Lee Ahye by one-thousandth of a second clocking 11.00 to book her spot in the final.
World 200m champion Dina Asher-Smith did not get through to the final after finishing third in the first semifinal in 11.05 behind Thompson Herah and Swiss record holder Ajla Del Ponte, who clocked 11.01. Asher-Smith has pulled out of the 200m after revealing to the BBC that she tore her hamstring earlier this month.
Dina Asher-Smith: "It broke my heart because I am a competitor. It is the Olympics but there are plenty other championships for me to come. I was in the shape of my life but I was close to having to miss the Olympics after suffering the injury after 60 metres of her 100m national title in Manchester last June. I am grateful to everybody who worked so I could stand here on the track and race here tonight. I was not my normal self, but it has been quite a journey, so I am really proud. The most frustrating thing is I wasI in the shape of my life. I can say that with my hand on my heart".
Men's discus throw:
Daniel Stahl from Sweden claimed his first Olympic gold medal in the men's discus with a second-round throw of 68.90m two years after winning the world gold medal in Doha. Stahl produced the fourth farthest throw in Olympic history. Stahl did not reach the final in Rio five years ago, but he continued improving in the following years, winning the world silver in 2017, the European silver in 2018 before claiming the world gold medal in Doha 2019.
Daniel Stahl: "There was a lot of hard work and fun on the way. I am extremely proud. My training partner Simon has been working hard. I am also very proud of our coach Vesteinn Hafsteinsson) for believing in us, and having faith".
Simon Petterson completed the Swedish double with 67.39m in the fifth round. Lukas Weisshaidinger won the first ever Olympic medal in athletics from Austrian man with a third-round throw of 67.07m in a global event two years after finishing third at the World Athletics in Doha. Matthew Denny from Australia set his PB with 67.02 to finish fourth with 67.02m ahead of European under 23 champion Kristjan Ceh (66.37m).
Denny opened with a 65.76m throw to take the lead after the opening round, but Weisshaidinger overtook the Australian thrower with 66.65m. Stahl went to the front with his winning throw of 68.90m.
Weisshaidinger improved to 67.07m in the third round and backed it up with 66.86m.
Kristjan Ceh fouled on his first attempt and threw to 62.95m in the second round before fouling his third attempt. The Slovenian thrower moved into fourth with 66.05m and overtook Petterson for third place by just four cm. Petterson produced a 67.39m to move into second.
Mixed 4x100 relay:
Poland won the first-ever Olympic gold medal in the first-ever mixed relay in history in 3:09.87 with an impressive kick on the final straight by anchorman Kajetan Duszynski.
The Polish quarter formed by Karol Zalewski, Natalia Kazmarek, Justyna Swiety Ersetic and Kajetan Duszynski set a European and Olympic record, Duszynsky ran the final leg of 44.38.
Poland won its second Olympic gold medal in an athletics relay 56 years after the 4x400 relay win at the 1964 Olympic Games in Tokyo.
Karol Zalewski: "We all believed we could manage to win the medal. We were not sure if it was going to be gold or something else, but we knew that we could win something. We all left our hearts on the track."
The Dominican Republic team formed by Lidio Andres Feliz, Marileidy Paulino, Anabel Medina Ventura and Alexander Ogunda won the silver medal in 3:10.21. The US team featuring Trevor Stewart, Kendall Ellis, Kaylin Whitney and Vernon Norwood claimed the bronze in 3:10.22. The US team had been disqualified after the qualifying rounds on Friday but they were reinstated on appeal in time for the final.
Kendall Ellis: "It is so exciting to come here and the first mixed relay at the Olympic Games, and to come out with a medal feels great".
Men's 100m heats:
Three-time Olympic medallist André De Grasse led the 100m first qualifying round with 9.91 to win the fifth heat ahead of Fred Kerley (9.97), Kenya's Ferdinand Omurwa (10.10) and former Italian record holder Filippo Tortu, who improved his seasonal best to 10.10.
European Indoor 60m champion Marcell Lamont Jacobs improved his own Italian record by 0.01 with 9.94.
Marcell Jacobs: "The goal was to run a good time to have a good lane in the semifinal. I achieved this goal, but I did not expect this time. Bromell will be at his top level. De Grasse is not a surprise. He has always performed well in these big events since 2015. I have dreamt to compete at the Olympic Games since I was a child and I felt a bit emotional. I am enjoying every moment. I have no idea who the favourite is. I have to improve again to reach the Olympc final".
The other sprinter who broke the 10 seconds barrier was Nigeria's Enock Adegoke, who improved his PB to 9.98.
Women's 800m semifinal:
Jamaica's Natoya Goule edged Jemma Reekie from Great Britain to take the first semifinal by 0.02 in 1:59.57.
US 19-year-old Athing Mu ran the fastest time with 1:58.07 to win the second semifinal of the women's 800m beating Ethiopia's Habitam Alemu (1:58.40) and Alexandra Bell (1:58.83). European Indoor champion Keely Hodgkinson from Great Britain held off China's Wang Chunyu by 0.02 in 1:59.12 and Raevyn Rogers (1:59.28).
Men's long jump qualifying round:
World indoor champion Juan Miguel Echevarria led the qualifying round with 8.50m in the opening round. The other top qualifiers were European outdoor champion Miltiadis Tentoglou (8.22m), 2018 world under 20 champion Yuki Hashioka (8.17m). World outdoor champion Tajay Gayle jumped 8.14m despite an injury. This year's high and long jump US Trials winner Ju'Vaughn Harrison qualified for his second final at this year's edition of the Olympic Games with 8.13m. Italian champion Filippo Randazzo missed his PB by just 0.02 to get through to the final with 8.10m.
Women's 400m hurdles heats:
Olympic champion Dalilah Muhammad, world record holder Sydney McLaughlin and European 400m indoor and outdoor Femke Bol highlighted the women's 400m hurdles heats.
McLaughlin clocked the fourth-fastest time with 54.65. One month ago the 2019 world silver medallist beat Muhammad at the US Olympic Trials in Eugene breaking the world record with 51.90.
Sydney McLaughlin: "It feels pretty fast, I must say. You can feel the bounce. Some tracks just absorb your bounce and your motion. This one regenerates and gives it back to you",
Muhammad clocked the fastest time of all heats with 53.97. The former world record holder finished second at the US Trials in her seasonal best of 52.42 after being tested positive to Covid-19.
Dalilah Muhammad: "I am feeling good now. Covid is thankfully behind me and the injury on my hamstring that followed. So I am feeling good and ready to run".
Bol won her heat cruising through to 54.43. The Dutch hurdler won four Diamond League competitions and improved her personal best to 52.37 in Stockholm to move up to fourth in the world all-time list.
Femke Bol: "I love the track and these conditions. I am feeling well, sleeping well and am in great shape".
Heats women's 100m hurdles:
World seasonal leader Jasmine Camacho Quinn won her heat with 12.41. The Puerto Rican sprinter has won all her races this year. She improved her national record to 12.32 last April and set five of the six fastest times in the world this year.
Jamaica's Megan Tapper set her PB with 12.53 (the second fastest qualifying time) beating Belgium's Anne Zagré (12.83) and Tiffany Porter from Great Britain (12.85).
Anderson claimed an impressive win in the fourth heat in 12.67 after clipping the second hurdle to set the third fastest time of the qualifiers. World indoor silver medallist Christina Clemons finished a distant 12.91.
World record holder Kendra Harrison won her heat in 12.74 easily with a big margin over Liz Clay from Australia's Liz Clay (12.87) and Italy's Luminosa Bogliolo (12.93).
Tobi Amusan won the third heat with 12.72 edging out Yanique Thompson from Jamaica (12.74) and Pia Skrzyszowska (12.75). Andrea Carolina Vargas from Costarica set her seasonal best with 12.71 to take a narrow win over Nadine Visser from the Netherlands (12.72) and Gabriele Cunningham (12.75).
Men's 800 metres:
World bronze medallist Ferguson Rotich won his 800m heat in 1:43.75 setting the fastest time at the Olympic Games outside of a final. Peter Bol from Australia set the Oceanian record with 1:44.13. British indoor record holder Elliot Giles also ran under 1:45 with 1:44.89.
Ferguson Rotich: "I did not believe that I could run 1:43 but as long as you are here, you have to compete", said Rotich.
Canada's Marco Arop claimed the second heat in 1:45.26 ahead of two-time world medallist Amel Tuka (1:45.48). Olympic silver medallist Nijel Amos took the fourth heat in 1:45.04 ahead of Michael Saruni (1:45.21). Amos set the world leading time of 1:42.91 in the Wanda Diamond League in Monaco.
This year's Olympic Trials Clayton Murphy pulled away in the final straight to win the third heat in 1:45.53. Emmanuel Korir edged Mateusz Borkowski by 0.01 in 1:45.53 to get through to advance to the semifinal.
Qualifying round women's discus throw:
US Trials champion Valarie Allman led the qualifying round with 66.42m. Kamalpreet Kaur produced the second-best throw of 64.00m. Two-time Olympic champion Sandra Perkovic opened her bid for a third consecutive tiitle by reaching the final with a throw of 63.75m. Jorinde Van Klinken from the Netherlands, who set her PB to 70.22m, did not get through the qualifying round with 61.15m.
Qualifying round women's pole vault:
World record holder Armand "Mondo" Duplantis needed two attempts at 5.50m before clearing 5.65m and 5.75m at the first time of asking. Renaud Lavillenie survived a big scare when he cleared the opening height of 5.50m in his third attempt, but he vaulted over 5.75m at the first try to get through the qualifying round.
Sam Kendricks pulled out the Olympic Games after testing positive to Covid-19 and was replaced by Matt Ludwig, who missed three attempts at 5.65m.
Results women's 100m final Tokyo Olympics
| | | | | |
| --- | --- | --- | --- | --- |
| 1 | THOMPSON-HERAH Elaine | JAM | 10.61 | OR |
| 2 | FRASER-PRYCE Shelly-Ann | JAM | 10.74 | |
| 3 | JACKSON Shericka | JAM | 10.76 | PB |
| 4 | TA LOU Marie-Josee | CIV | 10.91 | |
| 5 | del PONTE Ajla | SUI | 10.97 | |
| 6 | KAMBUNDJI Mujinga | SUI | 10.99 | |
| 7 | DANIELS Teahna | USA | 11.02 | |
| 8 | NEITA Daryll | GBR | 11.12 | |