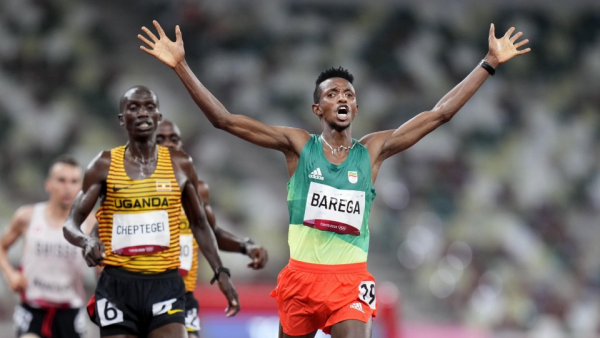 Selemon Barega pulled away with 350 metres to go and held off a sprint finish from 5000m and 10000m world record holder Joshua Cheptegei on the final straight to win the Olympic gold medal in a thrilling 10000m final in 27:43.22 in the inaugural day of the athletics programme at the Olympic Games in Tokyo. Barega clocked 53.94 in the final lap on a very hot and humid evening at the National Stadium in Tokyo to win the first Olympic title in the 10000m for Ethiopia since Kenenisa Bekele in Beijing 2008.
Cheptegei won the silver medal in 27:43.63 beating his compatriot Jacob Kiplimo, who claimed the bronze medal in 27:43.88. Uganda's Stephen Kissa led at the halfway mark before pulling out of the race at around the 7000 metres.
Barega won the world silver medal in the 5000m in Doha 2019 behind his compatriot Muktar Edris and set the world under 20 record over this distance with 12:43.02 in Brussels in 2018.
Barega follows in the footsteps of past 10000m Olympic champions from Ethiopia, like Miruts Yifter, Haile Gebrselassie and Kenenisa Bekele. Ethiopia has won six of the last eight 10000m titles at the Olympic Games.
Selemon Barega: "When I was left with 400 metres to go, I was really confident about myself to win".
Women's 100 metres heats:
Three-time world medallist Marie Josée Ta Lou highlighted the first round of the women's 100 metres with an impressive 10.78, equalling the African record held by Murielle Ahouré during the morning session of the first day of the Olympic Games at the National Stadium in Tokyo. Ta Lou set the fifth-fastest time of the year.
Marie Josée Ta Lou: "I am in shock actually. I really didn't expect to run as fast as I just did. I have never run here. I did not even train in the warm-up area. So it's my first time and I was like: Wow !".
Reigning 100m and 200m Olympic champion Elaine Thompson got off to a very fast start to win her heat in 10.82. Muijinga Kambundji equalled her own Swiss record with 10.95
Double 100m Olympic champion Shelly Ann Fraser Pryce clocked 10.84 beating 60m European Indoor champion Ajla Del Ponte, who improved the Swiss record with 10.91, improving Kambundji's mark by 0.04.
Olympic 400m bronze medallist Shericka Jackson got through to the semifinal by finishing second in her heat with 11.07.
Darryil Neita from Great Britain broke the 11 seconds barrier for the first time in her career with her personal best of 10.96.
Teahna Daniels, who finished third at the US Trials in Eugene, won her heat ahead of world 200m champion Dina Asher-Smith, who took second place with 11.07.
Warholm wins his heat easily
World record holder Karsten Warholm opened his Olympic campaign by taking an easy win in the heats of the men's 400m hurdles in 48.65. Warholm beat European bronze medallist Thomas Barr (49.03) and European Under 23 gold medallist Alessandro Sibilio (49.11).
Karsten Warholm: "It was nice to get out on the track again. It's something you have been looking forward to for a long time. I have been here for two weeks already. I am starting to get bored, so it was very nice to get around".
World silver medallist Raj Benjamin cruised through to an easy win in his heat in 48.60.
Raj Benjamin: "I was a little excited on the warm-up field. It was nice to come out here and and run a controlled one. It's the first round and I fell pretty good".
Women's 5000m heats:
Sifan Hassan won the first heat of the women's 5000m in 14:47.89 to advance easily to the final.
Sifan Hassan: "I never say 'I am going to compete in the 1500m, 5000m and 10000m. I just look at one by one. Now I am happy that I made it to the 5000m final. The weather is so hot. I have a lot of pressure with Covid, about everything".
Agnes Tirop (14:48.01), Lilian Rengeruk (14:50.35), Selamewit Teferi (14:48.31) and Ejgayehu Taye (14:48.52) secured the other automatic qualifying spots in the first heat.
Gustaf Tsegay won the second heat with 14:55.74 ahead of double world champion Hellen Obiri (14.55.77) and European Under 23 champion Nadia Battocletti from Italy, who qualified for her first Olympic final improving her PB to 14:55.83. The other athletes to qualify automatically for the final were US Elise Cranny (14:56.14) and Norway's Karoline Grovdal (14:56.82).
Women's 800m heats:
This year's US Trials champion Athin Mu took an easy win in her 800m heat on her Olympic debut. Mu cruised past Ethiopian record holder Habitam Alemu in the final 20 metres to cross the finish-line in 2:01.10.
Athing Mu: "Because it's my first Games I feel like having more people in the stands and the big roar and everyone is just looking at everyone that's competing all eyes on you, it makes me feel a bit anxious".
Reigning Pan American champion Natoya Goule from Jamaica clocked the fastest time of all heats with 1:59.83. Jemma Reekie from Great Britain was the only other middle distance runner to break the 2 minutes barrier with 1:59.87.
Rose Mary Almanza won her heat in 2:00.71 to advance to the semifinal. Reigning world champion Halimah Nakaayi took fourth place but her final time of 2:00.92 was enough to get through to the semifinal.
Men's 3000 metres steeplechase:
World silver medallist Lemecha Girma ran the fastest time of the men's 3000m steeplechase with 8:09.83 to beat Japanese 19-year-old middle distance runner Ryuji Miura, who set the Japanese record with 8:09.92. Benjamin Kigen finished third with 8:10.80 ahead of Ala Zoghlami, who improved his PB to 8:14.06. Abraham Kibiwot won the second heat in 8:12.25 ahead 2019 Diamond League winner Getnet Wale (8:12.55). Ahmed Abdelwahed from Italy narrowly missed his PB to finish third with 8:12.71.
Men's high jump qualifying round:
Two-time Olympic medallist Mutaz Barshim, Mikail Akimenko from Russia and Django Lovett from Canada had a clean sheet until 2.28m to qualify for the men's high jump. Ju'Vaughn Harrison, who won the high jump and the long jump at this year's US Olympic Trials, qualified for his first Olympic final. The list of qualifiers includes Brandon Starc, European Indoor gold and silver medallists Maksim Nedasekau from Belarus and Gianmarco Tamberi from Italy, world bronze medallist Ilya Ivanyuk, Naoto Tobe from Japan, Hamish Kerr from New Zealand and Sanhyeaok Woo from South Korea.
Mutaz Barshim: "I have been waiting for five years for this. It's the one I want and I will do what it takes to make it happen".
Women's triple jump qualifying round :
Reigning world champion Yulimar Rojas needed just one jump to advance to the final of the women's triple jump. Rojas leapt to 14.77m taking off 39 cm off the board. Thea Lafond from Dominica set a national record of 14.60m on her first attempt. Shanieka Ricketts from Jamaica (14.62m), Ana Peleteiro from Spain (14.60m), Patricia Mamona from Portugal (14.54m), Liadgmis Povea from Cuba (14.50m) were the other top qualifiers. Reigning Olympic champion Caterine Ibarguen faced elimination but she secured her qualifying spot with a third-round jump of 14.37m.
Women's shot put:
Reigning world champion Gong Lijao produced the best qualifying mark of 19.46m ahead of her compatriot Song Jiayuan (19.23m) and US Raven Saunders (19.22m).
Two-time Olympic champion Valerie Adams produced the automatic qualifying mark of 18.53m to become the first shot putter in history to reach five Olympic finals.
Men's discus throw:
World champion Daniel Stahl needed just one throw of 66.12m to advance to the men's discus final. Andrius Gudzius reached the final with 65.94m. European Under 23 gold medallist Kristjan Ceh produced the third longest throw of 65.45m.
Mixed 4x400 relay heats:
The US team was disqualified, as one sprinter started outside the take-over zone. Belgium won the first heat with 3:12.75 ahead of Ireland (3:12.88), Germany (3:12.94) and Spain (3:13.29).
Poland set the European record of 3:10.44 to beat the Netherlands (3:10.69), Jamaica (3:11.76) and Great Britain (3:11.95). All qualified teams set national records.
See the complete Tokyo Olympic athletics / track and field results here.